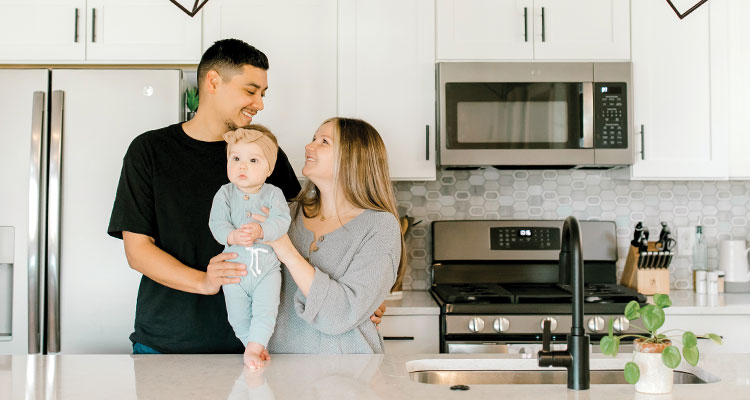 With an affinity for family, Eastbrook Homes Inc. is ready to support the growing demand for homes 
I grew up around the business," begins Mike McGraw, President of Eastbrook Homes Inc. (Eastbrook). "As far as my memory goes, I remember my dad being a developer and builder. I was three years old when he started, and I grew up in a neighborhood that was a bike ride from the office." 
It was only when Mike reached high school that his journey in construction truly began. From doing carpentry to concrete work, he performed various residential jobs during his summer breaks. 
"I loved working with my hands and learning how to build a house," he goes on. "I went to college in California and received a business administration degree; I knew I wanted to stay in the real estate industry. 
"After graduation, I did some remodeling with a small company that specialized in residential projects. I then worked at a museum for a short period of time, too. 
"However, after about a year of doing odd jobs, I was ready to pursue a career in the real estate industry. I then went back to our business school at Point Loma Nazarene University to get leads on opportunities in real estate."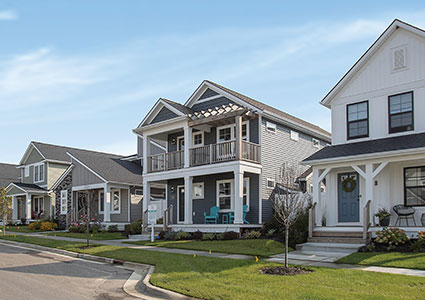 Improving innovation 
Twenty-three years and a couple of career changes later, Mike, his father, Mick, and his brother, Josh,  are now working together to grow Eastbrook's footprint in the West Michigan and Greater Lansing area. 
"My dad's still in here working every day at 72 years old; my younger brother came back in 2011 and all three of us get along great," Mike explains. 
At Eastbrook, community is everything – and, for Mike, a beautifully built home is the first building block. The business offers homes for sale across the Greater Grand Rapids area, Lakeshore, and Greater Lansing in Michigan. 
Although the last few years have been turbulent for the homebuilding industry, Mike shares how his company has fared against the ups and downs: "Our biggest focus has been trying to improve our innovation and creativity with respect to both community designs and the homes we offer. 
"We're driven by the desire to create communities that people want to live in, which feature a mix of price points and styles. Diversity creates a great community." 
A recent example of this is Eastbrook's Walnut Ridge community, which is located directly across from the Byron Center High School on 84th Street and Burlingame Avenue. Walnut Ridge has garnered interest due to its fantastic location, diverse range of homes, accesible starting price, and the strong public school system it is positioned within. 
"We have a portion of the project called the Courtyard Homes at Walnut Ridge, which is the most compact portion of the project," says Mike. "All the exteriors are pre-planned. We have a vision for how the community should look and feel. We tried to intentionally select the external design elements and offer a good variation for clients. 
Connected community 
"The more compact nature of this portion of the community means we can reduce the home site size, which decreases not only the price point, but also the overall maintenance obligations that fall on the homeowners," Mike adds. 
"We have 32 detached condominiums here, in varying shapes and sizes, as well as 20 attached townhomes. All of them offer low-maintenance living, where the HOA takes care of the lawn, snow removal, and so on. This community has a small playground at its center, which becomes a gathering space, and certainly a place for the kids who live here. 
"No matter where you are in the community, it's always a very short walk to get to the park. There's a network of sidewalks. So, again, it's a great neighborhood for folks looking for a low-maintenance lifestyle and space for their kids to play as well," he shares. 
The essence of family is critical to Mike's vision for these areas. He shares that the business is trying to create communities where parents and grandparents can live within walking distance of one another: "We've always enjoyed creating the opportunity for multiple generations to live close by. We think it makes for a more connected community." 
Home ownership opportunities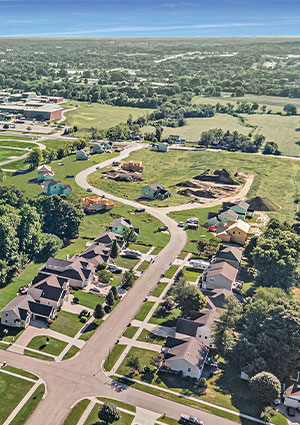 The company's drive to build homes comes at a time when the world faces a global housing crisis. "There's a massive generation of buyers who don't yet own anything for a variety of reasons," Mike goes on. 
"First, it seems they've decided to make that decision a little later than previous generations. The other reason is affordability. That component just became so much more challenging after Covid-19, which has made it difficult for us in the industry. 
"The biggest obstacle for builders in the US is trying to solve the affordability issue, while still building high quality communities that provide the opportunity for appreciation and building equity. It's important because we strongly believe that homeownership is an important step toward creating financial stability for families." 
Eastbrook wants to continue to try to provide home ownership opportunities at a broad range of prices, without compromising on build quality. "We do not strive to provide housing at the lowest possible price per square foot; that is not our business model," says Mike. 
One of the hallmarks of the company, developed by Mike's father, is an eye to innovate and showing fearless adaptability in the face of market changes. 
"I think in our industry, the one constant is that things are always changing," Mike muses. "Like Walnut Ridge's compact arrangement, we certainly weren't doing that sort of development 20 years ago. My goal would be to continue to innovate from a home and community standpoint, and to never fear pursuing new ideas. 
"I would hope that, in five or ten years from now, we're doing what we're doing now, but with new innovations and product adjustments to continually adapt to an ever-changing set of buyer needs and preferences," he says. 
Trustworthy name 
Mike's sentiments on how Eastbrook's community projects aim to support new buyers are encouraging. With housing demand on the rise, clients can rest assured that Eastbrook is a trustworthy name. 
The company has been building homes since 1967, and has strived to get better
each year. Eastbrook feels a sense of obligation to do its very best in every community because of how strongly it feels about
the homes and neighborhoods it creates; as well as the very personal nature of what it means to build a home for someone. 
"The unique thing about the industry we're in is that almost everybody remembers all the homes they have lived in," Mike concludes. "I know I do. 
"It's not like selling a pair of shoes or a baseball bat to someone. We're selling them something that they're going to celebrate birthdays and holidays in, and that's really special. 
"We take this opportunity very seriously. We will continue to do our very best to create communities that people want to make memories in – that is something we will continue to be passionate about."