Turning the key on modern home building successes with TurnKey Builders
TIGHT, LEAN, AND EFFICIENT
Since we last spoke in 2018, TurnKey Builders (TurnKey) has not rested on its laurels. But, then again, it was never going to. Following the company's last feature in Modern Home Builders magazine, TurnKey has gone on to become a member of the local, Greater New Braunfels Home Builders Association, and has taken part in its Annual Parade of Homes tour twice: in 2019 and 2020, respectively.
More recently, the firm has been able to proudly showcase some of its work to the public, featuring the latest designs, features, and amenities that the market has to offer. "Joining the Greater New Braunfels Home Builders Association has been an amazing step for us," says Greg Hoppes, President at Turnkey. "It offers members a great, welcoming community of home builders, associates, sponsors, and so forth. Each person and organization has similar interests and operates in the niche of modern home building.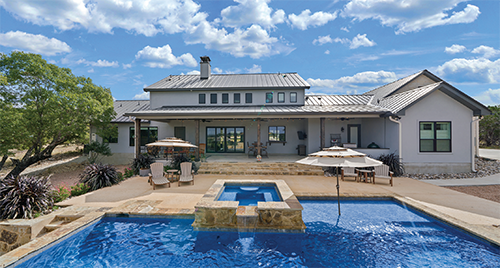 "There are different functions and meetings to attend, and that keeps things exciting – we are always up to date on the latest trends," he explains. "Furthermore, it acts as a continuation of our education. As part of the association, we are keen to understand more about the municipal aspect of building within the different areas of our industry."
Superior service
As a full-service custom home building company, TurnKey offers a distinct product, price point, and professional service that has garnered quite the reputation. As we pointed out back in 2018, the firm is an exclusive builder that only commits to a set number of homes each year, thereby ensuring a best-in-class finish, superior management, and exemplary building expertise across every single project.
That care and attention to detail begins with Greg and his team. His affinity with the trade goes back to childhood. Greg fondly remembers helping his father build the family home as a boy. Since then, he has gone on to accomplish many achievements within the industry, taking on more and more advanced roles and job titles, slowly working his way up, and earning numerous accolades in the process.
TurnKey now boasts efficient, Lean building practices to manage the construction of a home and creatively coordinates the entire build process with an emphasis on economic and environmental factors. Green building has become increasingly important – and sought after – within the modern home building market. TurnKey is keen to emphasize practices and products that reflect that, creating sustainable projects that are not only a bonus for the planet, but also for the homeowner's wallet.
TurnKey offers its clients unique custom and green features, which include but are not limited to: energy efficient light and water fixtures, water filtration systems, smart home devices, car chargers, zero-scapes and modern landscaping designs, window technology advancements, upgraded HVAC components, solar power, termite and pest prevention, ceiling and wall treatments, saunas, safe rooms, rainwater collection, swimming pools/spas, wifi-controlled window coverings, and many more.
"Alongside these unique custom and green features, a primary trait of the business that sets us apart from competitors is our customer service and our team," explains Greg. "The level of care and attention we offer is first-rate; and this is delivered through our incredible construction managers, my wife, a licensed and very talented interior designer, and her skilled assistant, plus our admin and book keeping staff. It is this team that allows the projects to keep moving even during these trying times."
He continues "When a client presents us with something outside the box that has an effective purpose, we want to make every attempt to allow them to accomplish their goals within the concept and performance of their new home.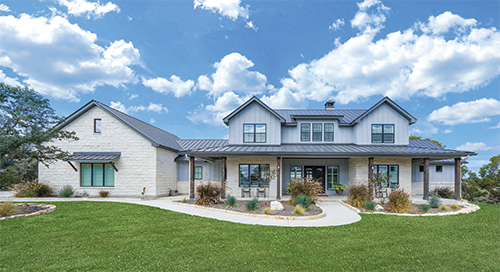 "We have not stopped there. We also aim to pioneer new materials and systems that have not been offered before. As a result, clients will not have considered them. We endeavor to change that. However, limitations in this area has forced us to spend some extra time considering each new kind of offering further before we adopt it and offer it to our clients."
As we turn our attention to the current state of the company, Greg insists 2022 has been a unique year. "It has been rewarding and trying at the same time," he admits. "We have seen a very good level of interest in our TurnKey products and services, but with that, of course, comes the challenges presented by the current geopolitical climate: material shortages, labor scarcity, and long lead times. It is affecting everyone in the industry – and it is almost a no-win situation.
"However, we are doing everything in our power to put our clients in the best situation and keep their projects moving forward," he adds. "We have our clients' best interests at heart as we are building each of their unique custom homes. That means bringing on the right subcontractors for each job and hiring a robust team of tradespeople that can handle jobs and deliver the kinds of standards we expect. With that being said, we have seen great results and we look forward to building off this set of procedures and goals as we move forward despite the various negative market conditions and financial limitations that might, or might not, come into play."
Five-star experience
In terms of recent projects, Greg is keen to highlight the Alto Lago community at Cordova, which featured both Annual Parade of Homes tours for the Greater New Braunfels Home Builders Association. "TurnKey has created quite the footprint in that community," he reveals. "It is, quite simply, an incredible home. Measuring about 3700 square feet in size, it was a great lot upon which we had the opportunity to build a new custom two-story home for our Houston-based client. They trusted us and put faith in our designs, zeroing in on specifically what they were looking to achieve in a retirement home.
"Naturally, we spent a lot of time working with the client on designing and formatting the home to suitably fit their own needs," says Greg. "We included a swimming pool, landscaping, and many other features within the home that are really stunning and offer great aesthetic value. It really is amazing what TurnKey has achieved in just five years. Back then, we were a very small outfit: Team, Lean, and efficient – but small. Looking beyond Alto Lago at Cordova, we will continue to grow while holding true to those three founding principles, creating an incredible experience for each and every client."
www.turnkeybuilderstx.com