Why the new generation should join the home building trade, according to Wise Built Homes
A WISE HEAD ON YOUNG SHOULDERS
Entering its tenth year of business, Wise Built Homes (Wise Built) has quickly secured a reputation for building aesthetically acute and functional homes that are not led by current trends; rather, led by owner Austin Miller, the firm always puts performance first. Highly efficient, thermally secure, and remarkably intelligent, these are homes constructed with a difference – and they are sure to stand the test of time.
In the southwest Missouri home building scene, Austin's name is known. Soon he will take on the mantle of President of the Home Builders Association (HBA) for Springfield. "I am going to be the first millennial President," he admits. With seemingly endless pockets of passion, Austin carries that aptitude and ebullience into Wise Built, the outlet for his creativity and desire to help others live better lives. Growing up in the Ozarks region, he says he has always had a deep respect for builders. His grandfather, for instance, owned an HVAC company; he would ride around in his truck as a teenager looking for potential jobs; eventually, he received a bachelor's degree in Construction Management. The path was there to be taken.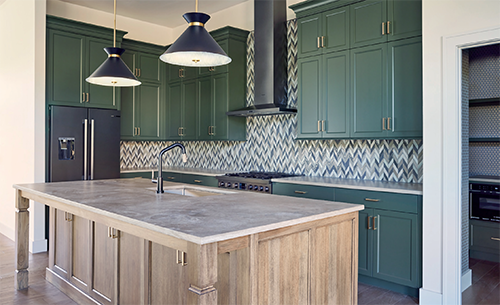 "I always wanted to run my own business," explains Austin. "My whole life has been centered around construction, and therefore I knew that I could bring a unique service to people by building beautiful homes of value. In conjunction with wanting to have my own business – something to call my own – Wise Built allows me to offer a personal service and meet with people on a daily basis."
It is going exceedingly well thus far. "For the last four years we have grown in volume by more than 50 percent," reveals Austin. "Things have truly taken off, and that stands as a testament to the kinds of homes we are building; they stand out in both design and function."
People are noticing. Last year, for instance, Austin was featured in the Springfield Business Journal's Top 40 Under 40 and Christian County's Top 10 Under 40. On the former, he reflects: "The accolade really says one word to me: innovation. When it comes down to it, you only get recognition for doing things that others are not willing to do. So, for instance, rising costs is the biggest challenge in our industry right now, and while I cannot do anything about that, I can keep people informed. The first question in the home building process is always: How much is it going to cost? Consequently, I single-handedly developed a cost calculator on our website so people can stay educated. Doing this helps us stay relevant and successful. There is a quote that I like to follow: Imitators do not scare me, innovators do. The people that go above and beyond change industries."
The latter carries more of a personal touch. "The recognition from Christian County shows my customers I care about the community," explains Austin. "Anyone can be successful in their own professional life – but that is what you are paid to do. What are people doing outside of their job? How are they showing communal spirit? Which charity are they donating their time to? Things that you are not getting paid for are just as important. This particular award is only given out to those who help others. I remain very proud of it."
One concrete example of Wise Built's communal spirit is its contribution to the St. Jude's Children's Hospital charity. In 2021, the business played a pivotal role in the build of a St. Jude's Dream House. The project involves the pro bono build of a house with the aim of raising funds through successful raffle ticket sales. The home ended up reaching a valuation of nearly $400,000 for one lucky winner.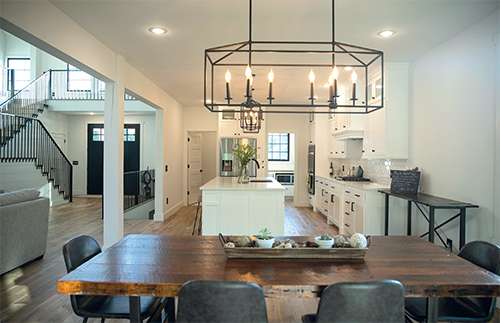 Careful construction
This particular property was built with a distinct rustic-yet-grand appearance and a raised entranceway. Inside, an elegant, large kitchen acts as a showstopper; you can imagine yourself popping open a bottle of red and serving up a mezze platter for an adoring array of guests. After all, there is plenty of space – and a breakfast bar to boot. Upstairs, an eye-catching freestanding bathtub asks you to soak it all in.
"Working on that home was a truly amazing experience," remembers Austin. "There were so many incredible subcontractors and suppliers that donated their time and materials – all for the cause. It was incredible to see people coming out and helping, all despite crazy price hikes and delays brought on by the pandemic. It is probably the most challenging project I have worked on. But it was so worth it. The project raised over $1 million for the charity in total.
"Going forward, we want to imbue every build with that spirit of care," he concludes. "Our customer relation strategy is simple: building a custom home is a journey, but it does not have to be a difficult one. We want others to enjoy the process – just like we do. If there is an issue, we will take care of it; if there is a concern, we will address it."
Austin has his eyes firmly set on the future, which is exciting, but not without its challenges. "We find ourselves in a unique time within our industry – our workforce is ageing faster than we can replenish it. In the home building market, the workforce carries an older average age, which means being younger has come with some challenges. However, I am really interested in working towards getting the next generation into the trades and this modern home market."
Championing the industry
So, what is the answer? For Austin, it begins with representation. "The media has done a large disservice to tradespeople over the last 20 years or so," he contends. "Every time you see a plumber on television or in a movie, he is portrayed as overweight and unintelligent. What kind of message is that sending out?" It is clearly something that Austin is highly passionate about.
As he aptly points out, though, the trades are not a redundant or menial profession. "People seem to forget that if you finish school and work for someone else as a plumber for five years, then you can branch off and start your own company," says Austin. "All of a sudden you are making an incredible living wage. Part of the solution to this problem is getting more young people to appreciate that there is a huge, tangible opportunity to make a great living for themselves and their families."
As the conversation comes to a close, Austin reiterates the ethos of his company. "At Wise Built, we want to make the experience as personal as possible. Thus, in the next five years, we will integrate more software to streamline the entire process, and also look to bring in a new superintendent to help us take on more unique, standout projects."
www.wise-built.com