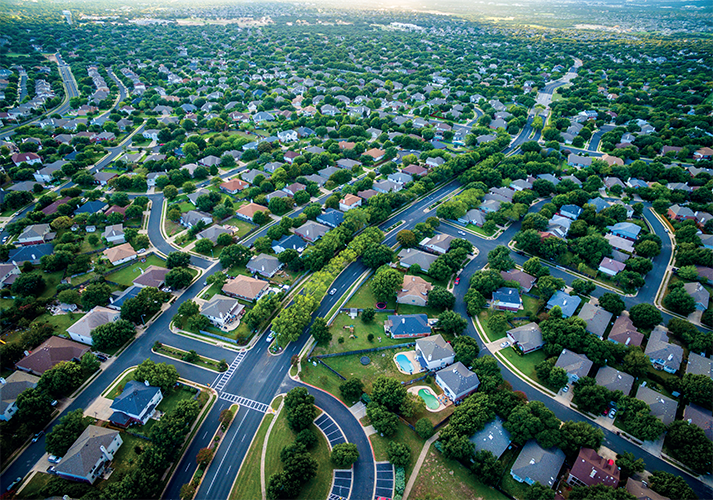 The tale of two great states
Single-family starts clearly demonstrate the rise of Texas and the fall of California over the last 30 years. I live in Texas, and like most Americans, I am proud of my home state, but it saddens me to see what is happening in the beautiful state of California.
The ascent of Texas and the decline of California appears in the chart below.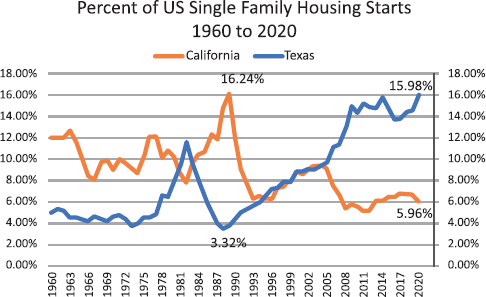 Texas' single-family starts reported historical low occurred in 1988 with 3.32 percent of all US production. By 2020, The Lone Star State, with 8.83 percent of the US population, had 15.98 percent of all US single-family starts.
California's single-family starts peaked in 1989 with a national share of 16.24 percent. No other state was close. Seven years later in 1996, it dropped to 6.33 percent. By 2020, with 12.04 percent of the US population, the Golden State had just 5.96 percent of all US single-family starts.
Population explosion
While California currently has ten more million total residents than Texas, Texas experienced the greatest population increase of any state in the last decade. By 2019, Texas grew 70 percent more than California with 3,849,790 residents, significantly exceeding California's growth of 2,257,704.
US Census Bureau data shows the Texas population growth from 2010 to 2019 accounted for almost 20 percent of the increase in the US population.

Florida with a population in 2019 of 21,477,737 and 115,250 single-family starts, is emerging as a worthy competitor for the fastest-growing state in both people and housing starts.
Texas and Florida are not the only states experiencing strong growth in population and single-family starts. Virginia, Colorado, Arizona, Washington, Georgia, South Carolina, North Carolina increased their population by more than 500,000. Tennessee is also on the move with a population increase close to that.
Though Utah, Colorado, Nevada, Idaho, North Dakota, South Carolina, and Oregon grew by less than 500,000, they still experienced very healthy double-digit percent population increases.
However, Mississippi, New York, Rhode Island, Pennsylvania, New Jersey, Michigan, Maine, Ohio, and New Mexico each had less than two percent population growth while West Virginia, Illinois, Vermont, and Connecticut saw their populations decline.
Not an isolated occurrence
As a real estate professional, I recently met a couple moving from Austin to Dallas. They had several reasons for relocating. High on their list was Austin's high home prices. When asked where they would be working, they said 'Austin.' They saw my confused expression and quickly added that they worked remotely and didn't know if their employer even knew or cared.
Many tech firms are now recruiting remote workers in states with lower living costs and are finding good talent for less money.
In the traditional sense, Oklahoma, Indiana, Missouri, Kentucky, Alabama, Iowa, Nebraska,
Arkansas, Montana, South Dakota, Kansas, Hawaii, New Hampshire, and Alaska are not well positioned to participate in the historic growth factors of manufacturing or commerce.
However, the internet has made remote work a realistic option for many to live where they want, rather than letting the drive time to work dictate where they live.
It will be interesting to see to how strong the trend becomes for families relocating to states offering lower living and housing costs, access to outdoor recreation, less crime, and perhaps, a simpler, more peaceful way of life.

Ben Caballero is an American entrepreneur, real estate professional, founder and CEO of HomesUSA.com. Ben became a real estate broker at the age of 21 and was a home builder for 18 years. He is the first Guinness World Record holder for real estate sales and the first real estate professional to exceed $1 billion in home sales in a single year in 2015 and $2 billion in 2018, 2019 and 2020.
www.HomesUSA.com
https://bencaballero.com/