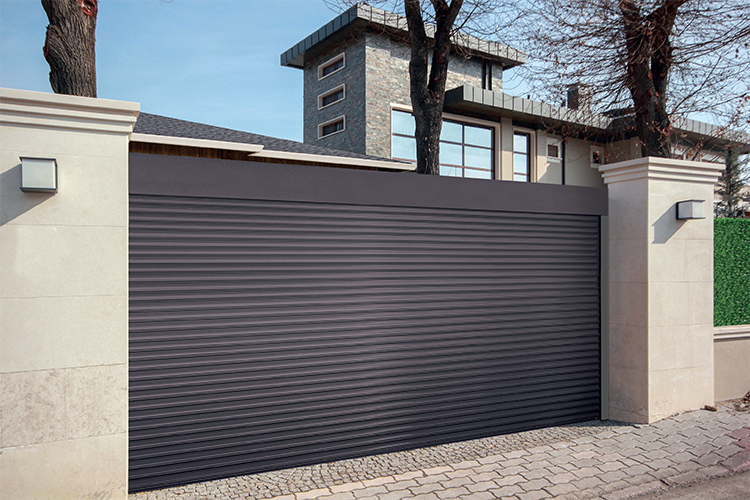 For urban and suburban areas where homes are typically closer together, or even major cities that are densely populated, lack of security for parking and outside access to homes is a common issue. In fact, according to the FBI Uniform Crime Reporting (UCR) Program, there are over one million burglaries in the US each year, with a new burglary happening every 26 seconds. With rampant neighborhood crime, it's crucial to protect your family and valuables by making your home more safe and secure.
Alarm systems and video surveillance are most generally top of mind when homeowners consider implementing a security system for their homes. But homeowners often dismiss the value security shutters provide due to not knowing these options are available for residential use, as they are more commonly thought of as a commercial application. What homeowners don't realize is that a security shutter can be a subtle, yet reliable solution that gives homeowners even more peace of mind when combined with other security systems on the market. Not to mention, thanks to the evolution of garage doors over the years, security shutters are available in compact, visually appealing designs that can be customized to match any home.
Security shutters provide many benefits and are a simple and smart investment any homeowner can, and should, make when it comes to protecting one of their most valuable assets: their home.
Enhanced security that intruders will hate
While it may be quite obvious, the majority of burglars are criminals of opportunity, targeting homes they can access easily without being noticed. The longer it takes for a burglar to enter a home, the more it (literally) opens the door to the risk of getting caught. Homeowners often forget the fact that uncovered windows also offer a first-hand view from the street or sidewalk to inside their house and of their valuables. Installing a security shutter not only provides maximum protection against unwanted intruders by deterring them from entering the premises in the first place, but prevents outsiders from seeing from the street what's inside the home as well.
Home burglaries often involve breaking glass windows or doors to gain entry, but with security shutters' rigid and impenetrable composition, direct access to windows is greatly impeded since the home is safeguarded from the street and alleyways.
Security shutters are both user-friendly and reliable
While security shutters that are installed at the entrance of a residential property offer plenty of physical protection, they are also more reliable and essentially maintenance-free when compared to other security systems that are dependent on electricity or the consumer to manage it properly. If a home security system relies on electricity to operate, a power outage can put your home at risk for an undetected break-in. While technology can make our lives easier in some aspects, it can also make it more complicated if a homeowner uses multiple devices or systems that don't cohesively work together. For example, if a home has a security camera and a motion detector that is too close proximity-wise, radio-frequency interference can cause both systems to function improperly. Further, wireless security systems that aren't configured or maintained correctly run the risk of being accessed by hackers, which has become an increasing threat as more IoT or smart home security systems enter the market.
Luckily, installing a security shutter at the driveway access from the street and alleyways can help combat these threats. From a battery backup for door operation in the event of power outages to direct drive operation of the shutter with monitored photo eyes and force detection, which identifies objects or people that may be blocking the path of a garage door with infrared light, a security shutter allows homeowners to maximize their overall home security in combination with traditional intruder prevention alarm systems.
No need to compromise curb appeal for added security
Builders have consistently reported in surveys that curb appeal is the greatest concern for their customers. While it's a no-brainer that security shutters are a very dependable solution performance-wise, curb appeal clearly plays a vital role as to why people often rule them out of the equation when searching for alternate security systems. However, we're here to bust the myth that security shutters are 'unattractive,' thus making them unfit for a home. We have seen the security shutter evolve from a commonly unwelcoming entryway to an aesthetically pleasing solution. Select manufacturers now offer residential security shutters in multiple different colors and fully perforated or fenestrated slat options to offer visual access while still maintaining security. Modern security shutters have taken a minimalist approach, are compact, visually appealing and have the ability to transform and enhance exterior spaces.
Earlier this year, Wayne Dalton, a leading manufacturer of residential and commercial door solutions, released its Model 523RX Security Shutter, an industry-first UL-325 listed door and operator system for securing exterior access to residential properties. Model 523RX is a unique innovation that delivers real value to homeowners seeking a solution to this problem, plus it incorporates a premier design that comes in a variety of finish and slat options. Consumers have the ability to choose from one of four standard powder coat colors: silver, bronze, white or almond to achieve ultimate curb appeal when the shutter is closed. Consumers also have the option to customize the powder coat color by selecting from approximately 200 RAL colors or color match to architect specifications.
According to Oxford Languages' Dictionary, the official definition of curb appeal is "the attractiveness of a property for sale and its surroundings when viewed from the street," which means it goes beyond just how manicured a homeowner's front yard looks. Potential buyers, onlookers, and unfortunately, intruders are easily able to observe if a home has a reliable security system. This alone can both provide a potential buyer with peace of mind that their future home is safeguarded, and further deter a criminal from breaking in or vandalizing a property. Security shutters are a wise investment for any residential home. They are cost-effective, protect your loved ones and assets, add value and boost curb appeal. With all this in mind, choosing a security shutter with a trusted manufacturer can ensure home builders install a quality product and increase customer satisfaction with maximized curb appeal.
Jennifer Castro is Senior Product Marketing Manager at Wayne Dalton. Wayne Dalton, a division of Overhead Door Corporation, is a world-class designer and manufacturer of residential and commercial garage doors. Wayne Dalton is known as a proactive business partner for its dealers, providing a wide breadth of innovative, easy-to-install products and smart sales tools to help grow their business. For consumers, Wayne Dalton simplifies the purchase process by providing a full range of doors and styles through conveniently located dealers.
www.wayne-dalton.com