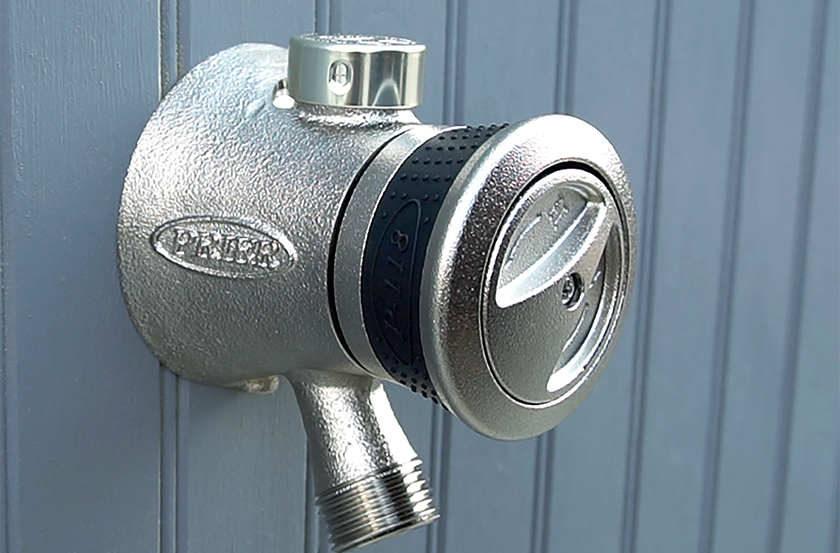 Build with purpose
With over 140 years of experience, Prier has become the go-to manufacturer of high-quality, easy-to-install, US-made plumbing products that truly stand the test of time
Established in 1881, there have been many memorable moments in the history of Kansas City-based plumbing parts manufacturer Prier. So, let's start at the beginning.
Set up by a German immigrant, Anton Prier, the business that took his name began manufacturing a variety of products, from coach lanterns to household goods. Prier continued to grow over the years, and production started to scale during subsequent periods of war. During World War II, for instance, the company pivoted its manufacturing operations to create specialty products for the US Navy, and in the 1950s, Prier shifted its operations once more to support the US military in Korea.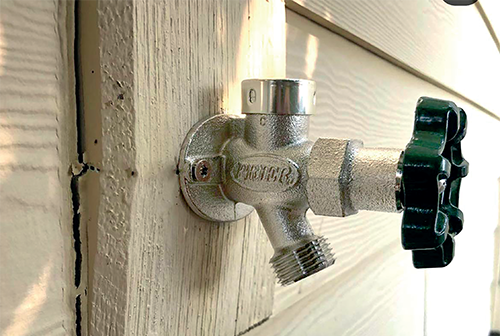 Moving into a lengthy peacetime period, Prier zeroed in on its niche: heavy brass plumbing parts. As an industry trailblazer, the firm became increasingly revered for its robust plumbing parts, including freezeless faucets and hot and cold wall hydrants, and its steadfast mantra: build with purpose.
Things haven't slowed. In 2007, for instance, Prier acquired the plumbing brass division of Mansfield Plumbing Products, and it has since fostered successful relationships with most US retailers and wholesale suppliers like Ferguson, Winsupply, Menards, Home Depot, Lowe's, and Ace Hardware.
More recently, Ferguson, the largest plumbing wholesaler in the US, brought in Prier's products for nationwide distribution. The move stands as a testament to Prier's status as a leading manufacturer of essential plumbing products – not just in Missouri, but across the US.
Today, Prier is recognized for its residential, commercial, and ground hydrants, manufactured from heavy cast brass patterns, copper tubing, stainless steel and aluminum; angle sill faucets, featuring cast brass black flanges and female step caps for increased durability; and plumbing brass, draining products, and specialty valves, among other parts, which utilize red brass to ensure each individual component stands the test of time.
Unlike yellow brass, which is chosen by many importers due to its much lower initial cost, red brass is more resistant, more durable, and has a higher copper content. All these products – and more – are manufactured at its facilities in Kansas City, Missouri.
But what truly separates Prier's products from the competition? Matt Lemke, Vice President of Sales and Marketing at Prier, sat down with Modern Home Builders to provide us an answer.
"It's simple: we lead on quality and innovation," he states. "Our engineering team keep their ears to the ground and remain focused on doing things right – not just doing them quickly. That means we can produce high performance goods. Speed is important but manufacturing quality is paramount. To lead on quality, we begin the whole process with our research and development (R&D) team, coming up with new ideas, innovative designs, and ways to improve products we have previously released. We know we can always find ways to be better ourselves and improve our products.
"Another thing that sets us apart from the competition is that we listen to our customers," mentions Matt. "We hear what they're saying and act on those things we can improve. After that, it comes down to employing best-in-class manufacturing processes, from the beginning to end of operations, using quality materials, quality methods, and quality people to get the job done."
Two products from Prier's Signature Series that Matt believes demonstrate the uniqueness of the brand are the P-118 TrueTemp/P-114 CoolTemp Single Temperature Hydrant and P-6IV Heavy Duty Irrigation Supply Valve. Let's begin with the former.
The Prier P-118 TrueTemp provides a year round source of tempered water in areas that are subject to freezing temperatures. The hydrant valve is connected to the supply piping in the heated portion of the structure, reducing the possibility of freezing. The temperature is controlled by the dial inset on the handle, while the handle itself controls the flow of water. "The P-118, is truly a unique, single handle hot/cold," says Matt. "The P-114 came about to match the P-118 for a single temp option." The P-114 is a perfect marriage between style and quality, pairing a satin nickel-plated or oil-rubbed bronze design with Prier's signature CoolTemp technology to ensure a consistent supply of water in every season. Even in the harshest of conditions, the P-114 won't freeze; each valve is made from a solid brass body and is air-tested to guarantee superior, leak-free quality.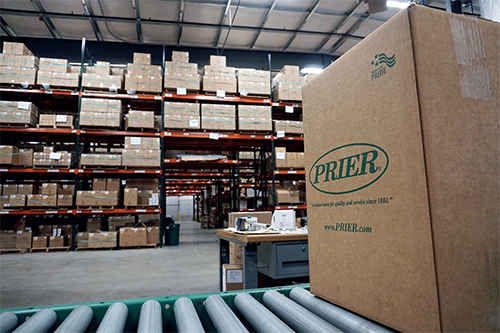 Turning to the latter, Prier's P-6IV is an innovative solution for irrigation, particularly for sprinklers in areas that experience extreme weather changes. When cold weather sets in, Matt informs us, lower quality valves often become frozen in place – and that means a costly fix. The new valve, which was launched last year, is installed on building exteriors, enabling a professional (and homeowners) to winterize the system without needing to enter or for the owner to be present. Not just a convenient, time-saving piece of kit, the P-6IV also features Prier's triple seal positive shut-off system and a solderless, non-ferrous design to guarantee a longer life span.
Mission for total quality
"Picking up on those supply chain issues, we really saw a disruption in our processes," commented Matt. "In 2020 and into the following year, Covid-19 severely impacted procurement. We hang our hats on a simple fact: we will ship an order within eight working hours of entering the PO; however, disruptions to the supply chain really interfered with that promise; we began to experience lead times of six-to-eight weeks. That's simply unheard of! With everything that was going on at the time, though, our customers were very understanding. We pivoted to alternate suppliers and within a few months were back to our eight-hour standard and we continue to fulfill that promise.
"In all, the pandemic was a double-edged sword," he adds. With most people stuck at home, suddenly there was no better opportunity to fix that leaking faucet that had been bugging people all year. Then you have the other side, which was very difficult.
We didn't get a break on that front; we couldn't ship everything completely on time – but, without a doubt, we were better than most. I'm proud of the efforts Prier took to care for both its employees and its customers. Part of that comes down to our deeply ingrained mission statement. Having one is not uncommon. But ours isn't some dusty plaque on a wall. It's something we live by every day, and it revolves around doing the right thing, operating under the will of God for our people and our planet, to make a profit. Put simply, that mission statement is our guiding light and part of our culture."
To significantly cut its carbon footprint and fulfil the environmental aspect of its mission statement, Prier recently installed solar panels on each of its buildings in Kansas City. On top of that, all existing bulbs were substituted for motion-detecting LEDs across its warehouses and offices. As a result, the manufacturer now saves more than 330,000 kilowatt hours annually – enough to power 30 houses for more than a year.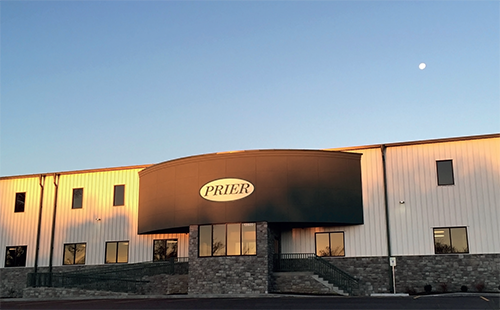 "All our buildings are fitted with the latest photovoltaic technology," Matt reveals. "We are energy neutral at my office, and that means we can sell excess energy back to the city. In other places, we offset our carbon. Another important aspect of our sustainability strategy is our recycling of scrap. For our valves, we use brass and copper. Our machines drill out those materials, generating a lot of scrap in the process. We probably use about half of the initial brass rod sold to us by our supplier – a portion must be bored to allow water through. However, instead of discarding all the scrap, we send it back to our supplier. They melt it down and sell it back to us. The whole thing becomes a cycle – and saves a lot of brass in the process."
In the past year, Prier recycled 150 tons of brass, six tons of copper and other metals, and over 25,000 cubic feet of cardboard. By promoting a circular economy, more than half of materials used in Prier's products are taken from recycled sources. Apart from obvious quality improvements, being made in the US also offers profound environmental benefits: no importation and minimized transportation of goods means much less carbon emissions.
"Our sustainability drive also includes the local Kansas City community," Matt adds. "In line with our mission statement, each year we donate ten percent of our profits to worthy causes through Prier's charitable organization, managed by the Greater Kansas City Community Foundation, which serves those in the nearby region. Some of our favorite charities include United Way of Greater Kansas City (United Way), Grandview Assistance Program (GAP), and Harvesters Community Food Network."
As the company moves into post-pandemic life, it intends on continuing to innovate and offer expert solutions across its increasingly diverse range of plumbing products. "To that end, we're releasing several new products, including a lead-free line of garden valves and a sanitary bury hydrant. And, as always, it is all about serving the customer. During the pandemic, we couldn't see many customers. So, moving forward, we want to reconnect with them.
"We will always be there to solve any issues – whether you're a plumber, contractor, or just wanting to do some DIY," he concludes. "We make products of the highest quality, market them at a fair price, and offer a service that is second to none. Therefore, within five years, we want to keep growing our connection to local communities across the US. I see us establishing ourselves as a partner rather than just a supplier within the national scene."
Prier
www.prier.com
Services: Plumbing products