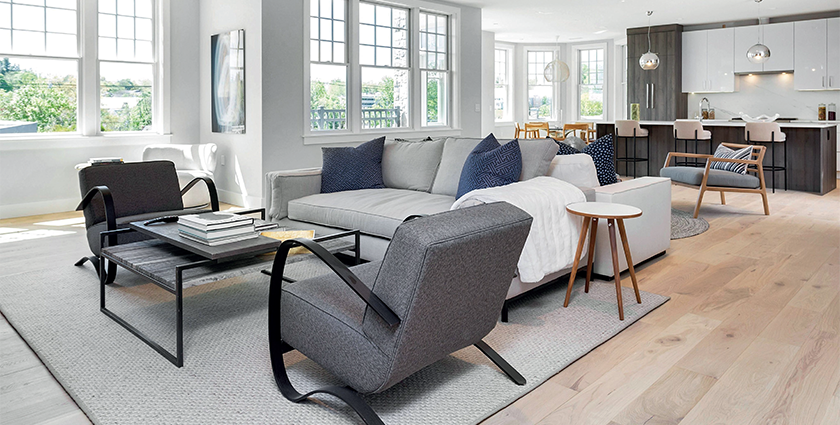 An eye for design
Karp Associates is celebrating its 40th year in business with the recent completion of its VUE New Canaan multi-family development, with yet more custom home and multi-family projects to come
When Arnold M Karp got the "real estate bug", it changed his life forever. Already having forged a successful career as a New York financier, Arnold moved to Connecticut to take up a new position as CFO for a company that owned real estate, radio stations, and an insurance subsidiary.
"I decided that real estate was what I wanted to do for the rest of my life," he reveals, looking back at that time, and the period that led to the launching of his own homebuilding business, Karp Associates Inc. The company started with construction of renovations and additions, before expanding its repertoire to encompass custom homes, consulting services, project management, and multi-family housing projects.
"We're a multi-faceted construction firm, specializing in distinguished custom homes and first- rate renovations, construction management, multi-family housing, real estate consulting, and project rescue," Arnold confirms, when speaking to Modern Home Builders. "We have seen so many different projects in our time. We'll build anything the client wants, but we'll also challenge them to make sure they're getting the best project and design possible, before delivering that special project built on-time and on budget."
Meeting clients' needs
In 2022, Karp Associates is celebrating an impressive 40 years in business – still, according to Arnold, "there's always a twist and turn" when it comes to homebuilding. One of the company's recent projects offers a prime example. "We're currently building a custom home for somebody on the water," Arnold tells us. "But just after we started the project, a big storm arrived, drawing all the dirt that we'd just moved out, back into the building foundations."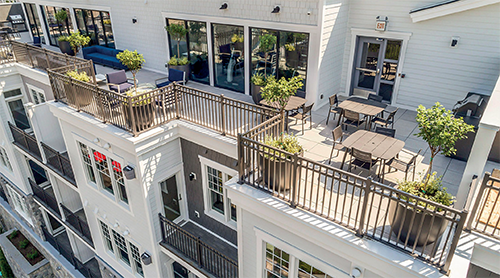 It's not just the current challenges of building, with supply chain and weather disruptions, labor shortages can prove to be difficult as well, "Our clients and their professionals are extremely creative and exacting," Arnold adds. "Not only are the living spaces important to clients, but special features such as large garages with multiple car lifts have become a major feature. Similarly, there's barely a house we work on these days that doesn't have either an elevator, or the option for an elevator in the future.
"When I first ventured into the business years ago, clients would ask for a simple sliding glass door," he reflects. "Now, most of our projects feature oversized multi slide glass door panels. We're building features that are interesting and require high design and execution to make them function properly."
Now with decades of homebuilding under his belt, Arnold is particularly sensitive to the wants and needs of his clients. This knowledge has served Karp Associates well during the completion of its recent project: VUE New Canaan, a luxury multi-family home development located in Fairfield County. Vue New Canaan is situated just steps away from the village of New Canaan, which features destination shopping, dining, and recreation, along with expedient transport links to New York City.
"What makes VUE New Canaan unique, is that it sits right in the middle of New Canaan," Arnold tells us. "The site was largely comprised of old housing stock built during the 1930s, including mostly brick buildings with no light or air, and relatively small apartments. After we purchased the property, it took us approximately two-and-a-half years and a total of $2 million to secure approval for our plans."
Eye for design
VUE New Canaan is the largest construction project to-date in the town of New Canaan, and has been accompanied by an investment of $80 million by Karp Associates. "The development consists of 59 rental units, along with 40 condos ranging in size from 1000-to- 2800-square-feet," Arnold says. "We have a very nice group of people, from younger families all the way up to active seniors."
With private balconies and terraces, and half of the plot dedicated to green space, including a natural playscape and zen garden, the development at New Canaan is a credit to Karp Associates' commitment to innovative design. For Arnold, that's partly due to the unique ability of Robin Friedman Carroll, the company's Director of Design & Residential Construction, who helped ensure features and style important to buyers and renters were incorporated.
"Architect by training, and a builder by vocation, Robin has a great eye for design," he says. "We're always on the lookout for new ideas. When a new magazine comes into the office, we'll pass it around, then we'll discuss the designs that interest us, whether it's a cantilevered wall, or a completely unique building.
"At the same time, we need to work with our clients," he continues. "I often joke that when we've finished a project, very rarely does anyone say everything was perfect. Our goal is to make the experience of building a pleasurable process and to work throughout the project to create a finished product that meets our clients' needs, and enhances their quality of life."
High-caliber craftsmanship
It's been a difficult couple of years for businesses throughout the construction industry, as the Covid-19 pandemic brought projects to a halt nationwide. But amid difficult circumstances, Karp Associates and its COO, Paul Stone, demonstrated its resilience. "We continued to pay everyone, and retained all our staff," Arnold states. "We fortunately had a few commercial projects ongoing, where businesses sought to make the most of their temporary closure by inviting us to renovate or alter their office space. In one case, we managed to add a nursery and preschool to an existing community center.
"As an employer, however, we had a responsibility to stick with our employees, even though we didn't know whether the market was going to bounce back," he argues. "What we found was that outside of major metropolitan areas, and once the pandemic was under control, people began to make strategic changes in living – moving from apartments in New York to homes in Connecticut. Our team communicated with our clients about what they wanted to do, in order to make sure we could realize their dreams as quickly as possible."
Although not over, the impacts of the pandemic have taken on a new shape during the last year, characterized by lengthy supply chain shortages, and associated project delays. "It's been challenging," Arnold admits. "Paul Stone (Karp Associates COO) has us ordering windows six months in advance. We used to order hardwood flooring prior to sheetrocking, we're now ordering the same flooring before we've even installed the foundation.
"For 2022, the biggest challenge we have is pricing," he goes on. "Most of our vendors and suppliers will keep their quotes good for a week or so, but with the cost of everyday materials changing so rapidly, we're constantly having to reassess. For our clients, that means we're having to return to those who have asked for a locked-in price, and explain to them that it's no longer possible. Instead, we can provide a range – otherwise, we risk overcharging them. At the same time, we also can't afford to undercharge them, so it's about trying to be as flexible as we can to make sure every deal is fair. It's really caused us to adapt to source and pay for materials earlier, storing them in our warehouse or on a job site to ensure that we're always one or two steps ahead. It's a completely different way of thinking about projects and time frames."
For the rest of the year, the focus for Karp Associates is on the continued delivery of projects for clients who purchased homes during the pandemic. The company is also waiting on approval for a series of new multi-family projects, as it looks to build on the impressive work at VUE New Canaan.
"In doing so, we benefit from the long-term relationships that we're able to establish with our clients," Arnold says. "We place a real emphasis on the importance of high-caliber craftsmanship as an accompaniment to the taste and lifestyle of our clients. At the same time, we're determined to give accurate budgets and timeframes. We have lost projects where a client has demanded the completion of a project in a window that's simply not possible. In those situations, it's about identifying the right client, the right architects, and the right set of professionals to work with."
Looking beyond, Arnold is hopeful that Karp Associates can continue to post impressive growth, with an even greater range of interesting projects. But equally, he's well aware that he won't always be the one to steer the ship.
"As I get older, I'm starting to look to the younger generation of employees we have on board," Arnold admits. "That's been a major shift in our strategic planning recently that we never really had to consider until now.
"We've recently had a few family members of the next generation join the firm. They are transitioning from other professions, such as law, because they find our business both interesting and challenging. We're trying to bring them up to speed. While I love what I do and I never see myself retiring entirely, I would like to work fewer hours. I'm hoping that we have good people who decide that they want a chance to move the business onwards and upwards in the years to come."
Karp Associates
www.Karpassociatesinc.com
Services: Luxury homebuilding