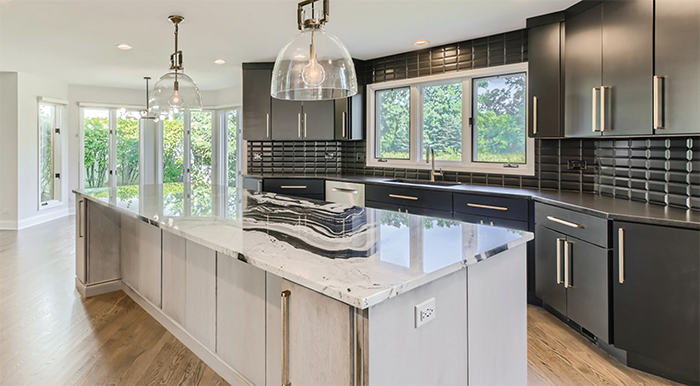 As the design-build industry reels from the aftershocks of the pandemic, Icon Building Group is gaining ground
COMING OUT ON TOP
Established in 2008, Icon Building Group (Icon) is a construction and remodeling company based in the suburbs outside of Chicago, specializing in luxury custom homes and neighborhoods. In Icon's first sit-down with Modern Home Builders, since before the pandemic, Charlie Murphy, President, details some of the challenges fought and changes sought during such unprecedented times.
"First there was the complete halt in activity when the world stopped," Charlie begins. "Which was quickly followed by a monumental rise in demand for housing stock, new construction and remodeling projects. Combine this with the supply chain issues relating to the sourcing and procurement of materials and contractors – it's been truly chaotic. However, internally, we came together in the trenches to push on through, ramped up our head count by doubling our workforce and came out on top. Everybody was forced to re-evaluate the efficiencies of their businesses and I ultimately see it all as a real learning opportunity, culturally. We've actually seen some pretty substantial growth throughout the whole period."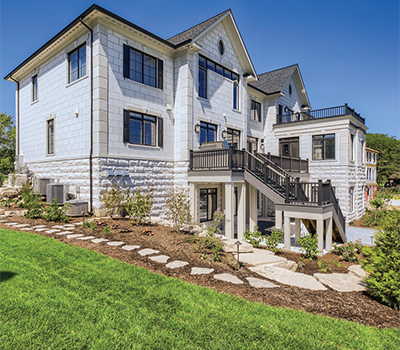 "Yes," Jenny Rice, Remodeling Sales and Design Consultant, states in agreement. "Our lives were turned upside down overnight, as were people's needs with regard to their home spaces. In a short window of time, we were challenged with accommodating the new normal amidst the issues and delays that the industry was caught up in. Our hair was a little on fire for a while there, but we've ploughed through the most difficult part."
On time, on budget, or else
In the quest to provide the utmost in customer satisfaction and the highest quality design-build properties available, Icon employs the most talented architects, interior designers, contractors and materials. With proficiency and due diligence at the top of its agenda, the company offers its customers a stringent 'On time. On Budget. Or Else!' guarantee. Within this, it assures clients that they will be compensated for any delays, caused by the company itself, and never pay above the contracted price for their project. This approach to treating its clientele with accountability, honesty and respect sits at the heart of Icon's company ethos and undoubtedly, is one of the reasons it has managed to weather the recent storms with such success.
"All of our projects sit between the values of $650,000 and $7 million, but with the way the market is currently operating, the activity below the $1 million mark has slowed," Charlie explains. "When it comes to the remodeling side of things, we've started to see it crop up in different areas to the past. Traditionally, the higher-end school districts were less associated with remodeling, as the local upper-middle class demographic had enough disposable cash to build their own homes, ground-up. Now people in these areas are starting to see the affordability of buying an existing property and renovating it to their taste. Our remodeling division will account for around ten percent of all revenue this year, whereas next year I'm expecting it to double to 20."
"One of our recent projects has been for a family in the Barrington area," Charlie continues. "Where we built a home for a customer, next to which we're now building a property for his father, and I believe there's a plot across the road that his brother wants – a family compound. The original customer's 12,000-square-foot property sits on a lake with a pier and features a two-lane bowling alley, a five-car garage and a sports court with a climbing wall, basketball nets, a golf simulator and a volleyball court. We also fitted a professional spa with a sauna, steam room and a really nice gym, and a new development that is starting to take hold around the country – an Amazon delivery room. The idea is to provide a safe space in which the homeowners can see who's pulling up to deliver their packages, with a coded exterior door that sits separately to the locked door that leads into the house. Next door at the father's house we're fitting a 5-lane indoor Olympic swimming pool, a Zen meditation room and we're even talking about creating an underground tunnel between the two properties – everything you would expect from a $5 million home."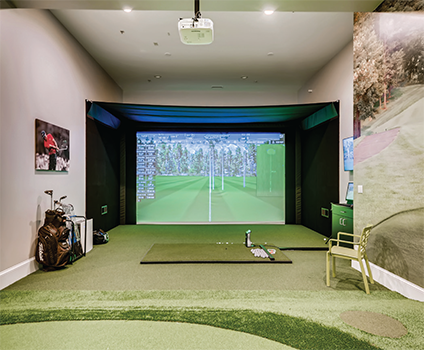 Customer care
With regards to Icon's remodeling division, the company is proud of its diverse capabilities in approaching different types of projects, as Jenny details: "A couple approached us during the pandemic about a home in the North Shore suburbs, her mother had recently died of Covid, and they had taken on her house. The physical space was fantastic and had been in the family since 1997. It was an honor to delicately work alongside them, through what was an emotional process, to give the property a new breath of life.
"We had another house nearby where we converted half of their ten garages into a professional golf practice putting green and driving range, on which you could project the backdrop of multiple international golf courses. We kept the outside exactly the same to maintain its street presence and attractiveness; I'm not a golfer but it was a really cool job."
However, it's taken more than Icon's reputation to help ride the wave post-Covid. Charlie's attitude has also played a key role, as he concludes: "I personally view employees as customers, contractors as customers, and customers as customers – because we can't do what we do, if we're missing any one of these three subsets. We're incredibly focused on our work culture. One thing we hold at the forefront of our minds when hiring new staff: hire the person, not the skill. Skills can always be learned. It is much harder to get a person to change values, communication skills and attitude."
www.icon-group.com