Championing colleagues, clients and the wider construction industry: the story of Millennium Custom Homes
FROM GRASSROOTS TO GRAND DESIGNS
For Millennium Custom Homes (Millennium), the first, and most important, value is customer satisfaction. Making decisions about a custom home or renovation project can be difficult, which is why Millennium always takes the time to guide its clients through the process. The business is headed by Founder and Owner, Philip A. Calinda Jr., who, in his 35 years' experience, has helped thousands of clients achieve the homes of their dreams.
Phil's introduction to the industry started at the age of 13, being paid $10 a day for scouring local construction sites and collecting discarded nails by the bucketful. At the age of 17, while still at high school, he secured a job as a laborer, and went on to work his way from the bottom up. Today, Phil has 2600 homes under his belt, and countless remodeling projects. "I can't tell you how many remodels I have done: everything from educational establishments and doctors' offices to houses of worship and retail properties," he begins.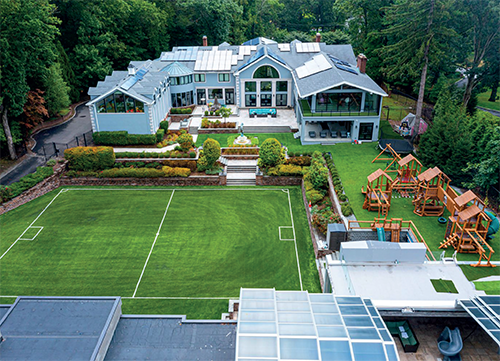 Talented team
Phil has owned Millennium for 13 years, having bought the company from the original firm whose sites he scoured for nails, and for which he worked for over 30 years. "We have been able to strike out on our own, and go ahead and do some amazing work," Phil enthuses. "I have a great team. Jessica is the mainstay of the company; keeping us moving, keeping us supplied, keeping us insured," he quips. "I have a right-hand man who is a master plumber, and my son has also joined us. We have a unique business model out in the field. We may not be up to speed with the latest technologies, but I don't believe the office builds the job. I believe the job is built out in the field by the people who are dealing with it every day. Our construction lead time is usually half to a quarter of everybody else's, and the quality is just as good. I have learned how to multi-task, and have multiple contractors working on a project at any one time.
"That is our uniqueness. I believe in tackling one or two jobs at a time, and then moving on to the next. Being able to manage more is not the issue, but rather, it's more effective to concentrate forces so you are not running around wasting time when every movement counts," Phil emphasizes.
In terms of a custom build or renovation project, in today's market, Phil sees little to differentiate the two. "In this area, many of the superior properties are gone. People are therefore, having to purchase what's available. This often results in a considerable amount of unique renovation to make the property work for the owner. Critically, whether we require framing or welding skills, for example, my team has the talent to meet the needs of the specific project." No two projects are alike, and every customer has different wants and needs, whether that's in a home built from the ground up or in terms of a complete reconfiguration.
Problem solvers
One such notable build is the Short Hills project, or as the team likes to refer to it: "The Tunnel Vision House". Working in collaboration with Chris Manos of Architectura, this impressive feat of engineering came to fruition. As Chris explains: "One of this project's challenges was the existing house and its configuration. We needed to engineer a way to get from the house to the new pool without going outside. The owner wanted to incorporate a retractable roof system, enabling the pool to be used all year round and accessed from indoors. Much thought went into how to achieve this end.
"We chose to open up an existing concrete foundation wall to create an underground tunnel that leads to the pool deck. In conjunction with the civil engineer, we were able to create a straight run from the existing basement all the way underground to the pool, so the client never has to go outside in the winter.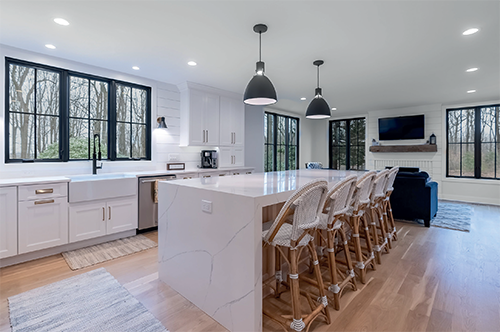 "Phil and I then devised a mechanical heating and cooling system inside the tunnel, so everything is climate controlled. Furthermore, the client requested an addition to the main house: a staircase that leads to a new gym off of the master bedroom, with a Californian-style balcony. The walls slide in two directions to open up the entire gym area. It has a balcony, and below that, there is a covered exterior terrace. A staircase connects the second, first and basement floors, so the client can move from the gym, down the staircase to the tunnel, enabling immediate access to the pool."
Unique project
There were several complexities with the project, including an existing pool house that needed to be architecturally and climatically integrated with the new structure. Chris continues: "To bury the tunnel, we used rock, covered with Astroturf, which can present a drainage issue. We, therefore, had to create all types of waterproofing, and make sure the tunnel was pitched to prevent water seepage. A climbing wall was added to the exterior of the tunnel, making the space much more usable. It was a unique project; one of which Phil should be very proud, and particularly so, in light of the relatively short amount of time he took to complete it."
Phil believes that these types of projects, and particularly those undertaken over the past couple of years, have been a sign of the times. He continues: "These have been examples of good times, and of people having the means to make these dreams a reality. Is this going to be the norm for the future? I don't believe so. The projects coming in now are on a much smaller scale, such as basic single-room renovations. I don't want to be known for just doing large projects though; when times are tough, such as we're coming into now, it's important not to be locked into that market. We need to keep our smaller clientele too.
"Looking to the future, I want to step back a bit from the field, bring on my team, and now that my son is working with me, I can hand over the reins a little, but still oversee the work. So, where do I see the company going? We will, no doubt, have
some diverse projects in the next five years, but in the immediate future, we are basically strapping ourselves in, and seeing how things go. Even those with disposable income are sitting tight right now because of the current uncertainty."
Future direction
To conclude, Phil highlights that as a once-longstanding president, and still active member of his local builders' association, he is a strong believer in championing the trade. "We value the communities in which we live and work, and give back by sharing our professional expertise with others through leadership and participation. It is crucial for building firms, of any size and standing, to be supportive of the associations. Uniting in this manner is the only way we can exert an element of control over the processes and regulations that are increasingly crippling the industry and our customers. It is important to help steer the agencies on what works and what doesn't, for the future of our industry."
www.millenniumcustomhomes.com