The founder of Black Oak Homes explains why every custom build project is a passion
The people's choice
Recognized as one of the fastest growing builders in town, Black Oak Homes (Black Oak) is a locally owned custom home builder, based in Colorado Springs and the surrounding cities. Black Oak's Owner, Akeem Seriki, is a US Army Veteran and has been in the building business since 2007. In 2019, Black Oak won the HBA Parade of Homes, People's Choice Award and this year, in 2022, the business is honored to have, once again, won the HBA Parade of Homes, People's Choice Award.
"Here, at Black Oak Homes," Akeem explains, "we offer complete custom homes, from start to finish, with unique floor plans, providing bespoke options, such as multi-generational living. This option enables our clients to bring the wider family together, with floor plans that can truly accommodate additional accessibility needs. From open or split floor plans to elevators, one of our key differentiators is that even our standard options soar above the rest."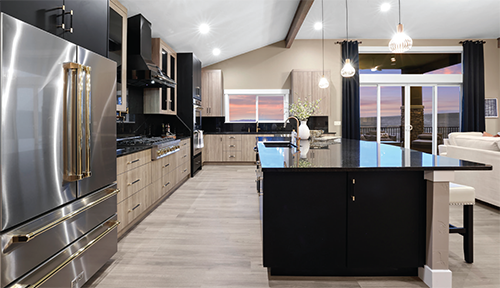 As one of the fastest growing, and the only all-inclusive, builders in the region, Akeem is keen to discuss the reasons for the business' success. "Our mission is to provide exceptional craftsmanship, extraordinary collaboration, and innovation within the building industry. We are passionate about our product, and our solutions exceed expectation. Our homes are built with quality materials and superior craftsmanship, so stand the test of time. Black Oak has formed tremendous bonds with some of the most gifted contractors around, thereby creating an advantage over our competitors. Creating these bonds has enabled us to continue providing an exceptional product with extremely competitive build times. Over the years, we have spent countless hours listening to the desires of families to create unique and personal homes."
Our passion is our product
An industry leader, engaged in the development, design and building of single and multi-family homes, Black Oak strives to be the builder of choice in Southern Colorado. Indeed, despite the current economic uncertainty, it would seem that, in general, the health of the home building industry in Colorado is pretty robust. Akeem elaborates: "In 2022, Colorado Springs was actually ranked as one of the most desirable places to live in the United States. That said, we truly believe in what we offer, and our product speaks for itself. Our passion is our product. When you can provide the client with superior solutions, and realize their vision by delivering exactly what they are looking for, then the desire for that product will always be healthy, irrespective of external economic factors."
Black Oak aims to provide an experience of a lifetime. As Akeem enthuses: "We believe that houses shouldn't be built because of consumer demand; they should be built to fit the client's dream. We want to deliver an enjoyable and rewarding design and construction process from consult to keys, and we are committed to making that process as seamless and stress-free as possible. Satisfaction as a builder only comes from happy customers."
From a kitchen, bathroom or complete remodel to a basement finish or home addition, while Black Oak offers a range of construction services, Akeem's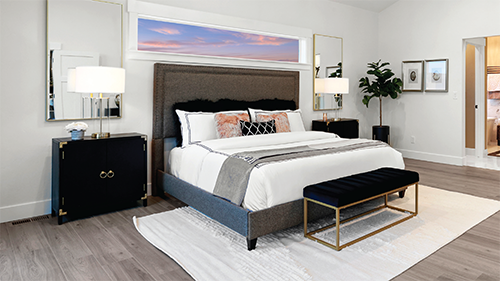 passion lies in bespoke custom builds. While customers can choose from a wide selection of floor plans, working with Black Oak on a unique design offers the opportunity to create a dream property that exactly meets the needs and lifestyle of the homeowner. "You are able to plan out the type of flooring, kitchen cabinet finishes, and lighting that you'd like, anything you can dream of in effect. A custom home can also be more energy efficient than a pre-built model. The insulation provided by the walls is thicker because it has been built specifically for the home's dimensions. Equally, you have more design options with a custom home. While floor plan models do offer some customization, only bespoke homes provide the opportunity to customize every square inch of your new space."
A little more elbow room
Black Oak offers spectacular community living, with the opportunity to construct custom build homes in a number of existing communities. "Homes built in the Winsome Hills community are often constructed on larger lots, offering more privacy than most of the other neighborhoods in the area. In addition to larger lots, you get gorgeous, open views of the mountains, less congested neighborhoods, and just a little more elbow room to roam. Winsome Hills is a great place for a new custom home," Akeem expounds.
"Equally, Latigo offers an amazing option. One of the few available areas within moments of downtown Colorado Springs that offers an equestrian community, Latigo is a great place to consider building a new home," Akeem continues. "This development offers lots with a minimum size of 2.5 acres, giving you more freedom to create your very own space. Latigo is a small community in Falcon, Colorado that provides an excellent place to live. It is located just outside of the city limits and has beautiful views with abundant wildlife."
With new custom build homes in the pipeline in nearby Saddlehorn, Black Oak's success in the custom home sector looks set to continue. Clearly the people's choice, Black Oak's passion for its product will ensure it continues to speak for itself.
www.blackoakhomes.net