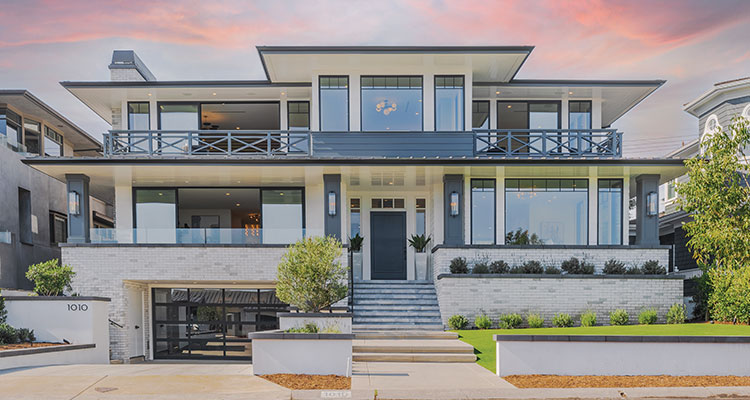 The Burkhart brothers have a modest yet ambitious vision – work with the best of the best on better, bigger projects!
As you roam around the coastal cities of Orange County and immerse yourself in the beautiful surroundings, it's clear why these are some of the most popular places to live in the world. Individuals fortunate enough to build their dream homes here need to find a construction firm that can not only deliver the foundations, walls and roof, but that understands their vision, helps interpret their ambition and even tempers it where necessary.
Enter Burkhart Brothers Construction (Burkhart Bros). Owned and run by Bryan and Mark Burkhart, the business creates luxury custom, contemporary, transitional and traditional homes, priding itself on working closely with a very select group of clientele, keeping its portfolio smaller to ensure the delivery of unparalleled service is met each time.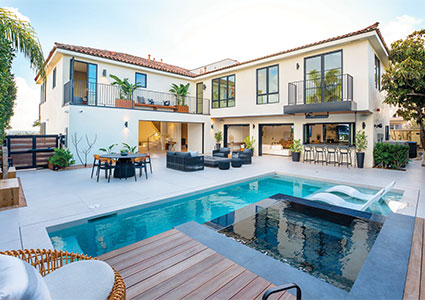 When considering the portfolio of incredible projects that Burkhart has delivered across its history, it is hard to believe the brothers didn't begin their careers in construction. Indeed, they both started out in very different areas, with Mark in tech and Bryan in wine. When Mark's CEO passed away and he was looking for a new opportunity, they decided to work together, buying property to fix, flip and sell.
"We did it ourselves, as our father had always encouraged us to do on our family home. We had a lot of fun and made some money in the process," begins Bryan. "By the time the economy slowed in 2007 we had some people working for us, and so, decided to start contracting for other people. Fifteen plus years later, we're still excited about the projects we're working on."
While previous tech and wine experience may not sound easily translatable to homebuilding, Mark and Bryan's skills and personalities are the perfect complement and fit. Mark's passion for technology and systems implementation pair with Bryan's sales and people skills. While Mark might describe himself as 'the quiet guy,' both brothers' enthusiasm for their work is obvious and their ambition for new projects shows no sign of waning.
"We are very fortunate that we are at the point where we can pick and choose what we want to do," says Bryan. "We maintain a smaller yet higher profile portfolio of projects, working with the true tastemakers and influencers of the community. We bring massive experience to the table and after 20 years of making mistakes – we know what works and what doesn't, and that fully supports the quality of our work today."
"At our level, it's assumed that we can build the house," adds Mark. "So, what we are providing is the ability to make the experience of building or remodeling a house, the least stressful it can be. These projects are taxing on a family, and we believe that communication, making sure the client knows what is going on, really takes some of the anxiety out of the process. All our systems are very transparent; we have an online owner's portal, which they can access at any time to see the schedule, the accounting and the daily logs. They can approve change orders on this platform and see what's going on at any moment.
"This takes away the unknowns of building the house. It ensures clients know what they're paying for is what they're receiving. Given that we are building custom homes, not mass-produced housing, there are always bumps in the road. There are always decisions, discussions and issues to solve. My hope is that we bring some fun to the table while ultimately building a house they love with the least amount of stress possible."
Clearly this is a successful approach, as the Burkhart brothers do not advertise their services; with reputable notoriety and consistent word-of-mouth referrals there's more than enough to keep the order book full. "We really take this as the highest compliment," adds Bryan. "We have several homes featured in the community home tours this year – the CDM Home Tour and the Newport Harbor Home Tour. These are exclusive community events, with hundreds of architects, designers, celebrities and influencers touring our completed homes. For clients to allow that kind of intrusion into their lives to illustrate our work, and celebrate Burkhart Bros – is a BIG DEAL for us."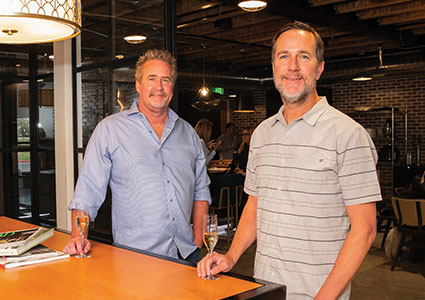 The business' specific focus on the communities in which it works is also a part of this successful approach. With their families based in these neighborhoods, Mark notes that he can drive past 20 Burkhart homes in his own local area. "Every time we build a home, it is like a little seed that we plant, and it grows into other projects. I want to make sure that those seeds are in areas where we are well connected and established."
While there may be a significant percentage of Burkhart homes in the area, this won't be apparent to an observer, as each project is, as Mark puts it, 'as custom as custom can be'. "Bear in mind we're not just building from the ground up, we are also doing entire home remodels, which essentially is a custom home, but I would say 300 percent more difficult as you must transform an existing structure."
Bryan emphasizes the size of these projects as the word 'remodel' may not accurately describe their scale. "An average remodel would be $2 million, with some higher, and all have a variety of challenges, and different styles. We've done Spanish revival, charming cottage renovation, uber mid-century-modern and everything in between.
"Right now, there is a lot of demand for transitional, which has modern elements, but with warmth, not ultra-modern and stark. Really, we have completed styles from across the board, and I take my hat off to the amazing architects and designers that we work with. They give us a set of plans and we build it the way they want, with the intent they want."
He continues: "Every house has concrete, it has framing and steel, but it is the attention to detail that is critical. That's where the '20 years of making mistakes' comes in and where our expertise makes a difference. That makes us selective with the kinds of projects we are doing; we want to make timeless landmarks, that will look beautiful for 100 years."
While tipping his hat to the designers and architects who create the overall vison, Bryan did note that the brothers will share their opinion on the buildability of a home and any pitfalls they foresee, as well as advise on what is essential to include. "What we are suggesting now is that all homes are wired for smart technology," says Mark. "These elements should be built in from the beginning, and this can be for a relatively small upfront cost. You can wire without having to install an entire smart home system for minimal cost. Do it as you are building and prepare for the future."
"Every job is a new adventure with everything done by hand so there are hundreds of people involved and thousands of components – it's natural for challenges to arise. We make a concerted effort to walk through the project with a client 100 times prior to finish, to ensure last minute changes are executed," continues Bryan. "There's a phrase that's very expensive in construction, and that is 'we might as well'. While we're doing this, 'we might as well' do that – and that can start to add costs very quickly."
"My advice to anyone considering building or remodeling is to have a realistic budget," emphasizes Mark. "It's not just the cost of the designer, architect, engineers and the building itself, it's the additional requirements – including what the city may require, which is vitally important to keep in mind. Owners need to have a realistic expectation of the budget and then put it in a contingency for unforeseen costs and additions they're comfortable with, which can be around ten percent to the cost of the project but is usually higher."
"I would say that out of five projects, at least two do not move forward because they expected a budget of $1 million but in reality the actual cost to build as designed is closer to $3 million," agrees Bryan. "These never end up getting built or they go back to the drawing board and start over."
"The smoothest projects are always the ones with seasoned architects and designers whom we have worked prior," shares Mark. "They put together an entire package with both materials and dreams – everything is laid out on paper and if they hand that to us, it will be a 10-to-12-month project. If new decisions are made along the way, things will naturally be delayed, and it turns into a 14-to-16-month project."
As supply chain challenges in the industry continue to test homebuilders' capabilities, the project timing and execution of a successful build is at the forefront of the brothers' focus. "We are hired six months to a year in advance and we are working on all the details well before we start. Deliveries of products can be a little bit slow, I just heard from a famous window manufacturer that there is currently a 40 week lead time! How does that work on a year build schedule?
"We are ordering product as soon as we break ground, we are pouring foundations and we are organizing windows at the same time, and it can be risky," Bryan reveals. "When it comes to ordering doors and windows, which are usually the most expensive custom materials on a project, I personally am the only person allowed to do it. I have a boneyard of old windows from those years of mistakes we've been making and while I love donating that sort of thing to good causes, I don't want to donate too much!"
With Burkhart Brothers Construction approaching its 20th year and having achieved an enviable position in the luxury custom homebuilding segment, what is next for the business? "The only thing I see changing is us becoming even more selective with projects we choose to embark upon, and the people we work with," says Bryan. "We'd like to do stronger, better, bigger projects, less of them maybe, but with really, truly incredible people in the community."
"I don't think we will change the areas where we focus, so it's the opportunity to choose who we work with and really grow closer to certain architects and designers," Mark agrees. "We are very happy with our team, but we also work with sub-contractors, architects and designers. We want to take the opportunity to build on those relationships as well. That isn't because any one supersedes the other, it's because their methods and approaches are in sync with ours. We have the utmost respect for all the different members of our team."
"It's like dating," notes Bryan. "You figure out who people are on dates, you court a lot of people and then eventually you get married! We've been courting many people for many years and we keep refining that process, it's a never-ending journey."
Simply put, "we are building the dream team that is going to deliver despite the challenges of any given year – we are building a family and a tradition," Mark sums up.
Burkhart Brothers Construction