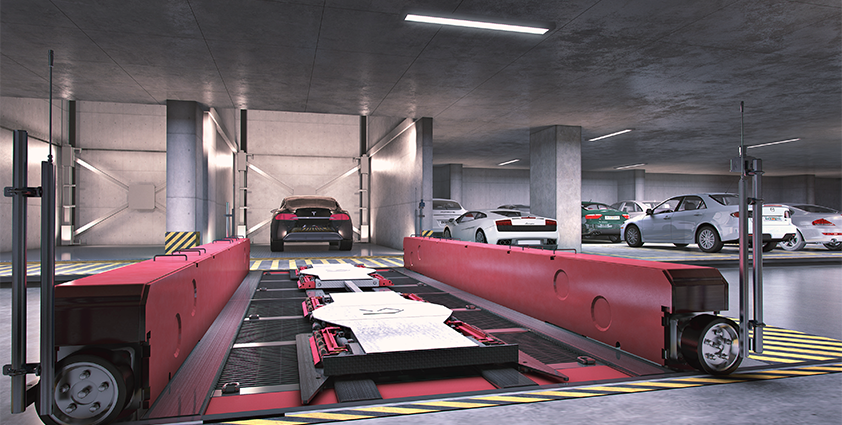 The United States contains an estimated two billion parking spaces. With a population of 329.5 million, this seems like an overzealous approach to parking. Coupled with that statistic, some estimates claim that Western Europe hosts about 300 million parking spaces, demonstrating a worrying global trend of dedicating a tremendous amount of land to parking alone.
With smart city technology (like AI-controlled traffic and waste management) spending is expected to reach $327 billion by 2025, so many cities, municipalities, multi-family unit owners, and business owners should consider investing in automated parking technology. These systems offer a plethora of benefits for entire communities– from its drivers, to building owners, to investors. Investing in an automated parking system (APS), with either a retrofit or new build, ultimately adds value in promoting the overall safety and quality of life for communities in four impactful ways:
1) A contactless experience
As a consequence of the Covid-19 pandemic, minimizing face-to-face interaction and the number of touchpoints in day-to-day activities has become the new standard. With pay kiosks, stairwells, elevators, and valets, reducing human interaction and the spread of germs is nearly impossible in a traditional parking facility.
Automated parking systems, on the other hand, ensure a contact-free experience in both the drop-off and retrieval of vehicles with a secure central transfer location. Thanks to technology like mobile apps, drivers can remotely schedule pick up and track their vehicles in real-time throughout the retrieval process. Automated parking ultimately reduces the time spent in parking garages and the need for attendants to manage the garage.
2) Positive environmental impacts
Not only are automated parking systems safe for users, they are also the most environmentally sustainable parking option available, significantly contributing to net-zero carbon goals. After all, transportation is responsible for a fifth of all global emissions. Automated parking systems address this by eliminating the need to cruise through several levels of a parking garage – reducing emissions by 80 percent compared to conventional parking garages. Well-designed automated parking systems also utilize electric vehicle (EV) charging stations, a must-have as many countries and manufacturers begin mandating the use of EVs.
Automated parking garages are space-efficient, as well. Compared to a traditional parking facility, they can fit twice as many cars in the same footprint. This space consolidation opens up valuable land for green space and solves issues like traffic and urban sprawl in highly populated areas. Consequently, preserving urban green space is linked to improved health and wellness (like reducing stress and encouraging exercise) in communities, and automated parking systems contribute to prolonged sustainability and less use of natural resources. Considering that nearly 70 percent of all people are expected to live in cities by 2050, land use will continue to play a key role in the quality of life and sustainability of future cities.
3) Improved driver safety
Twenty percent of all car accidents happen in parking lots and garages each year. And many of these accidents are due to distracted driving while navigating parking facilities. With an APS, there is no need for drivers to park their own cars. They simply park their vehicle in the transfer area, then ensure their car is ready to be parked by using the Kiosk or mobile app. Once this process is done, the vehicle is parked in its designated storage position with no human intervention.
4) Crime prevention
Something that seems as benign as parking infrastructure actually has direct impacts on the economic vitality and crime rates of entire communities, too. Traditional parking garages are the third most likely setting for violent crime compared to all other commercial facilities including bars and nightclubs, according to the Federal Bureau of Investigation. Oftentimes, parking garages are open to the public, meaning little to no control over potential vandalism, robberies or assaults. Automated parking systems eliminate the need to physically navigate garages and do not allow open access entry, essentially eradicating the possibility of parking crime.
Overall, automated parking systems should be a major consideration when it comes to the health, safety, and wellness of city residents. The future is health-conscious and sustainable, and the way we park should be, too.

Drew Johnson is Business Development Associate for Westfalia's Automated Parking Systems. Leveraging the expertise and experience of Westfalia Technologies, Inc. and Westfalia Logistics Solutions Europe GmbH Co. KG, Westfalia's new parking solution is paving the way for innovation in the automated parking industry. By capitalizing on existing core competencies in warehouse automation and materials handling, Westfalia's parking solutions specialize in cutting-edge, time-tested fully-automated parking systems for businesses, cities and municipalities, hotels, and residential properties for the Americas, Europe and Middle East.
www.WestfaliaParking.com