Hidden away in one of Minnesota's many lakeside forests, the Minne Stuga House is surrounded by local pine and cedar trees with secluded waterfront access. Clad in sustainably sourced Kebony wood, the cabin's sharp lines, tight peaks, and sweeping roof are a dramatic addition to the forest landscape, with the wooden features and earthy tones providing a natural appearance.
Originally built in the 1970s, the A-frame cabin was renovated by Minneapolis-based designer and lifestyle blogger Melissa Coleman – The Faux Martha – alongside her husband Kevin, a child psychologist. Renovation of the cabin was undertaken by Grand Marais-based Taiga Design+Build, who helped maintain the cabin's timeless feel, retaining 90 per cent of the original structure.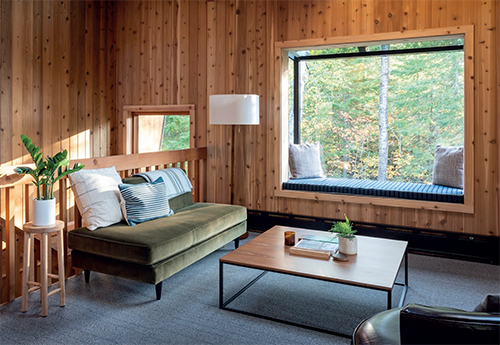 Where the original cedar siding was rotting, Taiga replaced it with Kebony, a global leader in the production of sustainable wood. The Norwegian company uses a patented technique to turn sustainably sourced softwoods into environmentally-friendly Kebony wood, with hardwood-like qualities such as high durability and dimensional stability. Kebony takes on a rich brown colour that has helped preserve the original aesthetic, keeping the cabin in close harmony with the surrounding landscape. Kebony also requires very little upkeep, futureproofing the retreat for the next generation.
The Minne Stuga House now opens out on to a gorgeous decking area, which was built with Kebony wood and furnished with Loll Designs. From the decking it is a short path through the trees to the shore of Devil Track Lake, where guests can fish, kayak or have a quick dip. As spring turns to summer, the cabin bathes in natural light and the lakeshores become the perfect warm retreat.
The Colemans use the Minne Stuga as a periodic weekend getaway for themselves and rent it out the rest of the time as a fully appointed vacation property through www.theminnestuga.com
When asked why Kebony was selected for the project, Taiga Design+Build Principal Anton Moody explained: "I turned the Colemans on to Kebony, which performs better over time than cedar. It's ageing and weathering nicely."
Melissa Coleman, Owner of the Minne Stuga House added: "We're still pinching ourselves to believe we found this place. It's our hope that our kids still have this cabin 70 years from now."
For a list of the sources used in this article, please contact the editor.
www.kebony.com