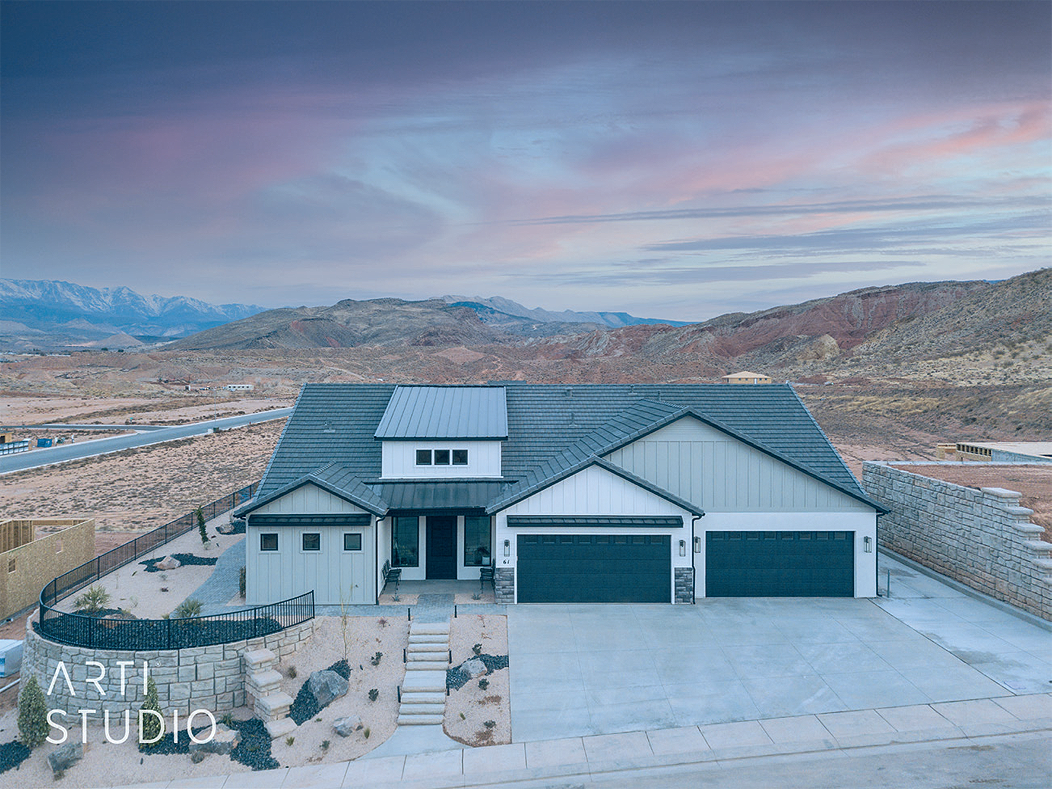 Hot property
In amongst the mountain valleys and red rock mesas of southwestern Utah, sits the Hurricane Valley. Sandwiched between St George and Zion National Park, the region has become famous for escape, adventure, and thanks to the work of Interstate Homes, beautiful places to live.
A subsidiary of Interstate Rock, Interstate Homes has been designing and building innovative, energy-efficient, and affordable homes in Hurricane Valley communities for more than a decade. Benefitting from the engineering and excavation capabilities of its parent firm, Interstate Homes can transform any dirt tract into a property of the highest modern standard.
Amanda Condie, Production Manager at Interstate Homes, believes that a large portion of the company's success over the years has been driven by the pride it takes in each and every one of its projects. "Not only do our home owners live in our communities, but we live in our communities too," she explains. "Most of us in the Interstate Family of businesses have grown up in
Hurricane, and as a result, we are highly invested in this community and in making sure that our properties enhance the area in which we all live and work. We want our home owners to be happy!"
Interstate Homes has performed work on a number of new subdivisions over the last decade, including Westfield Estates, and Parkside at Grandpa's Pond. Featuring some of the most spectacular views in southern Utah, lots at Grandpa's Pond come in a variety of shapes and sizes, allowing each owner to select the ideal site for their dream home. This subdivision will continue to grow through future phases.
Design trends
In 2021, Interstate Homes has been focused on projects at Cottonwood Hollow, where Phases 3 and 4 will be opening this summer, and The Ridge at Zion Vista – another subdivision offering unrivalled views of the Hurricane Valley and surrounding mountains. No matter where a new owner wishes to live, each Interstate home is designed and constructed with the same key principles in mind.
"First of all, we want to deliver a home that is cost-effective to build and live in," Amanda reports. "Secondly, whether we're working with a family, a couple, or an individual, we need to design homes that suit people from all walks of life.
"All in all, our homes are well laid out and have great energy efficient additions that a lot of other builders ignore. The difference is, we want our properties to be forever homes. We build homes that everybody can see themselves living in for the rest of their lives."
Of course, the nature of the construction industry is such that, even if core principles remain the same, consumer needs and design trends are everchanging. One such contemporary inclination has seen a return to one-tone paint for use on walls, doors, trims and ceilings.
"I think all trends recirculate, but this is one that has surprised me," Amanda states. "I suppose one-tone is timeless. A lot of people come in during the design phase and they really want a home that won't age quickly. People don't want the classic black and white look anymore because, in 5 years' time, we will all know when those homes were built. I think that timeless concept is on a lot of people's minds. They don't want a timestamp on their home, but a brushed nickel finish is always going to look good, or wall colors that won't look out of place 20 years down the line."
Building relationships
In order to help its home owners realize their own specific visions, Interstate Homes employs technology such as Buildertrend software, which allows the firm to keep track of selection processes, ordering times, schedules, home owner information, property information and permit management. More important than these automated processes, however, is the company's small but dedicated workforce.
"We currently have eight employees covering 67 homes, which might not sound like a lot, but all our properties are semi-custom and that takes a lot of management," Amanda points out. "We are a very tight-knit team and I think we portray that to our home buyers and the wider community. We want people to love our homes, and we stand by our product because we know it's great quality work performed by fabulous subcontractors, who are a key part of our team. We pride ourselves on building great relationships with our subcontractors, with the people who buy our homes, with the members of our community, and with city municipalities and representatives."
Welcoming communities
In 2020, Interstate Homes faced perhaps the biggest test of its history when the Covid-19 pandemic hit the United States. After an initial two-week period of disruption in which developers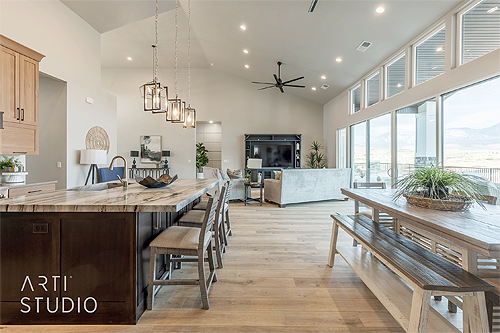 and construction companies were forced to step away from their work, Interstate Homes was soon inundated with opportunities and its greatest challenge became sourcing materials fast enough to meet demand.
"We are building across four separate subdivisions right now with multiple lots, and we receive three to five calls each day from potential home buyers," Amanda reveals. "Covid has impacted the supply of lumber, and our subcontractors are struggling to obtain bathroom fixtures due to manufacturing plant shutdowns, but we are working through it. The ripple effect of the pandemic has led to price increases across the board, but we are pleased to have avoided a slowdown. Instead, we've had a crazy ballooning of demand, so we are just trying to build as fast as we can and as well as we can."
The rapid increase in demand for Interstate Homes' services, even during a year dominated by a global pandemic, is due, in part, to the rising popularity of the Hurricane Valley with home owners. With Covid-19 leading many businesses to the realization that their employees can work effectively from home, vast numbers of Americans are now enjoying the freedom to move out of metropolitan areas and work remotely from locations as geographically diverse as Hurricane.
"This area has just completely blown up," Amanda declares. "If we had hundreds more lots available, we would have hundreds more contracts. We live in a wonderful place with tons of outdoor recreation opportunities, which, as the world shut down, were some of the only hobbies and activities that could continue. The result is that Utah, and the Hurricane Valley, have been at the center of mass migration recently. Unfortunately, since that has happened, a lot of out-of-state builders have come in to the area to get a piece of the pie, which changes the dynamic, but I think everybody here knows, and can see, that our quality and our expertise really shine through."
Alongside a focus on efficiency, Interstate Homes hopes to acquire more land in 2021 as part of its efforts to seize the moment and take advantage of surging desire for homes in the Hurricane Valley. Though the pandemic has given rise to equipment shortages and longer lead times, Amanda is confident that there has never been a better time to move into a new home in one of the USA's most dramatic landscapes and most welcoming communities. She is also adamant that Interstate Homes is the best company to help make those Hurricane Valley dreams a reality.
"Despite all the obstacles in our way, it's been a really positive year. Now I just want to see the business growing steadily into the future," Amanda remarks. "I feel as though our current team has reached capacity and, though it's still all about building and finishing around 75 single-family homes a year, I believe we will eventually start to construct multifamily units as well because, typically, that's the way this business trends.
"In the future, I anticipate that we will grow and expand into different areas in Washington County and the surrounding regions, including, perhaps, Iron County and Kane County," Amanda notes. "I think we'll predominantly stay down here in the desert of southern Utah, but we want to expand to different communities. We want to bring our love of the building in the Hurricane Valley to new areas and to as many people as possible."