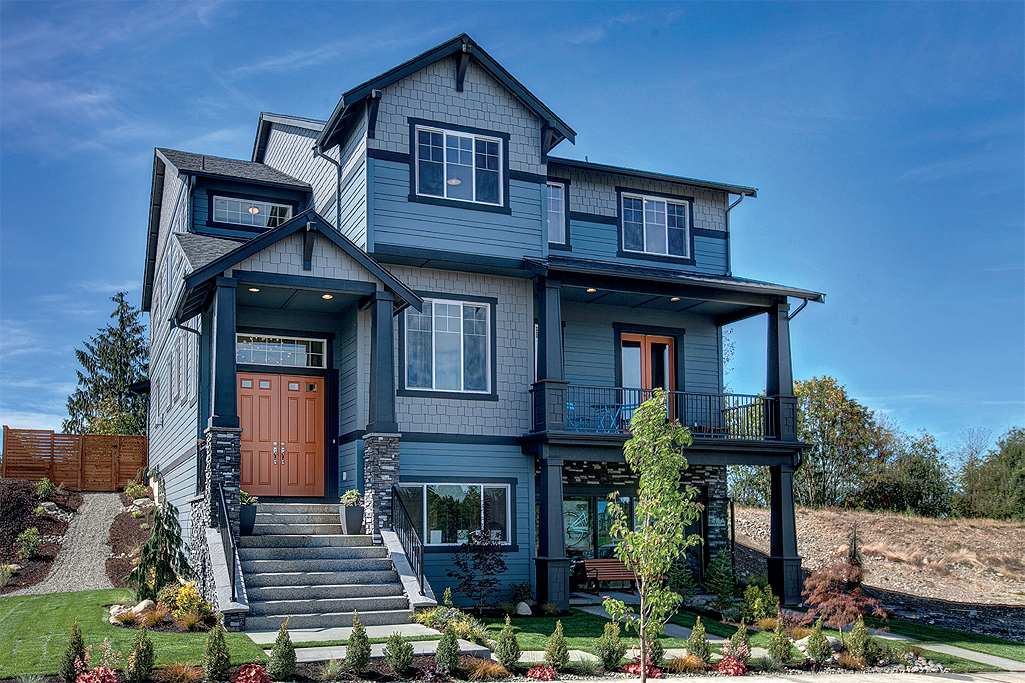 Best in the Northwest
Isaac Stocks and Tom Young were working at a national home builder when they met. Operating in the land-constricted Puget Sound region, a market traditionally dominated by local builders, the pair watched on as the aftermath of the Great Recession forced many well-established home builders to decide between buy-out offers from national firms and retirement.
Isaac and Tom realized the scarcity of entitled lots in the region, and recognized the need for a local development and home building company that could help meet the demand for housing in the Northwest. "This is a unique market in many ways, so you really need someone who is very familiar with each jurisdiction and how to navigate the waters," Isaac explains. After many late-night strategy sessions and cups of local coffee, Isaac and Tom founded Azure Northwest Homes in 2014.
Acquiring raw land, entitled land and finished lots all over the Northwest, Azure closed over 70 homes in 2020 and is quickly establishing itself as one of the larger local builders in the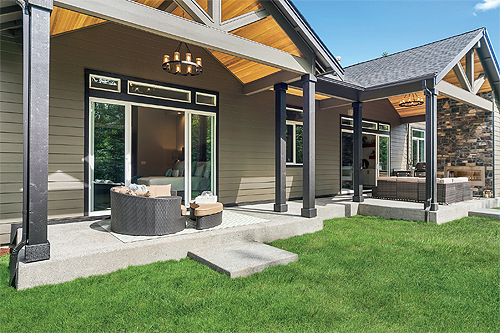 region. Most recently, work was completed on the East Harbor Estates project, a development of private, tucked-away, open-layout homes with rooftop decks, detached garages, and an average lot size of 15,000 square feet.
Inspired ideas
Ranging from 1370 square feet to 1685 square feet, homes in Edmunds Park – another Azure project – contain up to three bedrooms and bathrooms, as well as easy access to community coffee shops, playgrounds, and nature trails. The Edmunds Park development is located in Tehaleh, Washington's best-selling master-planned community.
Just 20 miles from Tacoma and 40 miles from Seattle, Tehaleh lies in the shadow of Mount Rainier and features 'rustic-meets-refined' Northwest-style living, popular with those looking to balance work-home life and enjoy outdoor activities. Along with Edmunds Park, Azure has created one-of-a-kind, affordable, single-family homes at fellow Tehaleh communities Observation Ridge, The Peaks and The Trails. Rich with amenities and boasting over 20 miles of trails through forests, meadows and wetlands, as well as 12 unique parks, open spaces and native terrain for exercise and leisure, Tehaleh is one of the Pacific Northwest's best-loved mixed-use communities.
"One of my favorite developments at present – one that I am particularly proud of – is in Tehaleh, where we are building what we call 'half basements'," Isaac says. "We are constantly struggling with affordability in our market. Azure NW was presented with an opportunity to design smaller, more affordable homes on 35 wide by 80 deep lots. We sketched out some product ideas, but a drive through an older neighborhood in Tacoma really inspired us. These were single story homes with five- or six-foot tall basements that provided storage and space for mechanicals. We knew that we could apply this building style and develop a modern and more efficient version of these classic homes."
After experimenting with this concept, Azure developed a plan whereby living space could be located on the main 'upper' floor and bedrooms on the lower 'basement' level. One benefit of the new design was that it allowed the company to build with a lot more concrete, improving Azure's ability to control costs in the face of market fluctuation.
"The half basement design also meant that we were able to take a 25 wide plan and make the living space feel just as inviting and spacious as a larger property," Isaac reports. "We were also able to reduce the amount of lumber, siding, and other materials that helped keep costs down. It was a puzzle for a while, until we were able to figure out the most functional layout, but we were able to deliver a unique and affordable product that has been very popular with our buyers."
Flexible & resilient
Recipient of the Local Tribute Award for Builder of the Year in 2019, Azure has grown tremendously over the last half-decade, employing more than 50 local people in the process. Cognizant of the latest industry trends and demands, the company is currently navigating demographic shifts, alongside a strong tailwind for housing. In order to keep its finger on the pulse of the market, Azure is careful to listen to its customers and adapt its offering accordingly.
"As a builder of our size, we believe in trying to understand what works for our customers and then appropriately serving those needs," Isaac remarks. "We also really pride ourselves on our purchase process. We knew from our previous experience with larger builders, that it was essential to have established processes for guiding and managing customers through the phases of homebuilding. We wanted to provide a personal customer experience, and consistently deliver homes that our buyers can be proud of."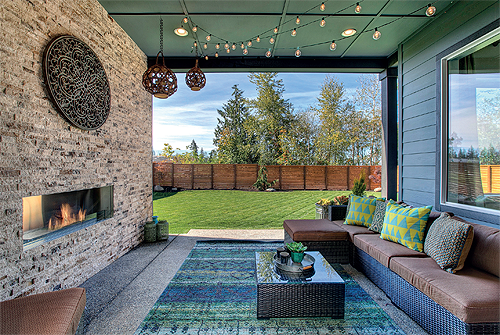 Azure's customer-centric approach is exemplified by its work at Tehaleh. In line with requests from buyer surveys and client wish lists, the company has focused on designing and delivering homes with larger garages, pantries and outdoor living spaces. Not only has this resulted in developments better suited to client needs, but also in a boost to Azure's ever-growing reputation that even helped the company defy expectations in 2020 – a year dominated by Covid-19.
"The company has done incredibly well over the last 12 months or so," Isaac reveals. "It was actually a little shocking how well we were able to navigate the waters. We invested in technology quite early on as a company. We have a builder platform that is web-based and our computers are Microsoft Surfaces, so we were able to create home workstations and move around with hotspots onsite. When the pandemic hit Washington state, we were shut down and unable to work for six weeks. Fortunately, our team was flexible and resilient. Everyone adapted to the new landscape and kept the company moving forward.
"All in all, our team really embraced working from home," Isaac continues. "The majority of workers in the home building industry remember the Great Recession, so I think when times get tough, our sector is pretty nimble and can adjust with the tide. We found that we were pretty efficient working from home, and now are in a position where we need to decide what our business is going to look like moving forward."
As we move into the spring, Azure continues to work its way through a number of existing projects, including a new development in Edgewood. With the company already expanding at a significant rate, Isaac believes that the key to further success for Azure is to keep focusing on what the business does well.
"If we maintain our current trajectory and improve our processes, we will soon be closing 100 to 150 homes a year consistently in the Puget Sound," Isaac declares. "I think we have a really unique ability to develop land and I think more of those development opportunities will be heading our way in the months and years ahead."
Azure Northwest Homes
www.AzureNW.com
Services: Designer and builder of single-family homes