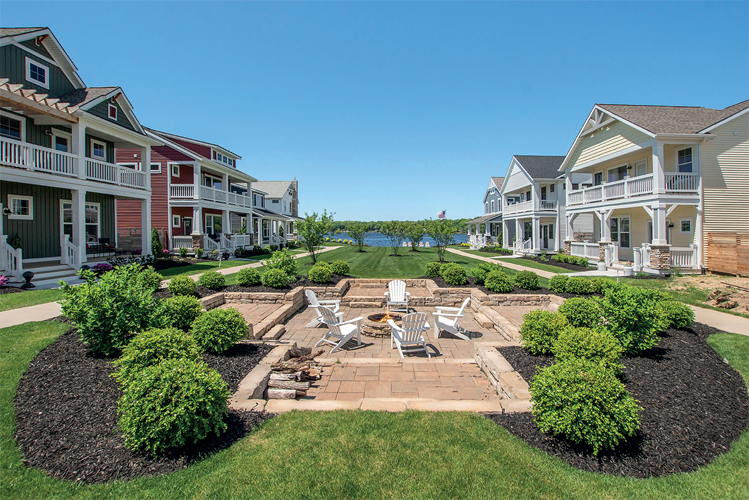 Crafting communities
One of the first master-planned community developers in Michigan, Eastbrook Homes delivers projects with rare authenticity, a sense of responsibility and hallmark creative flair
Eastbrook Homes (Eastbrook) has been a part of Michael McGraw's life for as long as he can remember. Michael's dad, Mick, joined the business in the early 1980s and, in doing so,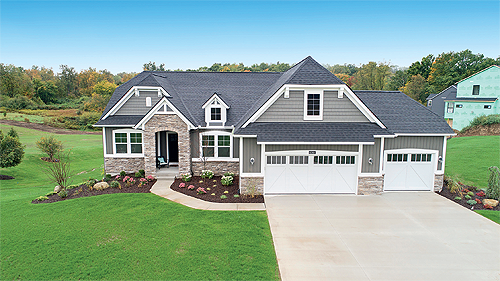 Eastbrook became part of the family.
"I always tell people, I don't ever remember my dad having any other job," Michael laughs. "The Eastbrook office back then was in the neighborhood I grew up in, so I would often ride my bike over and go and see my dad at work. That was really my first experience with the business."
After becoming the majority stakeholder in the 1990s, Mick took over as Eastbrook's CEO, while Michael now works as the company's President of Land Development and Acquisition. The family connection at the top of the organization has helped forge the firm's tight-knit workforce and community culture.
"We've got a lot of contractors and construction team members who have been with us at Eastbrook for 20 or 30 years," Michael reveals. "Our plumbing company, our concrete guys, our VP of Operations and our attorneys are all long-standing figures in the business. I think that's quite a unique situation in the modern world and it probably speaks to Eastbrook's family-oriented culture. Despite being a fairly sizable company, we remain close."
A residential home builder since its inception, Eastbrook is capable of delivering a variety of products, including single-family homes, condominiums, and townhouses. The company was also responsible for one of Michigan's first master-planned communities.
"We built a community called Bailey's Grove in Kentwood in the mid-to-late-90s and that really set us off," Michael says. "When we bought that plot it was all farmland, but it also had a lot of trees preserved to separate one field from another. As we developed the property, we carefully worked around some of the existing rows of trees and ultimately ended up winning an Arbor Day Award. It was really thoughtful landscaping and site planning, which made for a community with a lot of character."
Desirable solutions
Constantly innovating, Eastbrook continues to find new ways to meet the needs of its customer base, which includes buyers from a wide range of backgrounds and age groups, and with varying budgets. Highly adept at adapting to changing markets, the company works with potential homeowners and local municipalities to find solutions suitable for all parties.
"We've become known for some of the common area features and landscaping components we integrate into our communities, but also for our desire to innovate and adapt to the needs of the marketplace," Michael explains. "For instance, there is a gigantic population of millennial buyers becoming very active in the market right now, so we are trying to create products that they want and that they can afford.
"It's a task that requires partnership with local municipalities," Michael adds, "because, in order to achieve desirable housing solutions at the right price, these associations may have to wrap their heads around more home density, cluster developments, or narrower properties. At Eastbrook, we can deliver all this, while still creating really attractive, aesthetically pleasing communities that offer great value."
Design expertise
As Michael suggests, affordability is a core focus for Eastbrook, especially in the current global climate. In particular, the company strives to deliver projects in towns and regions ideally suited for those raising a family.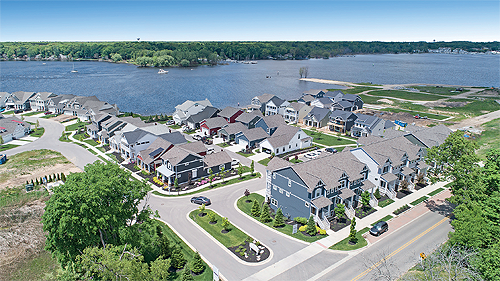 "One of our biggest passions is identifying areas with great school systems, areas that are great for raising kids, and then providing properties in these places that young families can afford," Michael reports. "By building a broad range of homes of different types and sizes, we can serve a wide spectrum of socioeconomic groups and price points in the same community. We always say that if we can create a community housing multiple generations of the same family, which is quite common for us now, then that community is a big success."
When it comes to the complex design behind each and every Eastbrook home, the company benefits from a 4000-square-foot Home Creation Studio. An alternative to the traditional industry process of setting up model homes in each newly built community, the Home Creation Studio is, instead, a centralized facility housing thousands of design features on display in one showroom. Complete with a team of interior design specialists to work with homebuyers on customizing every step of their new home, the site enables customers to make selections on everything from countertops to flooring with confidence and ease.
"By centralizing the design process and bringing it into one studio, we've been able to create life-sized functioning kitchens and bathrooms that can be refreshed as trends change," Michael states. "No more than an hour's drive from our furthest community, we located the Home Creation Studio directly off one of our highways so that it is readily accessible for all the markets we serve.
"Perhaps the best part for our customers is that they get to work with a professionally trained designer that we assign directly to each of them. As part of the process, we encourage our clients to bring in something of inspiration to them. It could be a purse or a painting; something that represents the color, style or direction they want their house to go in. Then, using this object as a guide, the designer will help to bring their home together in a cohesive, harmonious way."
Flexible approach
No matter what a customer's design preferences are, as part of the Eastbrook Guarantee, all Eastbrook homes are built to the highest standard, include smart home technology, and are Eastbrook Energy Efficient (E3). Central to the latter is the company's commitment to investing in energy efficiency features that will provide the most substantial benefit to the customer in the long run.
"Our goal at Eastbrook is to provide the best possible value, so we don't always necessarily do what's popular or flashy, but we focus more on reliable, sustainable, long-term gains," Michael declares. "Reducing air infiltration is one key area for us as it is probably the most significant cause of home inefficiency, leading to heat gain in the summer and heat loss in the winter. We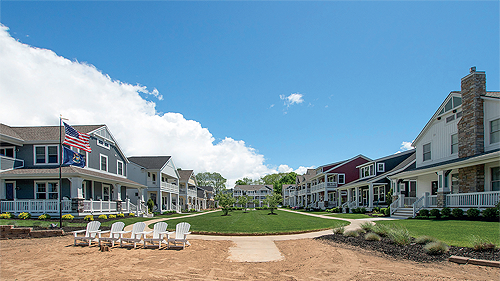 were one of the first companies to use Icynene open cell foam insulation to mitigate this problem and in addition to that, we seal all exterior wall plates and attic penetrations – the goal being to provide the most efficient house with the least amount of air infiltration.
"Some of our homeowners who have previously lived in properties around 15-to-20 years old see a substantial difference in the cost of heating and cooling their Eastbrook home on a per square foot basis," Michael points out. "If they left a significantly older 1500-square-foot house for a newly constructed 2500-square-foot Eastbrook home, it's very possible they will spend the same, or less, on their energy costs."
Looking ahead, Michael believes that the overarching challenge of the future for Eastbrook will be to continue providing the quality affordable housing for which the company has become renowned – especially for a growing first-time buyer market. This does not, however, mean Eastbrook will be focusing on becoming the lowest price per square foot builder in the industry, but rather, on delivering the most overall value for its clients.
"We are determined to continue delivering aesthetically desirable properties that meet the needs of homeowners from both a space and price standpoint," Michael asserts. "In order to do that, we must be creative from a land planning perspective and work collaboratively with municipalities to show them just what we can achieve.
"In the long-term, it's important for us to make sure we possess enough land inventory so we maintain a runway ahead for our future customers. We will also continue to innovate on products with the help of a consulting group and team of architects. Most importantly," Michael remarks, "we'll adapt. Our ability to stay flexible and adapt to an ever-changing industry has played a huge role in our success over the last 54 years and it will be instrumental in helping us grow and succeed throughout the next 54."
Eastbrook Homes
www.eastbrookhomes.com
Services: Single-family homes, condominiums, and townhouses