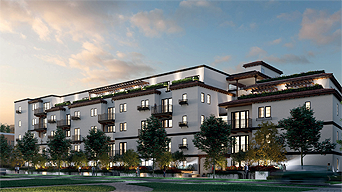 California Dreaming
Based in Los Angeles, Canfield Development is a residential and mixed-use real estate and development firm, founded by company President Steve Erdman. An industry veteran with more than 40 years' experience in the real estate sector, Steve established Canfield in 1990, and since then the business has successfully developed countless high-quality apartments, condominiums, and custom homes across the wider Los Angeles area.
Described by Steve as a 'small' and 'nimble' organization, Canfield's success over the years has been driven by the company's ability to recognize and adjust to market trends, as well as its capacity to identify properties and locations that are prime for development. From there, Canfield acts as a full-service provider capable of leading a project from land acquisition to handing over the keys.
"Los Angeles is an area where the development process can be very difficult," Steve says. "The political situation is complicated and, among other things, you have to deal with city officials and neighborhood councils – most of whom oppose construction. We have a very strong movement in Southern California called Nimbyism, which means 'not in my back yard', so if you demolish three or four houses and hope to put up an apartment building in their place, there is often a lot of opposition on the grounds of increased traffic, diminished views, and sunlight obstruction. This is why we have a housing crisis in Los Angeles and it can be difficult to bring new products to the market due to these obstacles. At Canfield, our strength is being able to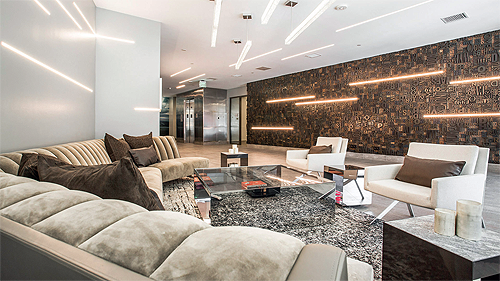 identify these little nuggets and use our experience to navigate through the development process. We offer a complete service from beginning to end that encompasses the identification of land, the entitlement process, the hiring of architects and engineers for design and planning, and finally construction, after which the building is either sold or managed by us."
Industry knowhow
When it comes to Canfield's investment strategy, the company has traditionally focused on acquiring undervalued multi-family and commercial properties in high population, upcoming areas of the Los Angeles Basin, thus achieving long-term capital gains and benefiting local communities. Though the firm is constantly evaluating opportunities, Steve believes that extravagant land costs make many areas of West Los Angeles unsuitable for development in 2020 and consequently, Canfield's recent projects have been focused closer to Culver City, the heart of Hollywood, and the University of Southern California.
"We approach things with a balanced and conservative mindset," Steve states. "The most important question we ask before making an investment is, 'does this make sense economically?' because, at the end of the day, the amount of land you wish to purchase will depend on how much rent you can eventually collect when the project it completed.
"The areas we are looking at currently are in need of modern housing. When developing in these places, sometimes the city will provide us with incentives, whereby if we offer part of the project as low-income housing, we will receive certain concessions. For example, if we are working on a 100-unit development, the city may suggest a deal that will let us build an extra 30 units, if 10 of those units are designated low-income housing. As an experienced organization, we are very familiar with all these legal ins and outs and because the costs are so high, it is very, very important to maximize usage. If you buy a piece of land and can construct 20,000 square feet of living space rather than 10,000 square feet, the land has effectively cost you half of what you paid for it. This is our specialty – being able to seek out these properties and come up with a plan that makes economic sense and that will please our investors."
Among Canfield's latest developments are The Estelle and Fig 31, two projects contrasting in style that go to illustrate the company's wide range of skills and deep industry knowhow. Completed and brought to market in October 2020, The Estelle is a modern, high-end condominium project with 61 units. Each unit has been fully equipped with the latest fixtures and appliances, including Italian furnishings, wooden floors, and coffee machines. Tenants will also be able to make use of various public areas, such as large entertainment rooms, a technologically advanced gym, a pool and jacuzzi area, and three rooftop decks offering spectacular views down to Santa Monica beach and across the city.
A student housing development close to the University of Southern California, Fig 31 may have a different target market to The Estelle, but that didn't stop Canfield from approaching the project with the same passion and attention to detail. Like The Estelle, Fig 31 is equipped with high-end features designed to best serve its tenants and boasts four seven-story buildings within walking distance of USC. Very modern and highly amenitized, the site contains enhanced access procedures and a variety of common spaces specially-designed for student study and leisure.
"A third thing we are working on is a co-living development called the Hauser project," Steve adds. "It is very expensive to live in Los Angeles today. In the past, you would have lived far away and commuted, but that option is no longer viable as the freeways are so busy and commuting is expensive and inefficient. The solution is to bring people to the metro areas. The Hauser development is right outside Culver City in an up-and-coming area called West Adams, which is very close to Amazon Studios, Apple, HBO, and many other hi-tech employers that hire younger people in need of modern, secure, clean and affordable housing.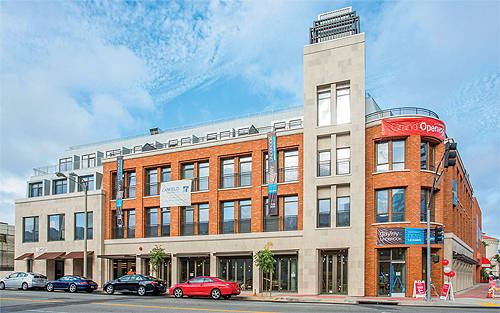 "Hauser units will cost around 40 per cent less than similar sites in the city and the key to this is co-living, which means that we will provide high-end living for less money through the sharing of fully fragmented apartments. The idea is that five people live in a large apartment, share public areas, such as the kitchen and living room, but have their own private, lockable bedroom and bathroom. In addition, these buildings like Hauser have large public areas with the availability of coffee and full wi-fi access, as well as gyms, workstations, study areas, and private rooms for conducting business to support the growing amount of people working from home."
Steve believes that co-living has the potential to become an increasingly popular trend for younger people working in cities like LA, and as such, we can expect to see many more developments like the Hauser project in the near future. As environmental consciousness increases and social norms change, Los Angeles is finding that younger generations are rejecting the USA's traditional car culture in favor of cycling, ride sharing, and public transport. As a result, Steve indicates that the real estate sector needs to adapt.
"In general, young people today want to be able to live close to work, walk down in the morning and grab a Starbucks on the way. They want to live in metro areas and hang out with their friends for a drink after work. They don't want to spend three hours in their cars each day," he declares. "Right now, in LA, we are in the midst of constructing a fairly elaborate underground train system. It's a process that will take many years, but slowly, as we bring people to metro areas, traffic will be reduced. Co-living will not only help to lessen traffic in a convenient and affordable way, but also increase human connection, in a city where a lot of people are very lonely, and so there is also a social aspect to this development. I definitely think it is a major trend."
Future vision
In a year when many businesses have struggled, Canfield remains strong. Though Covid-19 restrictions led to the company's offices being closed temporarily in early 2020, construction has continued throughout and Steve reveals that all the firm's projects have moved towards completion largely unhindered. Though the persistence of Coronavirus and the upcoming US Presidential elections have shrouded the short-term future of the industry in uncertainty, Steve is hopeful that, in the longer-term, Canfield will be able to benefit from a reduction in superfluous bureaucracy and the introduction of a more streamlined LA real estate development process.
"We are dealing with a very difficult environment in California at the moment," Steve asserts. "We have a housing crisis and a huge homeless problem because housing is so expensive. It is not a construction issue, it is a development issue, and so I would like to see politicians soften and streamline the system, allowing us to build a lot of units more quickly and more easily. It may be that the units have to be smaller, but projects along transportation corridors and in high density core areas would help to soothe the homelessness crisis, reduce traffic, and decrease pollution."
Canfield Development
www.canfield-development.com
Services: Real estate development