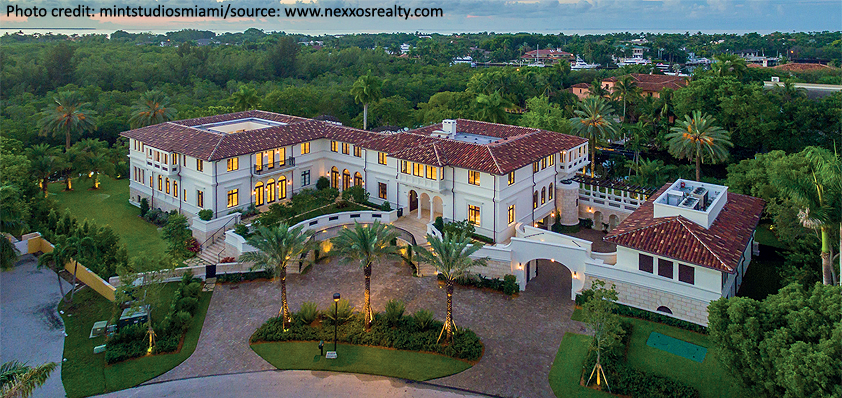 Singer-songwriter Marc Anthony, ex-husband of JLo in a ten-year marriage, found his niche in Latin music and skyrocketed to success, the best-selling-salsa-recording artist in history.
With great wealth having sold over 12 million albums, he has bought and sold a number of glamorous homes. In the summer of 2018, Marc purchased an unfinished waterfront mansion in Coral Gables, Florida, the home of Bacardi heiress, Hilda Maria Barcardi, for $19 million – the highest price ever paid in the exclusive Cocoplum subdivision. Now completed and only two years later, Marc has put it back on the market at $27 million.
Known as Casa Costanera, the mansion is one of the largest homes in South Florida at 20,546 square feet of living space with 12 bedrooms and 13.5 baths. There is an elevator to all three floors. Ideal for entertaining, the home has three kitchens, wine cellar and separate staff quarters. The landscaped 1.3 acres has 480 square feet of water frontage on a corner lot with direct Biscayne Bay access and a 100-foot dock. There is also a swimming pool with bay views. The mansion is located near other celebrities including Pharrell Williams and JLo's current fiancé, Alex Rodriguez.
Marc Anthony's stunning Casa Costanera is listed by Anamaria Velásquez of Nexxos Realty and co-listed by John Parsiani of Cervera Realty, both located in Miami, Florida.
Look inside the New York Mansion that Broadway musical 'Chicago' built!
A New York estate for sale at $13.2 million is the home of Fran and Barry Weissler, the Tony Award-winning Broadway producers who brought Chicago, Waitress, Pippin and Finding Neverland to the stage. Ms. Weissler once said of her home that "it's the house that Chicago built" — indeed the producers can be credited with making the show a sensation, reviving a less successful 1970's production. It's now the second longest running show in Broadway history after The Phantom of the Opera.
Located about one hour from midtown Manhattan, the 18-acre, four-bedroom estate includes an outdoor art sculpture by Beverly Pepper and an amphitheater that has hosted private performances by Christopher Plummer, the New York Philharmonic and James Earl Jones. There is also a four-bedroom guest house, a Hanneke Beaumont bronze sculpture, an in-ground pool with cabana rooms, a tennis court, and sculpture gardens.
Built in 1950, between the main house and guest house there are a total of eight bedrooms, seven full baths, two half baths and a living area of 8,900 square feet. Presenting in a style reminiscent of a French chateau with its roof lines and multiple chimneys, the large estate has an ideal layout for entertaining and goes the extra mile outside where the landscape design will entertain children and adults alike with its maze, sculptures and hiking possibilities in the adjoining nature preserve. Rooms are large with the formal living and dining as well as the kitchen having large wood-burning fireplaces and opening to the outdoors. There are multiple seating and dining venues including a large enclosed porch. Suspended curving stairs with a wrought-iron banister lead to the second floor with its gallery hall. Bedrooms are large with beamed ceilings and open to a large enclosed porch with views over the landscape.
The listing agents for the New York estate that the Broadway musical Chicago built are Melissa Colabela and Anthony Lando of William Pitt-Julia B. Fee Sotheby's, Irvington, New York.
For details of these houses and other celebrity homes, please visit:
www.topTenRealEstateDeals.com
https://www.toptenrealestatedealsom/weekly-ten-best-home-deals/home/marc-anthony-is-selling-his-humongous-florida-mansion
https://www.toptenrealestatedeals.com/weekly-ten-best-home-deals/home/new-york-mansion-that-broadway-musical-chicago-built