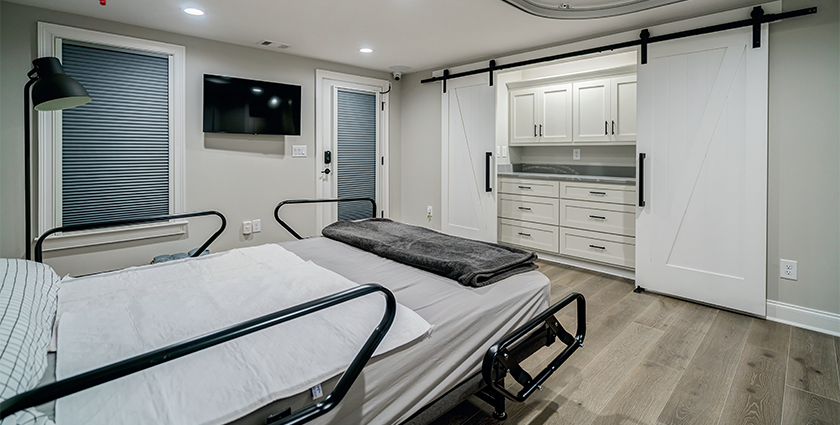 Camerio Builders
Proudly improving lives since 2009, Camerio Builders is more than ready to take adapted housing to the next level by providing clients with beautifully bespoke custom living arrangements
I have a unique situation," begins Travis Camerio, President at Camerio Builders. "I grew up in the building industry. My father, Lou Camerio, was a track home builder and developer. He built homes for over 45 years. One day, however, he suffered a catastrophic spinal cord injury (SCI) while playing tennis. I was only 14 at the time. He spent some time in Atlanta's Shepherd Center, a hospital specializing in injuries such as his.
"I'll never forget the day he came home in a wheelchair," he continues, offering us the story behind the successful business he so proudly leads. "We had to figure out how to get him into the house, and then into the bathroom. We needed to solve a number of challenges which we were unprepared to take on at the time."
Lou made a strong recovery. But he also came out the other side with a unique point of view on the struggles of living in a domestic setting while recovering from a life-changing injury. With this unique perspective firmly in mind, Lou developed several homes for people with disabilities, knowing more than others about the various but specific challenges that come with having a disability. In a show of appreciation, the Camerio family donated the proceeds to the Shepherd's Center.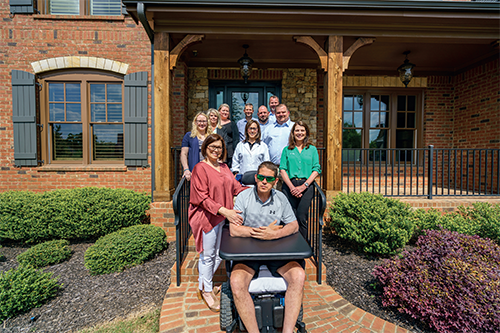 A unique situation, indeed. Inspired by the story of his father, as well as the hands-on experience he had living with someone in need of assistance due to an injury, Travis set up Camerio Builders with a specific mission in mind. "In September 2009, I started Camerio Builders, focusing on renovations for veterans through the Veterans Affairs' Specially Adapted Housing program (SAH)," Travis says. "Yet, the more projects I completed, the more I realized there was a large demand for people like me. That is, not only someone with a long career in the home building industry (I had already worked with my father for over 20 years), but someone who also knows the importance of gaining independence in the aftermath of an injury or because of a disability.
"With this in mind, Camerio Builders began what it does best: building homes," he adds. "We carry out workers' compensation claims for those who have suffered terrible injuries, and we're widely recognized for our homes that have been built for aging in place and disabled veterans. Considering the latter, Vietnam veterans often suffer from complications due to Agent Orange, from Parkinson's disease to amyotrophic lateral sclerosis (ALS), which means there are many unknown factors at play – it's difficult to predict exactly what they will need. As an approved contractor for Veterans Affairs, however, we're always able to accommodate for individual circumstances."
However, disability can affect anyone – regardless of age or occupation. Accessibility is, moreover, a beneficial endeavor for all. In this sense, Camerio Builders is devoted to building beautiful bespoke homes for anyone who is aging. Even if they are perfectly healthy, the home that someone wants to live in for the rest of their life will need adapting eventually. Therefore, each home developed by the Georgia-based team is custom fitted with universal design features, accessible design features, and planning for the future, regarding any situation. Wider hallways and doorways, roll-in step-less entries and emergency exits, and curb-less roll-in customized showers are just the beginning of the list of features included in Camerio Builders homes. "We take pride in making our homes accessible, however appearing like regular homes," said Travis.
The Dream Team
These projects are not simple, they are beyond custom. Each person [client] is unique in their own way, and therefore the project will be custom to fit for them. Therefore, a team effort, buoyed by expert craftmanship, is required to meet the needs of each client. As Travis makes clear: "A builder should never attempt a specialized project for someone with a disability on their own. It takes multiple people who are specialists in their field to make these types of projects successful. Therefore, we formulated the dream team. Our most recent project, the Perez project, was successful because we worked so well together. Functionality and client independence are our top priorities. We were all experienced in doing home assessments, designing for aging in place and for people with disabilities."
The Dream Team began with Jane Norman who served as the rehabilitation and disability case manager and life care planner for the Perez project. "It was my job to find not just experts, but the right experts for this case," said Jane Norman (RN). She is a Certified Disability Management Specialist (CDMS), a Certified Nurse Life Care Planner (CNLCP), and a Legal Nurse Consultant Certified (LNCC).
The Occupational Therapist was Peggy Freedman, Clinical Director for The Freedman Group. It was her reports which were the foundation for the entire project. "During the process I was the individual who determined what modifications needed to be made and how the space should be constructed for function and safety," said Peggy. "Our team had a great working relationship, and each one of them understood the skills and expertise of each other so that the finished home would be perfect."
Orr, owner of 101 Mobility was the equipment and mobility specialist for the Perez Project. Garol is a Certified Aging in Place Specialist (CAPS) and a Certified Home Adaptation Modification Professional (CHAMP). Installing features such as the elevator, overhead track system and supplying the client with all the proper custom fitted specialty equipment such as power wheelchairs and the proper hospital bed. "For me, it was a wonderful opportunity to collaborate with such an experienced team on the entire project working toward the best possible outcome," said Garol.
For Travis, there's no better example to evidence the incredible team behind Camerio Builders than with the Perez project. He tells us the life-changing story behind the home: "While on a business trip in Amsterdam, the taxi in which Juan Perez sat in was hit by a tram which had derailed," he explains. "He was on his way home from a corporate meeting. The accident left Juan with severe injuries, including a fractured shoulder, internal damage, and a traumatic brain injury. As a result, he needed many modifications made to his home. That way, he could live comfortably, surrounded by family once more. With the help of my brilliant team, we were able to design and build a custom home and a rehabilitation facility for Juan and his family."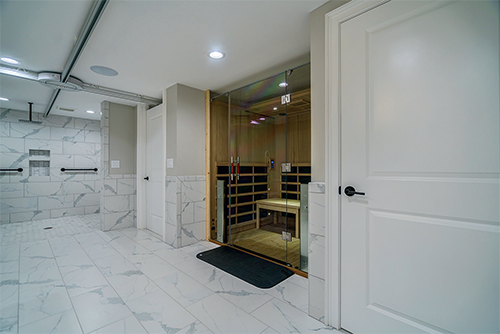 "The facilities Juan was in were just not conducive to his types of injuries, and it was so frustrating to see that and feel almost helpless. He now has a space where everything is tailor-made for Juan's needs, not just now but for the future, and it makes our life as a family so much easier," said Tracy Perez.
Overhead track systems, elevator access to the main floor, zero-degree entries, bed rails, blackout motorized blinds, well-lit and widened hallways, built-in furniture, grab bars, touchless faucets, roll-in showers, as well as safety systems like induction range and rehabilitation features like an infrared sauna. The list keeps on going. The myriad features and functions of the house indicate an immaculate attention to detail – both in terms of the finish and the intricate, complex details of Juan's injury and his needs.
The project was a huge success. For its incredible work, Camerio Builders won two national awards from the National Association of Home Builders (NAHB): Remodelers 2021 Award for 'Entire Home Renovation: Aging-In-Place' and Best in American Living 2021 Award for 'Remodel Specialty Project' – but the plaudits doesn't stop there. The team also won two local awards from the Greater Atlanta Home Builders Association for its superior basement finishing and its addition of a groundbreaking sensory room.
"Indeed, we didn't just design this project for Juan. We also designed it for the needs of his 24-hour care givers in mind as well, by adding a nurses' bathroom, locker room, and separating the access to the main level of the home addressed multigenerational situations. We accomplished many breakthroughs in the industry with that project – the implementation of a sensory room was the most stunning. Jane and Peggy spend a great deal of time on the sensory room and picked out some amazing features. We had several meetings to discuss in detail. It won an award by itself for specialty room, and it serves as a relaxing and therapeutic space for Juan," said Travis. "For the awards, I owe a lot to my wife, Heather Camerio, for instance. Her inspiration, her patience, her support over the years. She specializes in aging in place selections for new construction and has helped with many designs – those homes are beautiful because of her."
In fact, as Travis informs us, the dream team is joining forces once again to better the lives of those in need. "We are in the process of formulating a new entity to work through the most difficult cases for people who have suffered the most severe catastrophic injuries," he notes. "In this way, our dream team will be a one-stop shop for home assessments, design, and construction, as well as services in medical and mobility consulting, for people with disabilities and injuries who want to modify their homes. Our intention is to make their transition back home as seamless as possible with all the available resources."
The future is bright for Camerio Builders. Among its other slated projects is a development in Talmo, Georgia. Though still in the early stages of development, the project looks very promising. "It will be a rural community of large acre tracks of land," Travis elaborates. "Each house will be designed and built to a custom specification by us for aging in place. We value the small-town appeal of Talmo. It has a lot of character and, therefore, we want to protect its integrity.
"But we will also be working on several Veterans Affairs jobs, and we're starting on those now," adds Travis. "The only problem is that we're facing large challenges in the form of increasing construction costs. They change daily. I had a building supplier tell me their quote was only good for the next five minutes! We're doing everything we can to keep our costs down: revising our numbers often in a bid to remain as competitively priced as possible. Our clients have specific needs. Hence, our prices need to be specific. To that end, we provide each client with a detailed estimate for the work, being as thorough as possible, and offering them the most up to date information as we can."
Designing and building beautifully bespoke homes for people with injuries and disabilities is a truly unique process. Changes are always on the horizon; new products are always being launched; lives are always there to be improved.
Intending to stay at the fore of its industry niche, Camerio Builders continues to find new ways to do what it does best. "I look forward to our company growing, not least because we will then have more time to educate others of this process. If more learn about it, then there will be even more hands to help those in need. Indeed, with the right team, focused on innovative living for people with disabilities, we will be able to help people live more comfortably, with a renewed sense of independence, for the rest of their lives."
Check out the links below for the Perez project and other aging in place custom homes built by Camerio Builders.
Travis Camerio – Travis@cameriobuilders.com
Peggy Freedman – Peggy@thefreedmangroup.com
Jane Norman – jnorman.pmr@gmail.com
Garol Orr – GOrr@101mobility.com
https://youtu.be/VpMxi2fW4Mk
https://youtu.be/4wxaiqkNPZE
Camerio Builders
www.cameriobuilders.com
Services: Custom Home Builder and Adapted housing specialist