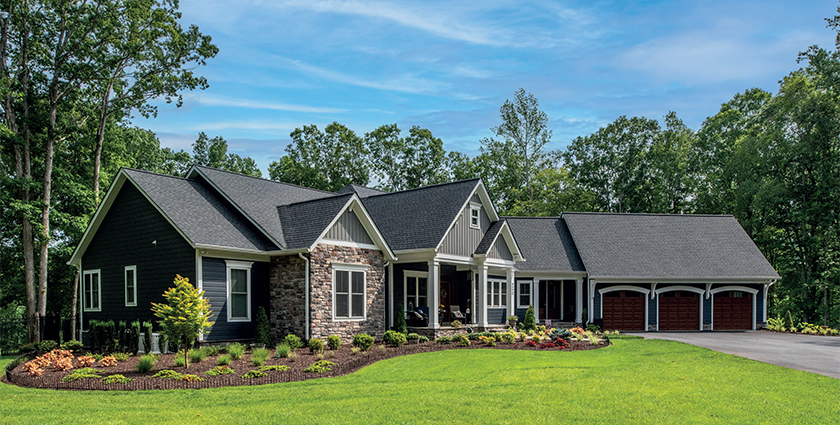 Less is more
Putting quality above quantity for more than two decades, J. Hall Homes remains proud of its well-deserved recognition as Fredericksburg's go-to custom home builder
We last spoke to J. Hall Homes several years ago, before the pandemic disrupted life and work and shook-up most industries in the process. To catch up on all that has transpired since then, we sat down with Jeff Hall, President at J. Hall Homes, who began with the short answer.
"The pandemic," he laughs. "That's what's happened since we last spoke. It's funny, just before Covid-19, we were honored with a slew of accolades. The company was awarded 'Builder of the Year for 2019' by the Fredericksburg Area Builders Association (FABA) and 'Best of the Burg for 2019' by the Free Lance Star, Fredericksburg's local newspaper, as well as being a named finalist in Viridiant's 'Building Sustainability Awards'. Then Covid-19 came along, and everything got put on hold. So that's where we're at today."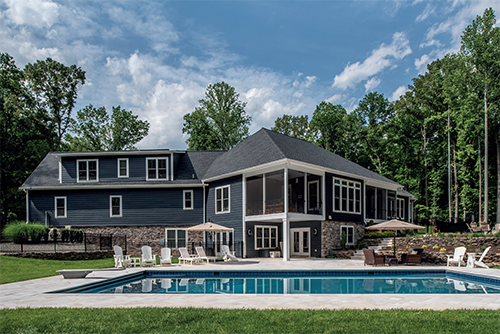 J. Hall Homes is one of Fredericksburg's most preeminent custom home builders. Across the state of Virginia, the company is well-known for its high-end, high-value offerings tried and true floorplans like the Lauren II, the Hampton, the Kirkland, and the Hillsborough, as well as custom, bespoke homes tailored to the needs of individual clients.
Since 1999, Jeff has spearheaded the company with a strong sense of purpose, intent on bringing a unique, green home building style, as well as quality and integrity, to the Fredericksburg area and its surrounding communities.
"When the pandemic first started, our business didn't really change," Jeff continues, now turning his attention to the long answer. "Virginia was considered an open work state, meaning that we weren't shut down. In fact, we actually had a backlog of clients seeking our design/build services. Despite the threat of Covid-19, we continued to go about our business, wearing masks and practicing social distancing; for the most part, we carried on as normal. Then people began to reassess everything, and the floodgates really opened; it went crazy, inquiries about our building services went through the roof. People realized they didn't have to live near work or stick with their normal commute. New ways of doing business were emerging, and people could begin to pick and choose where they lived and worked. Suddenly, people wanted to build a new home in a different location or to accommodate a home office.
"For a home builder, that sounds ideal," he adds. "However, issues in the supply chain caused lead times to double and inflation triggered prices to skyrocket. If it takes 20 weeks to procure windows, then of course you can order things way ahead of time. The problem is, though, that lead times were – and still are – constantly changing. A sudden change will always cause problems. You have to be ready, and you have to adapt. If you're communicative, most clients understand. Inflation is always hard. There's only so much you can absorb; there's only so much clients can add to their budget. Currently, we're talking with trade partners and suppliers to circumnavigate these issues, adding some contingency cover within our pricing. It was tough, having that much demand and not being able to get things physically built."
The pandemic also brought with it another interesting development for J. Hall Homes, one that's catapulted the firm into the future of the home building industry. "We're now using 3D modelling," Jeff explains. "We complete all our designs in-house, and then use 3D modelling to share plans with our clients. That way, they can walk through the house before its even built. We're also utilizing virtual services like Zoom to meet clients and hold design consultations remotely. We've streamlined our entire process. Technology is taking over the custom home building industry, so this is part of a wider trend we're seeing.
"If there's a problem in the field, then we can FaceTime our team and propose solutions with the aid of CAD software, all while never leaving the office," he details. "CoConstruct is now at the core of everything we do: it's an all-in-one online construction management system that covers estimating, bidding, specifications, scheduling, order changes, client and trade partner management, as well as being seamlessly integrated with QuickBooks. These digital tools were always available, but not readily adopted. Now people are actually using these innovative tools, and they're quickly proving essential, especially in the aftermath of the pandemic."
Continuous improvement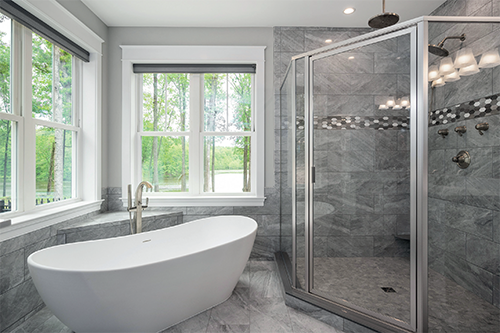 One recent build that utilized these technologies was the Ni River Retreat project, which began from scratch with a unique, one-of-a-kind design. "We listened to what the client wanted," says Jeff. "Then we created a plan within their chosen budget. In this business, you must work with financial restrictions. Put simply, you can't have everything. You must be attentive to a client's wants and wishes, but you must also guide them pragmatically. Fortunately, this specific client had great ideas and we were able to bring them to life. There now stands a beautiful house sitting along a reservoir, boasting a 180-degree lake view and incredible features like an in-ground trampoline, an entrance to a hidden music room concealed by doors made to look like a bookcase, and built-in dog crates in the mud room."
While advanced building technology, 3D modelling, and visualization software has been a recent upgrade for J. Hall Homes, one aspect of the Virginia-based custom builder's services is nearly as old as the firm itself. Since as early as 2007, Jeff has been leading the local green building cause, opting for higher quality materials and more sophisticated construction methods that stand to benefit both the end-user and the environment in the long run.
"We started green building before most builders were even aware of it," Jeff details. "At first, you're doing things differently. Then it becomes a habit, and then it becomes the norm. People around you start to change, and that's how the industry adapts over time. For us, green building means how we envelope the house, insulate it, and air-seal it, as well as the type of wall sheathing and mechanical systems we use. All this is easy to incorporate, but it offers a tremendous amount of value. If a client wants solar panels, then we'll do that; however, as standard, our houses will always be very energy efficient. We're doing something special, but we're doing it all the time. It's not an optional extra. We could cut corners and make it easier for us, but we want to better the lives of our customers, and that can be achieved through strategic, energy-efficient design."
As it stands, J. Hall Homes is building an average of ten custom homes per year – and, for Jeff, that's enough. Less is more. As a strong proponent of the old adage, he's intent on delivering high-quality homes that invite their owners to fall in love with them, each and every time they step through the front door. "We don't necessarily want to grow into this huge, staggering company," he notes. "We just want to sustain what we're doing and get better at it. We'll always focus on quality above all else. Since we're a general contractor, we work with many subcontractors to get the job done. It's hard to find good, qualified trade people amid all the post-pandemic labor shortages. It takes more management on our end to achieve the same level of execution that we've come to be known for. We see our subcontractors as partners; we're on the same team, and we like to use them on all of our contracts, improving their familiarity with the company and technical consistency, instead of, say choosing a new subcontractor
each time. Again, our decision on who we work with comes down to execution and quality. If they can't bring that to the table, then we don't work with them.
"In terms of projects, then, that just means finding clients who are conducive to our philosophy," Jeff concludes. "A lot of the time people shop around for builders. However, after 23 years in the trade and with the reputation that we've garnered over that time, we're able to shop around for clients and find the right ones for us. That's the benefit of having a good reputation. In the next few years, we will bolster that reputation and continue to streamline each of our processes, becoming even more efficient and, as a result, in a better position to tackle any future struggles in the industry."
J. Hall Homes
www.jhallhomes.com
Services: Custom home builder