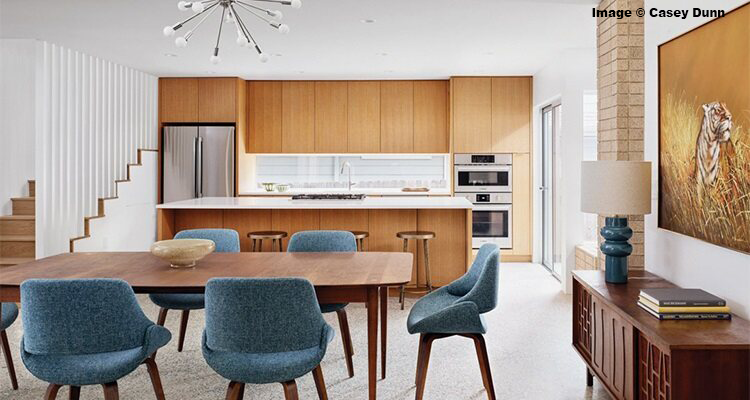 Why Render ATX is sharing its process of building healthy, high-performance homes  
The journey to success has been one of perseverance and determination for Render ATX. As a custom homebuilder, as well as an expert in design and build, the company specializes in creating healthy, high-performance homes, which it coins 'sanctuary spaces' for its clients.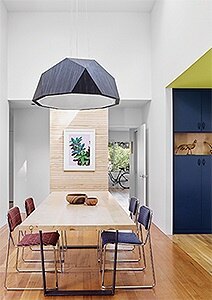 Based in Austin, Texas, the business has built an ever-growing social media presence, particularly on Instagram and YouTube, which is centered around knowledge sharing and education. Many of its clientele suffer from chemical sensitivities or are extremely cognizant of what goes into their body, and understand the importance of elevated building science techniques.
With a passion for creating non-toxic homes, Lillie and Doug Cameron co-founded the business in 2007. Having navigated the economic crash of 2008 by focusing on remodels, Doug also developed a line of non-toxic children's furniture, while Lillie focused on her corporate career as an executive in the tech space. With Lillie as CEO and Doug as President, the pair join Modern Home Builders to discuss how the business has evolved.
"We were partners in business before we were partners in life," Lillie begins. They started with a joint passion for health and creativity. After a friend suffered a late-term miscarriage, which was caused by chemicals and toxins from the urea-formaldehyde that off-gassed from several products in their new remodel, Lillie and Doug both knew they wanted to level up and create better standards in the building space. This in 2007, before the word 'green' was trending. "With passion, focus, and clearly defined roles and responsibilities, we've managed to maintain the business through economic uncertainty, a global pandemic, and my corporate career, not to mention marriage and raising three children," shares Lillie.
Innovative renewables
"For several years, I worked on cloud computing software and was part of the team that built the first open-source public cloud alongside NASA. While Doug focused on the day-to-day operations of our business, we would talk every night about how to apply various methodologies and management techniques to each custom home project. There are numerous parallels between building custom software and building custom homes. In 2019, our business had scaled to the point where I decided to focus solely on my role as CEO within our company. My background as an executive, managing custom software development and global operations, combined with Doug's extensive knowledge of building science and passion for artistry, made for the perfect yin and yang to run our business."
Doug expands further: "We've occupied a key position in many construction innovations since we began, with me designing a line of non-toxic products to create eco-safe spaces that were initially aimed at children. We've built several homes that are 'five-star green' and more recently, we were the first builders in Austin to be part of building a hempcrete home, and the first to use hemp wool insulation."
"Hempcrete is much like concrete," adds Lillie, "but it's non-toxic, meaning it provides a great opportunity to harness the benefits of natural materials. It's also renewable and can be produced in regenerative ways on local farms, which is a bonus." Lillie adds that hemp wool insulation is similar in price when compared to rock wool insulation, as it is naturally mold resistant, pest resistant and is also fire retardant.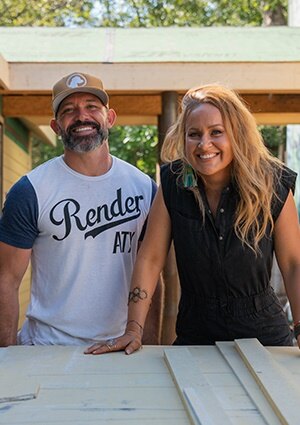 Doug is a LEED Green Associate, and in 2021 was one of ten builders in the US to be featured as building science experts on The Build Show Network. Through his extensive training and hands-on expertise, he has nurtured a career as a leading Building Scientist, and has become a top building science influencer.
Turning to the company's origin, Lillie explains: "We're both chemically-sensitive people, and care deeply about our environment and what we put inside our bodies, which is where the motivation for the business came from. There are all kinds of potentially damaging toxins in various products that most people are just not aware of, and these are even more damaging to children. Anything that is carcinogenic to an adult is seven times more carcinogenic to a child. That's where we step in – to monitor and analyze the data of the products going into a home."
Lillie shares that anytime a new home is built, there is some amount of new chemicals introduced, and currently, with the cost of energy on the rise, homes are built with tighter envelopes to control the air that goes in and out. "To alleviate some of these concerns," Doug adds, "One of our newest projects, for example, includes the installation of a carbon filter system that cleans the air inside the home, eradicating toxic gases, also know as VOCs, when activated by a VOC sensor."
An artist's eye
Another popular topic when it comes to building healthy homes is air flow. "With high energy prices, and in our hot and humid climate, we build homes that are super airtight," Lillie elaborates. "These building envelopes are so well-sealed that no energy is wasted. On the other hand, the spaces are so tight that any toxins from products or materials will stay within the house. If you're not conscious of what materials you're bringing into the home, it could potentially create an environment where the indoor air quality is worse than the exterior air quality."
Render ATX has established a solid reputation in Austin for building homes that are not only healthy and high-performance but are beautifully designed. "We're currently working on a great project with all the latest and greatest innovations to make it a healthy home, and also architecturally significant. Our goal for all clients is for them to feel like their homes are sanctuary spaces," Lillie reveals. "From an artistic perspective, the clients wanted every room to have its own vibe and energy separate from the others with bold color choices, we even evaluated scratch and sniff wallpaper. With inspiration drawn from Alice in Wonderland, we call it #LittleTexasWonderland."
Our #ChaletChloe project just received third-party testing scores showing that it is the most energy efficient home in Austin. It also features a dehumidification system and air sealing details to have control over the building envelope and to prevent mold for our asthmatic client. Our clients care about what goes in their body. There are too many big builders and mass developments using shoddy practices and products, and ultimately homeowners suffering with mold and other sensitivities. We would like to see better practices put in place across the board and education requirements in our industry," says Lillie.
Doug offers another example: "We built the Inglewood residence, which was featured on the prestigious AIA Austin Homes Tour in 2020. This Frank Lloyd Wright inspired masterpiece included a self-performed custom terrazzo foundation using 1800 pounds of various colored glass, which was hand spread into the three-tiered foundation and then polished, to create a unique finish. We spent weeks working with the client to develop her perfect ratio of colors and sizes of glass into her floor, building mockups out of our workshop. This home also featured a revolutionary method for air sealing homes from the outside and is well-known in the building world as Zip 2.0, featured on Matt Risinger's popular YouTube channel. It's all part of our mission to build multi-generational homes that not only our kids will be proud to see, but also our grandkids."
Supporting the company's physical operations is its strong social media presence, much of which revolves around education. "Something we're both passionate about is what we call 'co-opetition', which is something I valued from my career in tech, working on open-source software, so we embraced it in our homebuilding business too," says Lillie. "In the same spirit as open-source technology, it means sharing our means and methods of doing things in an effort to educate and better the entire industry, as well as improve building standards."
Creating sanctuaries
Combining their passions for social media and education, Lillie and Doug's latest venture is 'Design Build Diaries,' a YouTube channel dedicated to showcasing the Render ATX homebuilding process from concept to completion. "We're educating people on how to build a custom home in Austin by documenting the entire process using two of our current projects," Doug explains.
"We're already getting great feedback from people that have repeated our ideas. We can then use their feedback to further improve the process, so it really is a forum for exchanging knowledge."
Behind the scenes, Lillie and Doug have an unbreakable relationship, both personally and professionally, and an equal determination to see the business succeed. With such a strength at its core, Render ATX is sure to continue supporting homebuilders with exceptional quality.
"I look forward to continued growth, both in terms of our social media presence and the business itself. We have expanded to offer consulting services, and help other builders and individuals working to build their custom homes on the most effective strategies," says Lillie. Doug adds, "Custom homes are our preferred medium of art, because of the power they possess in spearheading a healthier, happier, more balanced lifestyle for their inhabitants. We relish in the opportunity to orchestrate the creation of each home as a unique healing sanctuary, initiating an ideal state of mind."
Lillie concludes, "As Native Austinites, parents, and local business owners, our ethos is to focus on preserving and giving back to the communities we grew up in. We're doing something that we both enjoy, while helping our clients build their dream spaces. Furthermore, we believe everyone deserves their home to be their sanctuary, and we will continue to create sanctuaries for as long as we can."