Whether in Dallas or Houston, here's how Alair Homes is building strong relationships
Alair Homes' approach to luxury homebuilding is simple: bespoke solutions. Through a combination of client expectations, meticulously planned budgets, excellent interior design and architecture, the company brings any client's dream to life. "What we build is a byproduct of our service as builders and remodelers," shares Chris Bolio, the Regional Partner for Alair Dallas-Fort Worth. "Alair provides a service of organization, communication, education, and product management to create a stunning home, and make the project a structure in which lives can unfold," he continues. Chris sits down with Modern Home Builders to share the importance of relationships, and how Alair Homes' approach has led to its continued success.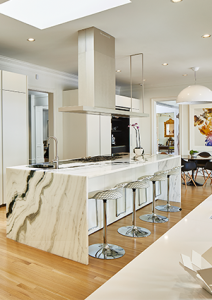 Established in Canada, the franchise homebuilder has nine partners in Texas and five in the Dallas-Fort Worth market. Chris who is a franchisee himself, serves as the local representative of Alair Homes, and as additional support for the regional and local franchisees, also known as local partners. Other local partners include James Hammel, Colin Snider, Diane and Chad Hatfield, Mike Scarlett, Sherry and Paul Zuch, and Joelle and Cole Lowry.
According to Chris, the homes we occupy have a significant impact on the quality of our lives. "Essentially, the home base is where we actualize who we want to be, what we accomplish, where we see ourselves in the future; it is the backdrop for where our kids grow up and our lives unfold. It's where we all start and end our days. This means that there is a huge responsibility on builders and remodelers to do the work right. As builders and remodelers, we create something special and deeply emotional for our clients," shares Chris.
This outlook, combined with Alair Homes' supportive approach to its relationships, is what continues to set it apart from other builders in the market. "We believe that the industry thrives when we collaborate together. I think what defines us is our desire to create positive relationships and experiences with everyone, not only our clients, but also very importantly with our trade and vendor partners, so that the work is meaningful for everyone involved in the project."
Perfect partnerships
When it comes to projects, Chris describes recent work that was highly regarded as a design masterpiece by the customer. "We are very proud to have been selected to participate in the prestigious Kips Bay Decorator Show House Dallas led by the Hammel/Snider team. This was received so well, that we've had numerous homes featured in local and regional magazines, and we have had several historical renovation projects featured on the annual Swiss Avenue Home Tour. If you talk to any of our partners, they would tell you they love so many of their projects, and typically the most recent is a favorite. Each work has its specific beauty, and we hone in on that to make the project unique."
Partner, Paul Zuch, adds that his office is currently completing an outdoor living addition, "with a full pool reno and landscape that we believe is an award-winning project. This is by far one of my favorite renovation projects to-date," he says. Mike Scarlett, another Alair partner notes: "I am most proud of the smallest house I have ever built. Our clients thought they couldn't afford a new custom home, but when we completed the project, the homeowner said he didn't consider me as a contractor but rather part of their family. That was definitely a special moment."
Bringing together homes of great grandeur takes more than just the finest materials; it also takes a well-oiled team and a dedicated network of suppliers, upon which Alair Homes relies heavily. "The people are really important, and that supportive instinct is what we look for in a partner. Although they are technically franchisees, we call them partners because that is what we are looking for; someone who helps make our entity stronger. We're looking for successful builders and remodelers with a passionate desire to improve, a drive to strengthen their teams, and a vision to create an environment where success is shared."
Working relationships
Chris expresses that from a project's start to finish, there are hundreds of people that must be honored, and respected, and Alair Homes works to maintain a high level of communication to achieve this. "The strength of our relationships is the foundation for consistent success, and that consistency is only possible because our partners nurture fantastic relationships."
Alair partners, Diane and Chad Hatfield, speak highly of their relationships with their local partners saying: "We enjoy each other's company, value the business and building experience and expertise of the others, and share many of the same values. The relationships are strong in that we will stop to help each other whenever we see a need. Whether that is with a building question, supplier/trade partner, or bringing a meal to another who is having a hard time. Whatever it is, our Alair partners are special to us, and it doesn't stop with the owners. The relationships extend down through each of our teams; we will help whenever and whatever is needed."
This also applies to the customers with which the business chooses to work. "Our clients are people who want to be involved and who look for a builder in which they can trust. Every client has a different balance of what they feel is important, and it's our job to guide them on their decision-making and provide as much information as possible. The magic is finding the balance between client expectations and their budget. In the same breath, some clients want to buy a house off the shelf – not ours. Our clients want the education, the collaboration and the experience of bringing their home to life."
The company boasts over 130 individual partners and relationships, with approximately 100 working companies. For Chris, this success has not been as a result of meeting deadlines, rather it is owed to relationships. This leads to progression, improvement and building better homes, and careers within the business. "Meeting targets begins at an individual level, which comes down to our project managers, and the relationships we have with them. We empower them to be successful and teach them how to run their projects as a business."
Partners Joelle and Cole Lowry describe the working culture of Alair, as like "being in a huge family of best friends. It's supportive, collaborative, loving, educational, and the list goes on. This culture is demonstrated from our bi-weekly meetings with other franchises across North America to our local Dallas-Fort Worth teams. We focus on our collective success and strive to nurture our relationships into friendships, which is both exciting and motivating."
A collaborative approach
In five years' time, Chris envisions Alair Homes gaining a vast amount of traction in the homebuilding space. He hopes that the organization will uphold its reputation as the first homebuilding franchise to have achieved such a high level of success. "I believe what we have accomplished is owed to the cumulative success of our partners. We are going to continue to create this identity and environment where homebuilding is a great experience. I also believe this idea of collaboration in our industry is going to catch fire, and I hope that we remain a driving force in this idea of a collaborative approach. We want the industry to understand that we are stronger together."
To conclude, while there are many spectacular homes across the Dallas-Fort Worth region, finding the perfect home is about more than location. It is equally important to find the right company that will provide the experience of making a dream home a reality. Chris summarizes the conversation by sharing that customers can rely on Alair Homes' deep understanding of Dallas's history and architecture and can rely on the organization for leading custom home building at an amazing value, but most importantly, with an unmatched experience.