Virginia Builders celebrates its fifth anniversary with continual growth and exceptional customer service
Virginia Builders is a fully integrated home building company, focused on the development and design of uniquely tailored homes. It builds on single lots, as well as develops communities of similar, yet individualized houses, which reap all the benefits associated with a custom home, but with the added extra of communal facilities.
Although Virginia Builders is turning five this year, its founders, Joey Amuial and Luke Kinser, have over 40 years of building experience, having both ran separate construction companies before coming together in 2018 to start a joint business. With their parents being lifelong friends, Joey and Luke have known each other since birth and maintain a close relationship today. In terms of business, they have separate duties; Joey heads up development and production, while Luke focuses on design and sales.
"Whether it is a $200,000 home or a property costing $2 million, buying a home is a big deal and we take every project very seriously," begins Luke. "To demonstrate this commitment, we try to control as many aspects of the process as possible. All our design is completed in-house, for example, and we only commit to a certain number of builds within any given timeframe."
In limiting project volume, the business is able to allocate ample time to client communication, thereby enabling a full understanding of preferences and style decisions prior to construction. This has resulted in the company's strong reputation for great customer service and for delivering high quality homes that consistently exceed clients' expectations.
"We understand that purchasing a home can be stressful, let alone building one from scratch!" Joey explains. "To mitigate clients feeling stressed or overwhelmed, we have experienced sales, design, and production departments to guide customers through the process. Over the years, we have found that an educated customer usually results in a happy customer, so our teams focus on educating clients, so they know exactly what to expect of the process, from the beginning right through to closing day.
"One of our core values is simply, 'do the right thing'," Joey states. "This principle is the backbone of everything we do here at Virginia; we embrace flexibility, genuinely caring about and listening to our customers' needs, and then doing our absolute best to deliver them. As a relatively young company, we understand how exciting, important, and special buying a home is, and we aim to reflect that in our home design and buying process."
Durability, utility and beauty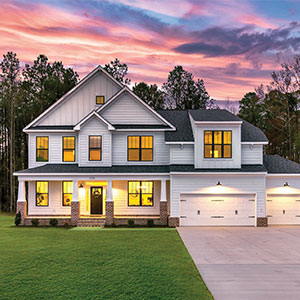 The company's homes are typically designed around one of six core floorplans, all of which are designed in-house. These floorplans vary from three-bedroom, single-story homes, to seven-bedroom, 3000-square-foot properties, complete with state-of-the-art interior. However, if a client desires a totally different, individual floorplan, Virginia Builders' award-winning design team will collaborate with them and create a customized plan that is unique to them.
"We design most of our floorplans in-house, so that we can have direct contact with our clients and ensure their needs and expectations are met," says Luke. "We embrace the fundamental principles of all architectural design and delivery; durability, utility, and beauty. Stylistically, our goal is to build homes that can stand the test of time and are congruent with the area in which they are built.
"We take inspiration from the historic houses in the Tidewater region, which are located along the Atlantic coastal plain from the Southeast of Connecticut to Eastern Florida," he continues. "We combine this historical, colonial style with modern, contemporary touches. So, our past designs have been described as traditional, modern farmhouse, colonial revival, and even beach cottage!"
Consistent improvement
Virginia Builders prides itself on not only building homes but developing communities. For instance, it is currently constructing Woodford Estates in Chesapeake, Virginia, which is a community of luxury, single-family homes, with plots ranging from 15,000-to-18,000 square feet. Homebuyers can select a floorplan on which to base their home, which contains a wide range of customizable features, such as additional rooms or storage space, walk-in closets, mudrooms, or vaulted ceilings. As with any of its custom builds, Virginia Builders' team works to transform a customer's dream into reality.
"We are optimistic about the future of the homebuilding market in the Hampton Roads region, as there are many popular and up-and-coming cities in the area," Joey proposes. "However, many homebuilders in the US agree that in all other areas of the country, there is a desperate need for affordable housing. Luke and I started building houses during the 2008 recession and are millennials ourselves, so we know first-hand, the hurdles that younger generations must overcome to achieve home ownership."
In terms of growth, Luke concludes: "Another of our core values is 'one percent', which means that we continually strive to grow, learn, and improve by one percent every day. We believe that the aggregation of marginal gains over time equates to significant growth in the end. If we can improve our quality, process, and client experience by just one percent every day, we will continue to grow into a prominent business, but our homes will have the same high integrity as they do today."