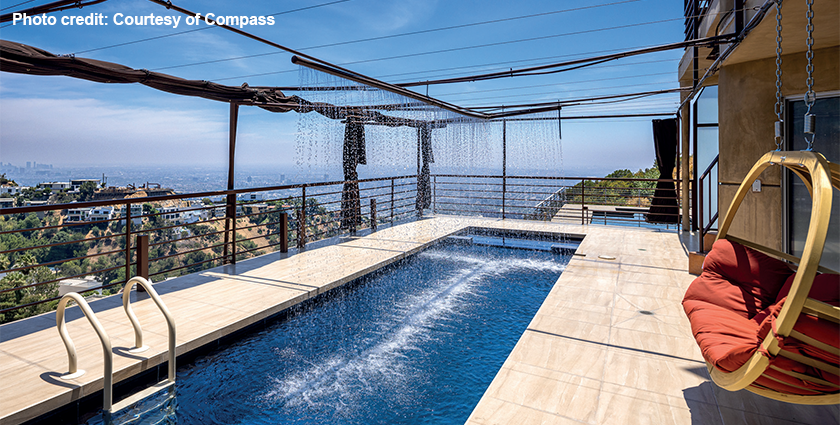 Located on Sunset Plaza Drive in the Hollywood Hills, and bearing the nickname the 'House of Sin,' Southern California's most eclectic home is for sale at $10.2 million. The home was previously owned by photographer Richard Franklin who photographed celebrities and more than 600 models in the home. The five-bedroom, six-bathroom home features a smorgasbord of entertainment. There is the inviting pool next to a love swing suspended over the LA city lights, a rooftop deck, an indoor spa, chef's kitchen, a dancing studio, gold-layered hallways that lead to a Hugh Hefner-style grotto room, a romantic fireplace, a casino and black-light disco nightclub, and ocean views.
A popular film site for reality TV and avant-garde fashion shoots, the 7,500-square-foot home has creative nooks, crannies and mysterious hallways. Not to mention several floors of activities, including a theater with mood lighting and reclining leather seats, a shower room big enough for a friendly crowd, and another colorful room that could bring new meaning to 1960's psychedelics. And a full workout room with inspiring wall posters and equipment. Just a couple minutes to the Sunset Strip for shopping, restaurants and more entertainment options.
The home is listed with Josh Morrow and Brooke A. Elliott of Aaron Kirman Group at Compass.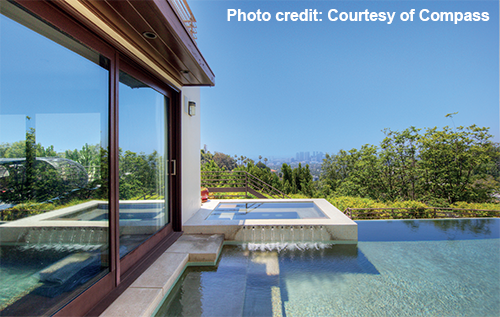 Seclusion in Beverly Hills
A Beverly Hills home that was built in the 1930s for Greta Garbo and her music-director boyfriend, Leopold Stokowski, has gone on the market at $12 million.
Widely recognized as one of Hollywood's all-time best actresses, Swedish-born Garbo was an international star and MGM's top box office star from the days of silent movies until her retirement in 1941. With 28 movies including classics such as Anna Christie, Camille, and Anna Karenina, Garbo was nominated for three Academy Awards and received an honorary Academy Award in 1954. She was not a fan of the Hollywood lifestyle and lived mostly in New York where she led a private life and shunned any publicity, including participation in any Oscar events – even when she was nominated. 'Garbo Watching' was a popular New York activity for celebrity photographers and her fans. She died in New York City in 1990.
Perhaps not as well known today as Garbo, Leopold Stokowski was one of the country's premier music conductors with the Cincinnati, Philadelphia, Houston, and NBC orchestras. He partnered with Walt Disney when he directed the music for Fantasia and in a famous Mickey Mouse cartoon where Mickey congratulates Stowkowski for his conducting skills. Stokowski was one of the world's busiest performers from the early 1900s until his death in 1977 as an orchestra conductor, music recorder and arranger. In addition to his friendship with Garbo, Leopold was married to Gloria Vanderbilt from 1945 to 1955.
Just like Garbo, her former Beverly Hills home is secluded. Built in 1937, the home has been significantly changed and enlarged over the years. Surrounded by lush landscaping high atop a hillside with panoramic views from the Pacific Ocean to Downtown LA, the six-bedroom, six-bath home was restored in 2006 by Nicole Sassaman. Features include an open floor plan, 4,675 square feet, walls of glass, large rooms, two fireplaces, gleaming wood floors, and an eat-in kitchen.
Outside is an infinity-edged pool and spa and balconies that seem suspended over the hills and trees and share the home's postcard views. It is located in Beverly Hills exclusive 'Crest Streets' just north of Sunset Boulevard.
The home's current owner is a Russian film producer. The home is listed with Mark Mintz from Compass.
Greta's longtime Manhattan apartment is also currently for sale at $7.25 million, and that home retains many of Garbo's furnishings and personal touches.
That listing is held by Brian K. Lewis of Compass, New York, NY.
For details of these houses and other celebrity homes, please visit:
www.topTenRealEstateDeals.com
https://toptenrealestatedeals.com/weekly-ten-best-home-deals/home/las-house-of-sin-lists-at-10-2-million
https://toptenrealestatedeals.com/weekly-ten-best-home-deals/home/greta-garbos-secluded-beverly-hills-home