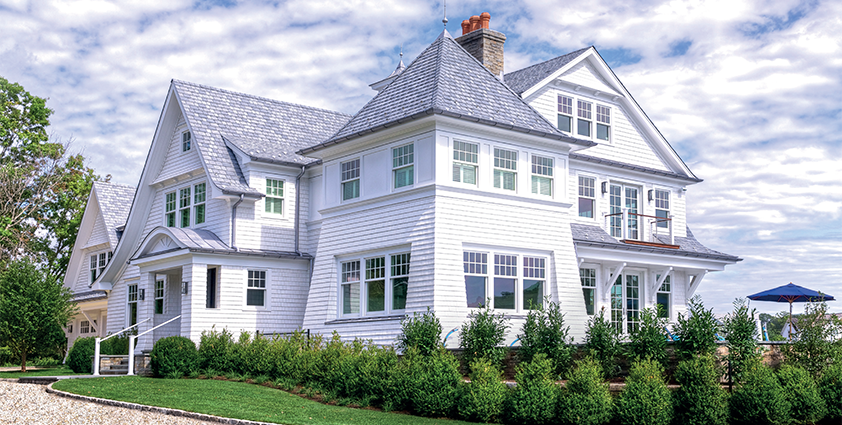 Relationship building
A family business like none other, VAS Construction is making a name for itself among homeowners with an impeccable standard of service
Vincent Sciarretta's love-affair with construction began with his father, Serverino Sciarretta. Born and raised in Italy, the industrious Serverino moved to the US without a dollar in his pocket, before forging a career in the Stamford masonry trade. Vincent was 11 years old when he started visiting Serverino's by-then large condominium projects, where he swept the floors, and spoke at length with electricians, plumbers, and carpenters. His induction continued in the years to come; from mixing cement to advancing to his studies with architects and aiding into building and construction management – all roles that Vincent continued to enjoy even as, in the early 1980s, he launched his own firm: VAS Construction.
"I began by conducting masonry on my own, while running projects for my father focusing on interior office space," Vincent recalls, now Owner of VAS Construction. "It was that decade that I built my very first house in Stamford, working closely with the homeowners. They loved it. Ever since, interior design has been important to VAS Construction. Picking out the fixtures, the tiles, and the trim work – we thrive in the detail, working hand-in-hand with the client to achieve exactly what they want for their home."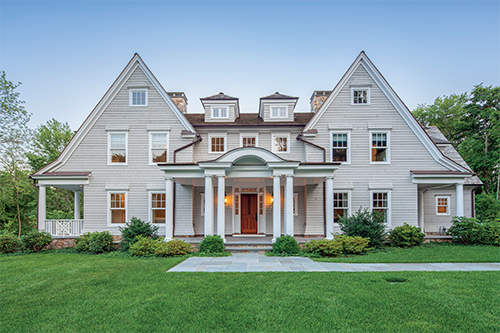 With a deep roster of skilled tradesman, today VAS Construction undertakes a variety of spec projects across its key markets of Greenwich, Connecticut, and Rhode Island. "We buy property ourselves, build homes from scratch, and put them on the market," Vincent confirms. "In terms of the service we provide, we go above and beyond. We make sure to hold our client's hand – whether it's through a plumbing supply house, lighting showroom, or scrapyard. Even after a job's finished, we'll always be available to them."
"This business is built on relationships and communication," agrees Donny Panpada, Project Manager at VAS Construction. "All of our clients have our cell phone numbers. Yes, we get calls late at night, or on Sunday afternoons – but as a boutique construction company, that's what we're about. We've worked with some of our clients for more than 20 years."
Personal approach
This longevity extends to the employees at VAS Construction, too. "Donny has been with me for 15 years, between this business and a former one," Vincent reflects. "I have another employee who has been with me for 30. Even his brother and his son have worked for me for the last decade. We've made a name for ourselves because of the respect that we have for our people."
Amid a glittering portfolio, Vincent picks out one of the company's most cherished builds. "We bid on a lot of work, but the Tokeneke house is a special one," he says. "Like 95 percent of our projects, this was a referral. During the permitting process, we were contacted by the husband with his wishes that we had the home completed as soon as possible, as he was given a prognosis of passing within the next five months to six years.
"This was emotionally challenging for us, but we got our team together and had the project rolling almost immediately," he recalls. "We made it a bit smaller than was originally intended, and we managed to have it built within just eight months. Sadly, about four months later, he passed away. To this day, his wife knows that if she needs anything, we'll take care of it. It's a relationship that truly speaks to the unique nature of our business."
Always busy, VAS Construction continues to explore exciting new projects. "Right now, Rhode Island is taking off," Vincent reveals. "We just built a house down on the water, another in Westerly, and one that's just starting in Watch Hill; in addition to three other projects. In Connecticut, we have approximately eight-to-ten more, and we're pricing out another half-dozen."
Busy time
Executing so many projects isn't without its challenges. "It's difficult to get appliances at the moment," Vincent explains. "Jobs that are only supposed to be four months long are taking double that time because of a lack of supply. You really have to plan ahead. When you're pricing a job out, that means explaining to the client that things aren't going to come in the time frame you want. We do our best to schedule as accurately as we can."
In doing so, the company is bolstered by a reliable set of partners and suppliers. "We are only as good as our subcontractors," Vincent reminds us. "Unlike some other companies, we don't change them from job to job – we use the same ones all the time. We pride ourselves on the quality of their work. A lot of our subcontractors are owner-operated, so they take pride themselves in the finished product. That's very important for us. When I walk onto a job, whether it's a spec home, a customer's home, or a bathroom renovation, it's got to be right. If not, we'll rip it out and start again."
Despite the difficulty, business is booming for VAS construction, with the industry staging a strong post–Covid-19 recovery. "During the pandemic, we knew it was either going to be a disaster, in which we didn't have any work, or it was going to be chaos," Donny admits. "As it turns out, it's probably the busiest we have ever been. If you drive around where we are in Lower Fairfield County, there's building going on in every street. Is that set to change now that interest rates are rising? I don't know, but it doesn't seem to be stopping. By confining everyone into their homes, the pandemic has made people want to redo their kitchen, or even tackle something in the back yard. Supply chain issues aside, that's been good for us."
Loyal customers
As the company looks towards the long term, the plan is to keep driving forward. "It's the only thing we can do," Vincent argues. "I'm not sure when my retirement day is coming, but until then my plan is to keep working every day. The construction industry is just going up and up, and we've established ourselves as one of the most recognized names in Fairfield County, and in the surrounding areas of Connecticut. Ask any realtor or supplier in this area, or even just speak to homeowners, they'll know the VAS Construction name and the quality in what we do."
When asked about the possibility of extending the business beyond its current areas of operation, Vincent emphasizes the importance of consolidating where business is already strong, capitalizing on the strength of VAS Construction's impressive reputation. "If a client needs us to go elsewhere, we're more than willing to do so," he points out. "During my career, we've had clients in Darien who have moved out to Chicago, and requested our services for their new home. So, we set up shop in Chicago, and we renovated their house. Likewise, we've travelled to Maryland, and we've conducted work in both Palm Beach and Fort Lauderdale, Florida. Once you take the time to earn that trust with a client, they don't want to switch to anyone else." With the support of Donny Panapada, Denise Sciarretta, Melanie Sarantos and the rest of his team, Vinnie plans to continue to move forward in his business demonstrating just that.
VAS Construction
www.vasconstruction.com
Services: Boutique construction