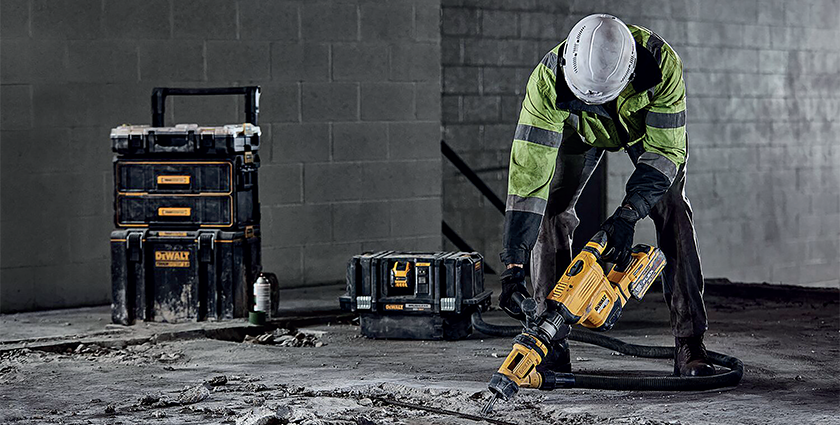 The last two years have seen unprecedented changes and growth in the US housing market during which new trends for home builders have emerged with higher demand for faster, safer and more productive equipment than ever before. Allison Nicolaidis shares insights on how the residential construction industry is evolving and the best ways for builders to modernize their jobsite to boost productivity.
The residential construction industry is rapidly evolving. Contractors are seeking ways to improve productivity against ever-rising costs and global supply chain challenges. The demand for housing has reached new heights exacerbated by existing labor shortages, rising material costs and the overwhelming need to make jobsites safer and more efficient. On top of a construction industry vexed with complex issues, the future is already here. With emerging trends like software solutions, remote worksites, mobile access, smart devices, drones, energy efficiency and indoor air quality (IAQ), builders are pressured to accelerate their own modernization of the jobsite and bridge the gap between what a residential jobsite looks like today versus what it needs to be, and how it needs to operate.
To put it simply, the solution to improving productivity is to modernize. Modernization means taking advantage of the latest innovations in construction equipment and technology. Being at the forefront of a leading global tools and storage manufacturer for nearly 25 years, I can attest that the pace of innovation that is bringing efficiency to the residential construction industry has been fast-tracked in the past few years, with some of the most groundbreaking developments coming to market in just the last few months. Here are the key elements of a modernized jobsite that any builder prioritizing productivity should carefully consider.
Embrace a cordless jobsite
Cordless power tools have transformed the jobsite over the last 30 years and have increasingly become most builders' equipment of choice. Back then, times were simpler, builders only needed powerful cordless tools with great accessories and storage to get the job done. Now however, modern technologies are moving into the industry delivering game-changing solutions that completely replace hoses, gas tanks and cords in favor of a cordless platform. Consider that in 1992, DEWALT offered two cordless tools – a 9.6V and 12V drill. Today, there are more than 300 tools available and platformed across battery systems ranging from 12V to 20V and even flexible platforms enabling tools to deliver 60V performance. New technology is extending that capability and convenience in a wide range of applications such as framing, carpentry, concrete construction and finishing trades, giving residential construction builders the performance of a corded product, with the freedom and convenience of a cordless tool. Those that have made the transition to cordless incur several benefits that contribute to productivity.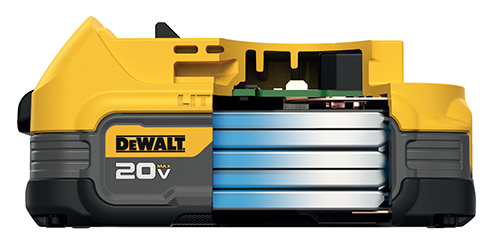 Greater portability – In the early home building phases, builders spend hours just bringing in power and an array of equipment to perform a few tasks. From lugging in a generator and compressor, getting AC cords plugged into the generator, and then connecting hoses from the compressor to heavy-duty corded nailers and large diameter 12-In. sliding miter saws – a worker's set up and break down process is exhausting and time consuming. With a cordless platform, builders are now more efficient than ever. Cordless technology has advanced to not only make even the largest construction tools portable, but capable of more run time, less downtime, faster application pace, and overall better performance than a corded tool. Without hoses, cords and tanks, workers can freely move about the jobsite, and from jobsite to jobsite, without relocating all their auxiliary equipment, contributing to enhanced productivity and ultimately, overall project cost savings.
Improved runtime & worktime – The extended runtime and consistency of battery-operated tools provides prolonged uninterrupted work time. A new DEWALT 23Ga. nailer that hit shelves last month [at time of writing] drives, on average, 2,000 nails per charge maximizing continuous work and even providing days if not weeks of firing nails without swapping or charging a new battery pack. Cordless tools are also advancing with features that assist users in staying efficient; for instance, indicators that inform users when it is time to reload, mechanisms that help reduce downtime by quickly clearing jams, and automatic depth adjustments for precise nail placement. Battery life and assistive product features give workers an advantage in staying on task, for longer.
Safety enhancements – Perhaps one of the most important benefits of cordless tools is the safety that comes with eliminating hoses, tanks, and cords, which increase the likelihood of tangling and tripping hazards. When cutting applications are involved, users don't need to worry about keeping cords out of their blade line or busy walking paths on the site. Cordless tools have also made significant strides as it relates to user safety, particularly those performing heavy-duty applications.
Unlock efficiency with high-power technology
To help drive customer productivity, manufacturers are not only prioritizing the expansion of their cordless tool systems, they are also laser focused on improving the battery technology that powers them. The trend in the power tool industry has been about increasing battery capacity – as high as15Ah – enabling widespread conversion to cordless in categories traditionally thought to never reach end-to-end cordless solutions like rotary hammers, miter saws and table saws, to name a few. Today, the majority of the industry relies on cylindrical cell technology. This means more power capability typically comes with increasing the size of the cell or increasing the number of cells in the pack. As a user then, whenever you need more power and runtime, you're making a trade-off between performance and size/weight.
This past fall, DEWALT was the world's first major power tool brand to offer power tool batteries using pouch cells, a new technology versus the cylindrical cells used over the last several decades in cordless tools. These pouch cell packs, known as DEWALT POWERSTACK™ 20V MAX* Compact Batteries, are designed and optimized for the construction environment and its applications, marking a new era of cordless power tool performance. Pouch cell batteries are dramatically smaller and lighter, and in my experience have delivered approximately 50 percent more power with less weight, smashing the industry notion that more power or run time had to mean larger size packs toted on tools. Think about how mobile phones have gotten smaller over the decades but their storage capacity has expanded significantly while operating experience is faster and faster. We're making similar strides in power tools by changing the industry-standard cylindrical cell construction to flat, rectangular pouch cells. Flat, stacked pouch cells neatly align like sticks of chewing gum in a pack, maximizing the limited space within compact battery housing.
Simplify with end-to-end, connected solutions
While power tools and battery systems have seen astounding innovation in recent years, builders should also evaluate their full ecosystem of equipment to consider the benefits of more recently available items like connected products and software solutions, as well as take stock of advances in accessories, storage and lifestyle products, which can greatly improve worksite operations.
Just one residential jobsite may operate with hundreds of tools and pieces of equipment, all worth tens of thousands of dollars. Keeping track of these tools is a common challenge. Asset management technology connects tools providing location and inventory management data on a software platform where users can seamlessly monitor, assign and manage jobsite inventory. Many tools have QR codes and can be connected through a quick, economical, and easy addition of a Bluetooth beacon on the tool. This allows equipment data to be read by mobile devices or gateways for larger sites. Often times, data is collected, transmitted and easily stored via an app making it simple to locate each item on your jobsite, as one example in several valuable use cases.
Innovation for the modern jobsite extends to every tool and technology category a worker might have in their toolbox. Power tool accessories like bits, blades and screwdriving attachments, have shown vast improvement in performance with benefits provided by innovation across materials, coatings and manufacturing processes. Storage, another emerging and dynamic space offering organization to users like never before, is also imperative and plays a role in productivity, tool protection, and maneuverability in workspaces of all types. Finally, the jobsite is not complete without lifestyle products like radios – the first of which was launched by DEWALT for the construction environment more than two decades ago – coolers, and fans that work to create a better workspace for everyone on the job and round out the family of battery-operated products used every day in construction.

Allison Nicolaidis is President of the Power Tools Group at DEWALT. DEWALT, a Stanley Black & Decker brand, is obsessed with how users work in the real world and is relentlessly pursuing total jobsite solutions. By incorporating its latest technology and industry innovations, DEWALT is leading the charge for the jobsite of the future. DEWALT products. GUARANTEED TOUGH®.
https://www.dewalt.com/total-trade-solutions