The reason behind True North Custom Homes' early succes
Although Sam Swartz, CEO at True North Custom Homes (True North), and his team have decades of experience in the construction industry, the first two years of True North have been full of terrific growth and numerous projects in the Lincoln, Nebraska area. Its team of seven individuals (three in the field and four on the production side) work closely with clients throughout every stage of the design and build process to deliver luxury, one-of-a-kind homes.
"Our goal is to never build the same floor plan twice," begins Sam. "From the beginning of the design process, we collaborate with architects and our customers to design their dream home entirely from scratch, and then we take it all the way through to the finish line. Our homes are fully custom, not just certain aspects like the flooring or interior design; instead, we consider every tiny detail to ensure it is unique to that project. While this can be overwhelming for some customers, our expert team are always on hand to provide suggestions and assist with decisions."
All the small things
As a completely custom homebuilder, attention to detail is naturally engrained in True North's culture. "For every project, we go through the planning process and analyze everything from the thickness and square footage of the concrete to the height of the baseboards," says Sam. "We then create a 25-to-30-page document in addition to the contract, which outlines every detail of the house, no matter how small or seemingly unimportant."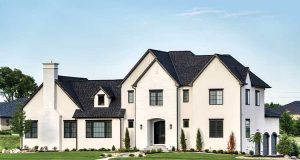 The business uses 3D technology to enable clients to immerse themselves in their proposed home. "It may sound like old news, but 3D technology is one of the coolest pieces of technology available to builders," he explains. "It allows customers to see what their home will look like before construction has even started. It helps to get them excited and tuned into the build process at an early stage." This also means that a customer can change any details or add in features at the preliminary stage of construction, as opposed to when it is underway.
Nowhere is True North's high specification and attention to detail more evident than in its recent French country home project. Designed to combine traditional French design elements with ultra-modern amenities, this luxury home is a perfect example of innovative design with a nod to architectural history. Sam recalls: "The homeowner had a very clear idea, precise examples, and methodical planning of how he wanted the house to look, and he had a great ability to explain his vision.
"Communication was key in this project, as the client was living in Southern California and preparing to move to Lincoln, so we designed the home entirely through Zoom calls," he continues. "They were very trusting of me – I even picked out their lot for them! We then went through the building and customizing process via a huge amount of video correspondence and hired a specific interior designer to assist them with all the decorative selections."
The end result is phenomenal – a 4900-square-foot home with six bedrooms, five bathrooms, executive office space, chef's kitchen and pantry, and a three-car garage. "The two-story entrance and staircase uses different ceiling heights to play with your senses, giving a feeling of awe and wonder," Sam details. "The positioning of the hallways ensures that they are all perfectly lined up with precise measurements, and we also had specific requirements for curved arches throughout the home. Then, the living room features a floor-to-ceiling fireplace, complete with a beamed ceiling and impressive built-in features.
"One of the coolest architectural details was one of the staircases we installed," he goes on. "It was something fun and unique to incorporate, as it wasn't how we would typically build staircases. Instead, it was an open concept with suspended barriers, which optimized daylight and made the whole house, even the basement, so light and airy. The staircase is just one example that highlights how this home was as custom as it gets when it comes to executing a client's vision."
Creating works of art
True North's high level of specification and attention to detail make the company unique in its region, contributing to its strong reputation as a custom homebuilder. "Our clients appreciate that we set very clear expectations, so that they know exactly what to expect during the build process," Sam explains. "Without such transparency, I don't think the high level of detail we deliver would be possible. I often joke with customers that my goal is to be invited over to have a drink on their deck when we have finished building their home!"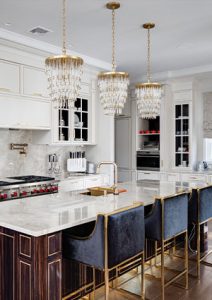 Although Sam highlights his jokey, colloquial approach to customers, it is this balance of personal and professional that characterizes True North's relationships with its clients. Sam sees his work as not simply constructing buildings but working alongside the customer to design and deliver their dream, lifelong home. Sam elaborates: "The most fulfilling part of our job is bringing people's dreams to fruition and transforming their vision into their reality. We are part of the process all the way from the beginning; seeing what they have sketched out on a napkin or an old letter, envisioning what they have been dreaming about for years, and then being able to physically deliver their home at the end of the process.
"I approach our projects as creating works of art in the form of custom homes," he continues. "An important thing to me personally is building a family's 'True North', and by that, I mean creating a lifelong family hub. Although I moved out of my childhood home many years ago, I still go back to my mom's house for the holidays and so do my sisters and their families. We all come back to my mom's house because it is our center, it is where we feel connected to our familial roots; it is our 'True North'. So, being able to create a central point, a 'True North', for all the families we work with is a really gratifying, powerful privilege of my job."
Better, not bigger
For Sam, delivering the final product after such hard work and seeing the client's joy and happiness is the most rewarding part of his job. So, ever humble in his work, Sam concludes: "I am less focused on growing the size or revenue of the business, and instead concentrated on continually improving and refining our processes so that we can serve customers with the best possible approaches. We have a wonderful team, and our focus is on improving, so that we can build homes even better than we do today."