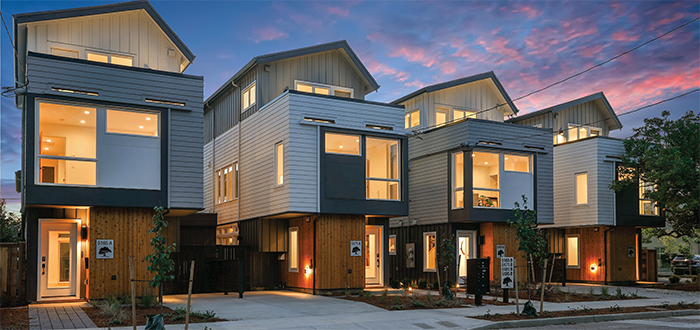 The leader of energy efficiency in the Pacific Northwest, Green Canopy NODE, is developing sustainable, healthy homes for everyone
When we last sat down to speak with Green Canopy NODE in 2020, the company was operating under a different name. Although its mission is still the same – to build homes, businesses and relationships that help to regenerate communities and environments – the method has altered significantly. Bec Chapin, Co-Founder and Co-CEO, explains: "The most recent turn in our business was to integrate construction technologies within our core offerings."
"It's truly been a significant landmark for Green Canopy NODE," Aaron Fairchild, Co-Founder and Co- CEO, adds. "We started in 2010, as the country was crawling through a housing crisis, and focused initially on single-family, infill remodels and flips. Until 2014, this somewhat limited us to adding features, such as solar, to existing properties. From this point, we moved into constructing new builds and expanded to Portland, when we started taking on larger projects and dealing with greater-density markets, which has really allowed us to push our sustainability initiatives. Since then, we have grown our real estate development team to provide integrated and streamlined services for our clients. By the time of the merger in 2021, bending cost curves was already a focus of the team. Building certain elements offsite was a natural evolution."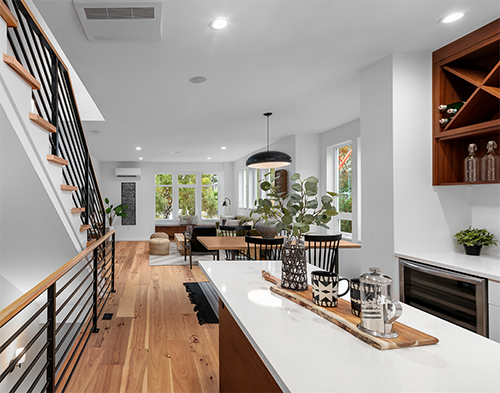 Bec adds: "Through harnessing the power of manufacturing, we are hoping to improve on our sustainability targets and regenerative environmental goals. We are about to launch our fifth real estate investment fund. This time we're looking to finance projects that utilize mass timber in their production. Not only does mass timber act as a carbon store, it is also aligned to our mass-timber structural and cross-laminated timber product solutions."
Model homes
The business has recently been involved in the final phase of Grow Community on Bainbridge Island, WA. Once completed, the community will feature a range of 150, differently sized, five-star Built Green units, some of which are net-zero while others will be net-zero ready, with the option to add solar. In the phase three properties, Green Canopy NODE is installing its mechanical/electrical plumbing product solution, a utility product manufactured offsite that saves time, reduces callbacks and is easier to install in comparison to existing technologies.
In discussing work further afield, Sam Lai, Co-Founder and Chief Development Officer, details: "We are working on a co-housing project called Sunnyside Village in Marysville, just north of Seattle. It's ultimately a customer-led development where a group of people have come together and decided to create a co-housing community. They don't want or need McMansion size homes, so we've collaborated on an architectural program more conducive to fostering a healthy community with a common house and vegetable gardens. Green Canopy NODE has been able to empower them by standing-in as both their development consultant and general contractor. We have obviously helped them, but they're the ones guiding the build of the 32 cottages and surrounding infrastructure."
"We have a number of other cool projects breaking ground in Portland and Seattle that are creating density in sustainable ways," Bec adds. "We really appreciate our clients coming to us for new ideas. Similarly, we will soon release our Mass Timber Model Home to exhibit our cross-laminated timber and mass timber products. We built it in Spokane Valley at our partner's, Mercer Mass Timber plant. We will be offering tours to clients and investors by appointment. We're really excited to show that beautiful homes can be made through standardization and the power of manufacturing. It will also feature several of our construction technologies, including our utility product."
Bridging the gap
Understandably, sustainability is in the DNA of Green Canopy NODE. Everything is tracked diligently in the company's impact report, regardless of the occasional hurdle it may encounter, but that's the way the founders focus on future improvements. It's what drives the company and gets everyone out of bed every morning, as they know they are actively making a difference by building towards a greener future for the construction industry. When it comes to the people side, the ethos is centered around the importance of collaboration and the value of interacting with one another. Once a year, the entire team goes on a retreat to recalibrate the company's mission through workshopping and discussing what's important about everyone's day-to-day working lives. "We collectively vote on our values for the year then review one another regularly," Aaron states. "It's not the kind of review where you're going to get a raise or get fired. This kind of feedback mechanism supports the culture in a highly transparent manner and requires people to step into vulnerability.
"I think in three to five years' time, we'll look a lot more like a housing product organization," he concludes. "By then we will be selling structural solutions across the country in multiple areas. When supply doesn't meet demand, that gap will continue to grow. Through the power of manufacturing, we are working to build homes faster and address this gap."
www.greencanopynode.com