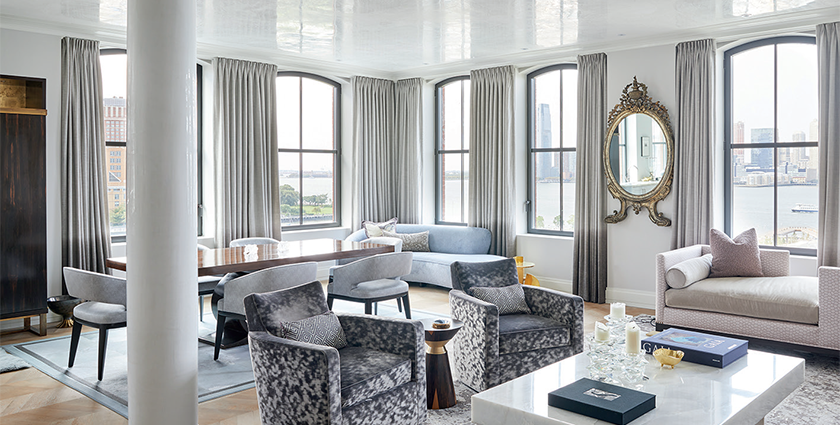 Striving for perfection
World-class homebuilding is found in the details, according to Michael Browne, the Co-Founder of TC Browne and Co, which is why his business's name has become synonymous with exquisite home builds and finishes
TC Browne and Co (TC Browne) has established its reputation for quality and craftsmanship entirely through word of mouth. Under the leadership of Co-Founder Michael Browne, this New York-based residential developer has curated a catalog of apartments across the Upper East and Upper West Sides of Manhattan, as well as Soho and Tribeca. Ted Chan, who is also a Co- Founder, and Kiki Ong, the CCO, join our conversation with Michael to share more about the expertise the company boasts that enables it to construct homes in the heart of New York City.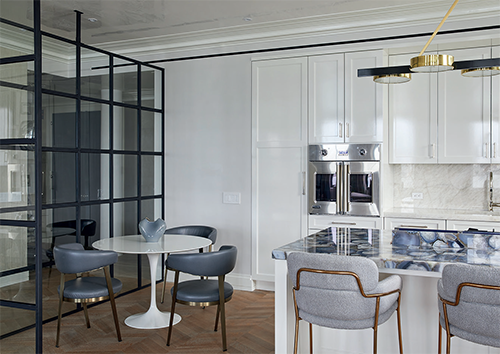 Michael begins by sharing an example that demonstrates the extra attention to detail for which the company has become widely known. "We had a project," he says, "where the plans called for a circular staircase with a square coffered ceiling above. We built it according to plan, but even though it looked good, I knew it could look even better. I told the client that I could make a radius that followed the curvature of the staircase, which would just make it look more elegant and contemporary, and they were thrilled with the result.
"From my experience, the way something is imagined when it is drawn on paper could be entirely different compared to when it is built, and I think things like that are important to remember. This is why I've always wanted this team to keep an open mind, and be prepared to adapt and modify when needed," Michael expresses. This is where TC Browne's expertise makes the difference.
Understanding New York
Although detail is what TC Browne does best, it isn't the only trait that separates the business from its competition. Kiki believes that Ted and Michael's leadership has established a company culture of collaboration and creative problem-solving, which has made the business a leader in New York's homebuilding industry. "The TC Browne team is really good at working together with all the stakeholders in our projects. I have visited sites with Mike where he often stops to have a chat with building staff because we value our relationships with all members of the team. I think this helps ensure the project runs smoothly.
"On holidays, we often send meals to the building staff that is working that day. We want them to know we see and appreciate them," Kiki emphasizes.
The discussion of onsite operations triggers the topic of favorite projects that highlight the company's best practices, and, coupling with Michael's earlier example, the team discusses another project that they are very proud of. This work is currently taking place, and Michael talks about creating a 7000-square-foot duplex on Central Park West with stunning views of the park. "It's the first duplex ever done in the building, so it took a lot for the owner to get the building management's approval to do it. It involves creating an opening in the structural slab between the 11th and 12th floors to combine two apartments. It's heavily scrutinized by building management, shareholders and neighbors. All eyes are on this project, and there's no leeway for any errors. The stakes are very high. This is where we excel, because this is what we do."
"Unfortunately, in the middle of our work, the building had to do some emergency elevator repairs, which has resulted in us having to close down for three months. Although this has extended our timeline, we've measured all our mill work, we've finished our shop drawings, and ensured our offsite team continue with fabrication. This means that when the job reopens, we can hit the ground running and finish the project on time. Our team is accustomed to unforeseen challenges and always thinks about how to make up time and reorganize our schedule so we can work around things like these elevator issues," Ted explains.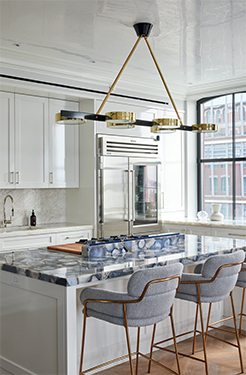 Michael continues to shed light on the fact that projects like this demonstrate the sort of challenges the company frequently faces as a result of working in one of the world's busiest metropolises. "We have issues with bringing up large materials, which we often have to crane in. We have to get side-walk scaffolding permits, and there are also issues with time constraints and the hours within which we are allowed to work. Added to this, most buildings have rules that dictate the maximum time a project can take. When it comes to renovations, we really only have between four and six months to get the work done," Ted adds. "Delays can trigger stiff penalties imposed by the buildings (up to 5000 dollars a week) to the shareholders and builders if the project isn't completed on time."
However, in the many years that the business has existed, TC Browne has never been fined, which is a sterling testament to its commitment to clients and their neighbors, as well as on-time project delivery. According to Michael and Ted, in order to overcome these challenges, they rely heavily on an efficient and hardworking team; a topic with which Kiki is well acquainted. "I heard somebody say many years ago that you can tell how an organization treats its employees by how their employees treat their customers, and I have never forgotten that. I think that can be clearly seen at TC Browne. I know our clients are treated exceptionally because of how we prioritize the wellbeing of our employees. Whatever they need, we are willing to walk alongside them and support them through their journey."
Creating better experiences
An example of what she means is immediately demonstrated when, during the conversation, Ted interjects to pay tribute to the incredible work that Kiki invests into the company. "She is truly the head of culture and processes here. She makes sure that we are able to stick to our goals and strategies with effectiveness and efficiency, and in doing so, that our clients are happy. None of that would be possible without her dedication and commitment to the work that we want to continue to do, and the opportunities that are opening up for us."
On that note, we then steer the conversation to prospects of the future. The trio believe that there is exciting potential for growth, and as long as the TC Browne continues its focus on its quality standards and simultaneously pushes for continual improvement in process, success for the next few years is certain. "Mike and Ted are really committed to growth in a holistic way," says Kiki. "What I mean by that is they very much prioritize the development of all of us; our partners, our architects, and our team. This also includes creating better experiences for our clients, and maintaining our communication and dedication standards to the fantastic projects that we get to be part of."
Both Ted and Michael agree with Kiki. For the next five years, the Co-Founders plan to continue business as usual with the added push of improving as much of the business's operations as possible. "Although business for the company is constantly fluctuating, we do invest hugely in improving. Every year, we look back and reflect on what we could have done better and what we need to prioritize for improvement. Leveraging technology will continue to be a big part of this. We have integrated a software program where the client can login and know exactly where we are throughout each phase of the project and what we need from them; this could range from funds needed, to tile and paint color selections. It also allows our project managers to take pictures of the project and upload them so our customers can be updated without needing to come to the apartment. Often, our clients don't live near the site, so they can't see it on a daily basis. However, with the help of this technology, all they need to do is login to keep up-to-date with our progress," Ted shares.
Michael then closes our discussion with a final anecdote that reiterates what is inherently entwined in the company's DNA. In doing so, he elaborates on how the company's success will continue to be found in the small moments where attention is given to those all-important details. "When all the work is done, our customer is going to be sitting in their new apartment, and they might look up at the ceiling and notice something that isn't exactly perfect. So, before we hand it over, I always try to spend time and sit in the apartments and take a look around, just as the client would, to see if there is anything we can correct and improve; that is how we build. We constantly try to perfect our work, and guarantee that all the details that often go unnoticed by most are executed to the highest level of quality," Michael concludes.
TC Browne and Co
www.tcbrowneco.com
Services: Residential home builders