Sun Custom Homes: industry insights from a prize-winning builder
AFFORDABLE HOMES OF DISTINCTION
Proudly serving Oklahoma City's metropolitan district and its surrounding areas, Sun Custom Homes (Sun) is, as the name suggests, a custom home builder with a knack for creating stunning dwellings – ones that cast a light on their own elegance and throw back the shadows of humdrum design. While the three original founders of the company have since retired, we recently sat down with one of the new ownership team, who has been with Sun for over 15 years and took control of Sun in December 2019.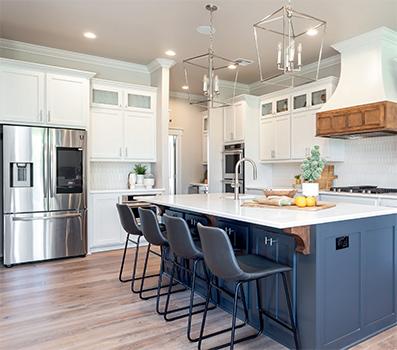 Tailored approach
Jerry Hogue, Managing Member & Operations Director at Sun, is no novice. When it comes to new home construction, he boasts more than 30 years of experience. By maintaining close contact with clients, suppliers, and subcontractors, Jerry's industry knowledge ensures that every detail of processes and procedures surrounding home building is followed to the letter.
With fellow owners Jeff Buller and Jason Gage, Jerry is proud to help enact Sun's mission: to create homes with a client-focused approach that incorporates authentic architectural designs, unrivalled luxuries and amenities, and premium craftmanship – all at an affordable price. This is aptly summarized by the company's pithy mantra: Affordable Homes of Distinction.
Jerry breaks it down for us. "Affordable Homes of Distinction means just that: the customer is ultimately in control of the affordability of the end result," he explains. "With every home, we work on the same percentage margin, which means the client can control cost based on the size and individual selections that they choose to make. As for being distinctive, we have long had a policy of never building the same home twice. We may use the same base floor plan multiple times; however, we always make minor (or major) changes each time, thereby tailoring the project to that particular client's preferences.
"The quality of our homes is something that we will never compromise – not even for design," he goes on. "Although about 75 percent of the homes that we have built in recent years have been on land owned by our clients, there are many new developments that we are excited about. One in particular is a new addition in Chickasha, Redbud Ridge. We also have lots available in Sonoma Lakes in Moore as well as the Pulchella and Pedras communities in Newcastle."
Design freedom
With over 50 years of combined experience in custom home building across myriad sizes, styles, and budgets, Sun is still best known for its work on Old World European, French Country, and Classical American designs. But it does not stop there. Among other concepts, the firm has designed and built Modern, Transitional, and Texas Hill Country homes, too.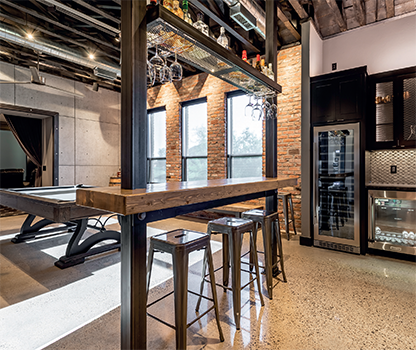 From initial planning to final delivery, when you choose to work with Sun, you are choosing experience, knowledge, and confidence in the custom game. "While there are many builders who will call themselves a custom home builder, we consider ourselves to truly fulfill that descriptor," contends Jerry. "Indeed, many firms say they are custom because the client gets to choose interior finishes from a set number of predetermined choices. Instead, we tell our customers that the world is their oyster. While we like clients to use our preferred vendors, we do not restrict them; if they cannot find what they want, then they are free to go wherever they choose. The only restrictions that are imposed upon our clients during the design process are building codes, covenants, and safety."
For its work, Sun has been recognized with numerous accolades specific to the home building industry. Last year, for instance, the firm was awarded first place for Best Floor Plan and Best Interior Finishes at the annual Parade of Homes Honors. "We consistently win awards for our Parade of Homes – year in and year out," Jerry proudly admits. "It is a joint effort between our designer and the client; our Parade Homes are always pre-sold custom dwellings. When the time of year rolls around to pick our next home to enter, we always look at those that truly stand out from the crowd."
Without its people, however, Sun would be just that: a radiant name, but with little to show for it. It is fortunate, then, that the firm employs some of Oklahoma's finest. As Jerry makes clear: "Our people are our company; it is as simple as that. In addition to myself, Jeff, and Jason, we have our Project Director, Steve, who has been with us for 12 years, and our Office Manager, Kim, who keeps us all in line.
"Looking externally, we could not do what we do without quality subcontractors and suppliers," he concludes. "Many have been with us since our inception. Of course, the pandemic placed a strain on everyone, not just homebuilders; however, strong, stable firms like us were able to survive. Therefore, I can confidently say that we will overcome the inflation and rising interest rates that we are currently seeing. Other than that, it is just keep on growing – but slowly. It has never been our goal to be a giant in the home building industry. Indeed, it would not be possible to do that and maintain our core mission: creating Affordable Homes of Distinction."
www.suncustomhomesok.com