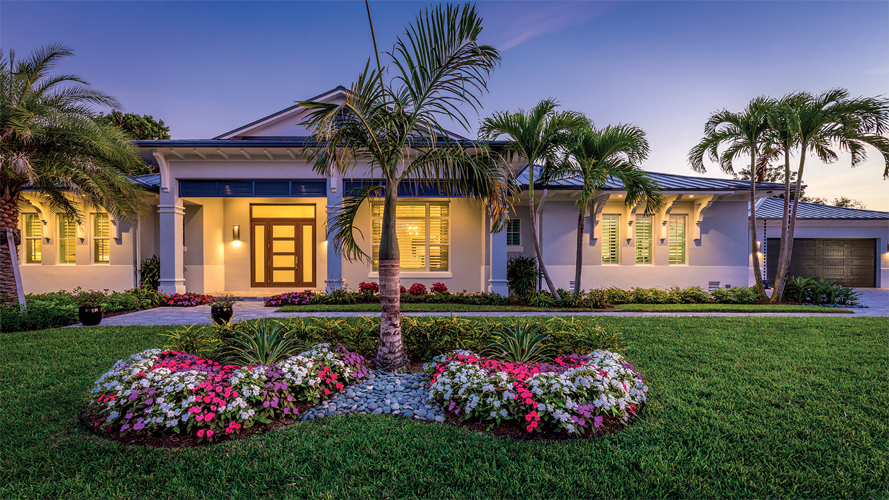 Stuart & Shelby Development
Homes with integrity
Celebrating 15 years of success, Stuart & Shelby remains dedicated to providing high-quality construction services without compromise
Stuart & Shelby Development was founded in 2006 by Chuck Halberg and a team of only four people. The company was founded on a desire to provide quality affordable housing for the people of South Florida. Its core management group oversees all projects, from custom homes to multi-family developments, and as a result of this care and dedication, the company has not only grown into a group of 14 dedicated staff members, but it continues to thrive in the wake of a global pandemic.
Stuart & Shelby is a full-service general contractor and developer. As founder Chuck Halberg summarizes: "We offer a design-build service with a core group of architects and designers; we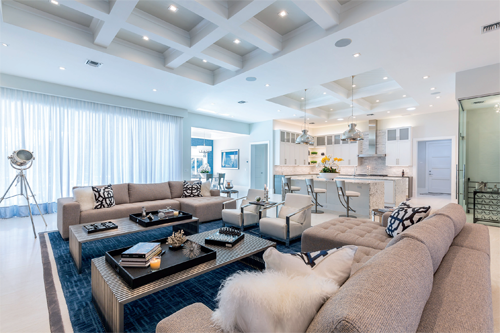 build custom homes and affordable homes and also do major additions and renovations on homes and condos." Unlike a standard contractor, the list of services offered by Stuart & Shelby is expansive and diverse, including turnkey general contracting services, site development, construction management, design services and budget consultation.
The company is dedicated to a turnkey approach, meaning it can offer a comprehensive service to each client. Setting the company apart from its competition, Stuart & Shelby has a reputation of building with 'integrity and pride', whilst maintaining total commitment to its client's needs, ideas, budget and schedule. "Our commitment is to deliver quality work performed on time and with budget in mind," Chuck explains. "As founder, I am accessible to all clients and believe transparency is key to our organization." It is clear that a history of on-budget and on-time service has propelled Stuart & Shelby toward success, as Chuck emphasizes: "We feel a key driver is simply our reputation and referrals from past clients and prospective clients believing in us and our commitment to them."
Solid foundations
This reputation is certainly built on solid foundations. In recent months Stuart & Shelby has recently completed a number of projects including Julian Place. "This project included 14 townhomes and a community building for homeless families in the Lake Worth Beach area, for our client Adopt a Family of Palm Beach," describes Chuck. Adopt a Family of Palm Beach is a charity that provides homes to low-income families in the Palm Beach area, and Stuart & Shelby has worked with them to build over 70 units since 2008; this work is reflective of how integrity really is a large factor when it comes to Stuart & Shelby's work.
Community investment doesn't end there, either, as the company is also responsible for Art Loft, a collection of eight townhomes that are designed for artists to live and work in, alongside a commercial building in downtown Lake Worth Beach. "These are the type of projects we are passionate about," Chuck exclaims, exhibiting pride that Stuart & Shelby, through its work with under-represented and disenfranchised groups, remains true to his original mission. "Both these projects had green certifications," he adds, further highlighting the company's dedication to socially responsible development.
Stuart & Shelby is well-known for its philanthropic work. "We have been big supporters of many not for profits in our area, with emphasis on kids, cops, history and the arts" says Chuck. The efforts of Stuart & Shelby to feed back into the communities it builds have not gone unrecognized. "The company has garnered a Delray Beach Business of the Year Award" reports Chuck, who himself has won Business Person of the Year on top of three Community Service Awards, and special recognition from the Delray Beach Police Department.
A positive culture
Aiming to support those inside the company as well as outside, Stuart & Shelby motivates its staff with a familial atmosphere. "I try to make it feel like a family," Chuck testifies, "there are good times and tough times". Highlighting those good times, Chuck tells of the company's social aspect: "Before Covid-19 hit we did a company outing to a Miami Dolphins game, and planned on doing quarterly company team building events, but that was put on hold. We will have a company outing in September 2021 at Game of Axes, and are planning a hockey game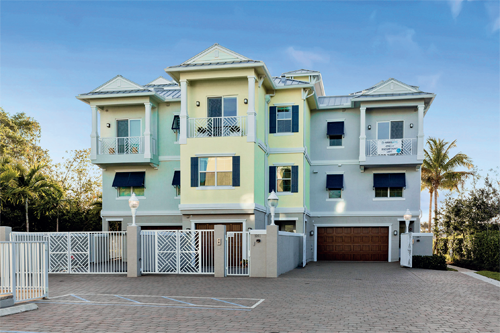 and concert over the next couple quarters." Building a positive culture within your company is vital, and efforts such as these illustrate how good relationships are at the centre of what Stuart & Shelby does.
Whilst the company was founded in 2006, the supplier and partner relationships that drive it have been evolving for over 40 years, as Chuck has overseen the construction of over 2500 residential units, 3500 apartments, a ten-story high rise, 800,000 square feet of commercial space, and a 220-bed nursing home since 1975. As he reveals: "Having been building in South Florida since 1980, I have built many long-term partnerships with sub-contractors and suppliers. My core group of sub-contractors has been with me a minimum of ten years, and I've been working with many of them for over 20 years."
The reputation built by Chuck himself in Florida's construction community has also aided expansion. "Due to Covid-19 we have been expanding our sub-contractor and supplier base. We've had many companies knocking on our door, because we respect our vendors and pay our bills," Chuck goes on. This illuminates how the company's dedication to business done transparently and to a high standard has safeguarded Stuart & Shelby through the difficulties of a global pandemic.
The conditions seen in the last year and a half have been unprecedented; as Chuck remarks: "In these crazy times we have seen material and labor issues that are the most extreme I've seen in my 41 years of building in South Florida." In the face of these hurdles Stuart & Shelby has taken a pragmatic approach: "We believe we haven't lost a beat overall," states Chuck. "By making sure our clients and vendors communicate about ETA's on materials selected, and if it appears there will be issues, we can help the client to look at making another selection. It's about scheduling in advance and giving everyone ample notice."
Ironclad reputation
It's clear that Stuart & Shelby's forward-thinking has helped it weather the storm of Covid-19; continuing to look forward, Chuck discusses the future of the company: "Quite honestly while I don't think I will ever retire I am hopeful that in five or six years, when I turn 70, I can turn over the company to my staff or an outside person wanting to take over a long time reputable contractor in the South Florida area," he confides.
In the short term, however, Chuck plans to keep the company growing. "Continuing to increase our sub-contractor base as our volume of projects continues to grow will be important in 2022. We currently have national deals with a couple of suppliers and are looking to expand on that, which will help us to secure better pricing and shorter lead times. In addition, we are moving into our new office the end of 2021, which has us doubling the size of our operation and allowing for the addition of new staff."
With national deals on the horizon, and an ironclad reputation, the future of Stuart & Shelby is looking bright as it celebrates 15 years in business. This is an admirable achievement in its own right, but also one that leaves many lives improved in its wake. In those 15 years, the company has made practical efforts toward reducing social issues such as homelessness, and invested its energies into the often-underfunded artistic sector. It's clear that the driving force behind these successes is Chuck and his team, whose personal integrity and dedication is built into the foundation of each Stuart & Shelby home.
Stuart & Shelby Development
www.stuartandshelby.com
Services: Complete turnkey general contracting