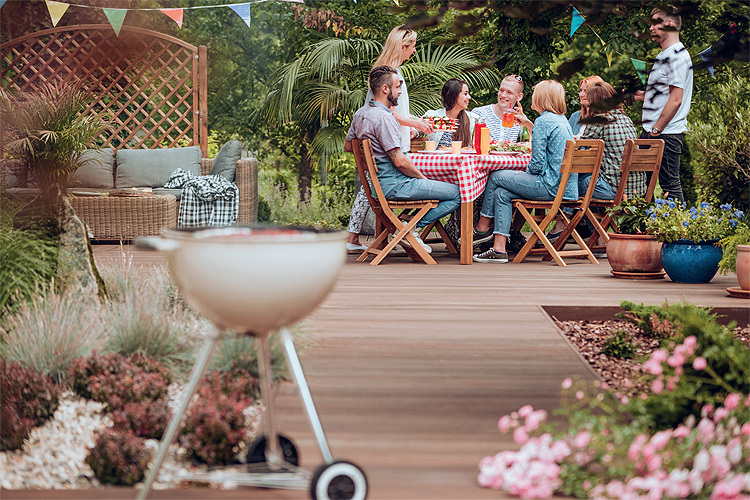 Welcome home
Celebrating its 15th anniversary in 2021, Stone Martin Builders (SMB) brings people together through the creation of neighborhoods that will last for generations
Astrong believer in the idea that together, we are stronger, Stone Martin Builders has been designing and delivering communities that bring people closer since 2006. Increasing its annual output by around 200 homes each year, the company built more than 800 houses in 2020, and in that same year it was listed at number 94 among builders in the US in Builder Online's annual rankings. With further plans for growth, SMB expects to construct more than 1000 properties in 2021.
Stone Martin homes have, over the years, become well known for their trademark open floor designs that promote livability, functionality and feature plenty of natural light. Constructed using energy-efficient building materials and techniques, the company's properties not only boast granite countertops, hardwood floors, crown molding and stainless steel appliances as standard, but also provide energy savings for all of its homeowners, creating a home that is not just aesthetically beautiful but also good for the planet.
Furthermore, the company also prioritizes the health of its homes, and given the times we have recently been living through, the need for healthy air quality has never been greater. While every one of its homes is designed to be airtight, SMB uses technology that cleans and filters the indoor air with ions (as well as whole house dehumidifiers and green building techniques) to ensure that clean, fresh air is always available to the home's occupiers.
This dedication to resident safety also extends out from the home, as several of the communities created by SMB feature Flock Safety's license plate reading cameras, which give real time evidence to participating law enforcement. These solar powered cameras are located at subdivision entrances, exits, and amenities, and they provide timestamp documentation of all vehicles entering and exiting, flag stolen vehicles or wanted plates as they enter and provide an extra element of safety for the whole subdivision.
This brings the spotlight onto the topic of SMB's new home communities, which thanks to the thoughtful inclusions already noted, are created to make inhabitants feel not just at home, but also more connected and more secure. In fact, SMB believes that the neighborhood is just as important as the home itself. From its base in the Auburn-Opelika metro area, SMB is dedicated to offering aspirational communities throughout the state of Alabama, including Columbus, Athens, Huntsville, Prattville, Montgomery, Dothan, and more. Each community differs from another to offer unique living, but always with a focus on comfort and convenience.
This choice of development means that homebuyers can find the home and community that fits their unique needs, and the team at SMB is always on hand to ensure that the process of becoming the owner of a Stone Martin home is stress-free – in its own words, the business strives to offer a 'world-class building experience'.
Design portfolio
For those buyers considering buying an SMB home but want to research locations and floorplan options from the comfort of their existing house, the company has created a user-friendly and comprehensive website, where visitors can view the communities and featured plans available. From the compact three bed 1550 sq ft Milton to the 4791 sq ft Stallworth and all the options in between, SMB has a home design and site to meet the needs of the most discerning buyer.
Looking more closely at the two particular plan options mentioned above gives a small insight into the quality and attention to detail that is built into every SMB home. The Milton, for example, is a smaller option, but one that optimizes floor space to create a house that is perfectly formed and still contains all the signature hallmarks of the SMB name. With wood flooring that extends from the foyer, dining room, great room, and hallways and a cook's kitchen that is flanked with enormous counter space and convenient breakfast bar, the home includes guest bedrooms, durable tile flooring in the kitchen and bath, as well as a comfortable covered patio for year round enjoyment.
At the other end of the scale is the Stallworth, which includes massive amounts of space inside its five bedrooms, four full bathrooms and bonus room. It features two bedrooms downstairs, one a huge master suite and another large bedroom both with walk in closets and connecting bathrooms. The airy great room with gleaming hardwoods in the heart of the home is open to the expansive kitchen complete with a granite island that is large enough for seating several people; perfect for entertaining and cooking at the same time. The Stallworth provides considerable space with its plentiful storage and large common areas. It is the perfect floor plan for large families with room to spare for guests.
The Milton and Stallworth are just two of a portfolio of almost 70 designs, and this gives potential buyers a whole range of choices, at every price point, and in many styles. Choosing a plan is further enhanced by the latest technology, as SMB has partnered with Rendering House to help customers see the exterior of their home before it's finished through visualization software. This means they can select favorite exterior options like brick, siding colors, and more.
For those who want to make some changes inside, there is also unparalleled customization, with a wide range of upgrade options available, from traditional to contemporary. Whether it's appliances, cabinets, bathrooms, floors or doors, a purchaser of an SMB home has the ability to create their own individual space, reflecting their taste and personality, but all through a smooth, painless process.
Five-star reviews
This latter point is important, as the way that SMB helps its customers buy their homes, is something that sets it apart from the competition – its commitment to providing the best experience possible is engrained into its DNA. Dedicated to addressing every aspect of the home buying process, and recognizing that it can be one of the most stressful tasks undertaken by individuals and families, SMB thinks of everything – from start to finish. Supported by a team of knowledgeable onsite real estate professionals, construction supervisors and homeowner warranty specialists, the company aims to exceed customer expectations in every one of its projects.
Transparent communication, and a commitment to respecting buyers' time, energy, and money (as well as a lack of bidding wars) means that SMB can reassure prospective buyers that it is working with them all the way along the journey. The glowing testimonials on www.stonemartinbuilders.com go some way to illustrate the success of its methodology, with one buyer commenting 'The Stone Martin team was absolutely amazing throughout the process. They met and exceeded our expectations' and another stating that 'The realtors are wonderful and helped make our purchase … a smooth transition to a lovely neighborhood'. The five star ratings on Avid also bear out these glowing reviews.
'Everything went so smoothly from the first meeting with the realtor to the walk through and closing. Even now, for the few problems we've had the warranty process is quick and easy' said another reviewer and the standard one-year, whole-house builder warranty to which they are referring is provided by SMB on all of its newly constructed homes. Its full-time warranty department serves SMB's homeowners in all areas to ensure that it handles claims in a timely and efficient manner. It even goes so far as to schedule an appointment 11 months after closing in order to address any claims or concerns before the one-year warranty expires! This extra level of service and care is what helps the business maintain its reputation for excellence within the industry.
Given the importance of customer relationships, and the strong people-centric culture at SMB, it is a natural progression that it also creates long-standing and lasting relationships with trade partners. The business works to help its trade partners properly plan for future growth and provides regular feedback with trades to keep the flow of information up-to-date. It also shows its appreciation for their hard work through on site trade events in the field, as well as craftsmen incentives. Overall, SMB wants to help its Trade Partners to grow and produce more volume every year, while increasing their profitability and its own efficiency. It even runs a 'Trades Up' program, which encourages joint marketing efforts through social media.
With an obvious commitment to both substance and style, SMB strives to continually deliver beautiful and delightfully priced places to call home. By providing every homeowner with the highest level of commitment before, during, and after they have chosen one of its homes, buyers can rest assured that they are making an investment, not just in quality, but also in peace of mind.
Stone Martin Builders
www.stonemartinbuilders.com
Services: Home builder