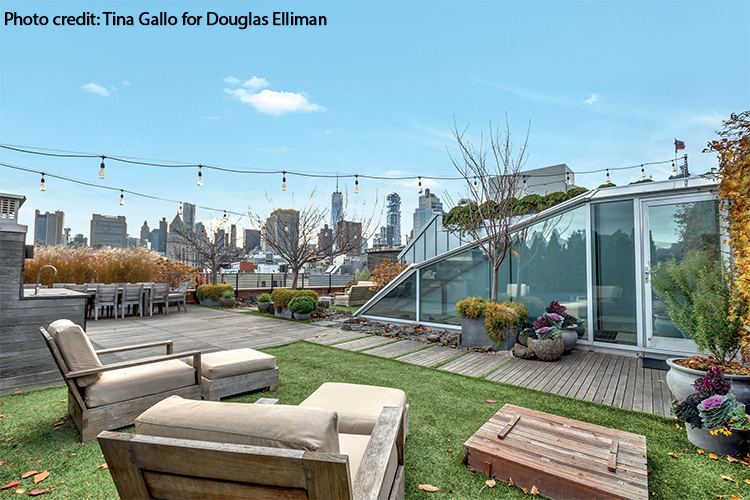 As busy as they are with television, music, cooking, a new skincare line, and raising two children, John Legend and Chrissy Teigen hardly have time to oversee the restoration and combination of two contiguous New York penthouses. So, they are selling the two penthouse units they bought in Manhattan's
Nolita neighborhood with plans to combine them into one huge residence on two floors, plus over 3,300 square feet of rooftop terraces. Spending almost all their time in California, John and Chrissy have decided to discontinue the combo project and have put the two apartments on the market at $18 million. Still keeping their four feet in the Big Apple part time, the couple plan to look for another New York home that will be less work.
The original purchase was a good idea and one that some celebrities and people with deep pockets often do – buy two apartments in a trendy neighborhood, join them and end up with a mega residence that they feel matches their status in life. Joined together the finished penthouse would include a total of 6,164 square feet with six bedrooms and seven baths. The hardwood floors appear to be original, the windows are large and offer lots of daylight streaming through the rooms with neighborhood views. A particularly interesting item is the bar with lighted translucency in front of the bar stools. A touch of urban-style rusticity is seen in boards on some walls and a large three-sided fireplace. A unique touch is the glass-front wine cellar located under the stairwell. Skylights abound throughout and the landscaped roof terrace, with its own irrigation system and grill, is an ideal place to just hang out in the sunshine or entertain with a cookout.
Listing agents are Noble Black, Jennifer Stillman, David Son and Corinne Cahlon, all of Douglas Elliman, New York City.
Source: www.elliman.com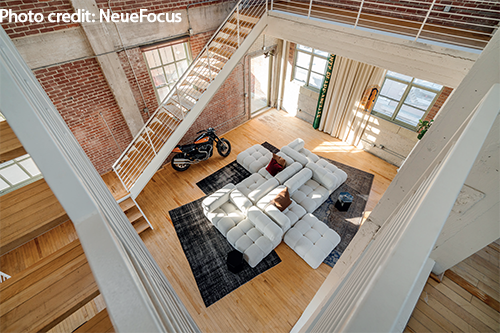 From New York to LA
Just as Fast & Furious 10 started to film, its Taiwanese-born American film director, Justin Lin, put his historic Downtown Los Angeles penthouse on the market, located in the thriving LA Arts District. Originally constructed in 1925 as the West Coast headquarters of Nabisco, it was converted to a live/work community in 2007. For the last few years, Lin has used the penthouse as an office for his production company, Perfect Storm Entertainment, with residence above. It is now for sale at $7 million.
Large in scale and with 360-degree views from its rooftop terrace, Lin's home spans three levels, including the 7th through 9th floors, has wide open volume with open stairs working their way to the top level. The same year the building was converted, it was declared a Historic Cultural Monument. Currently offering two bedrooms and three baths, much of the space can be utilized in different ways with creative vision. There is 4,300 square feet of interior space and an additional 3,600 square feet of outdoor terrace space that can be used for anything from entertaining, a half-basketball court, and even a hot tub. The second floor houses the main living spaces and kitchen, while the entire third floor is dedicated to the owner's suite. Office or creative space can reside on its first floor. The fetching element, aside from its industrial vibe, is that the space is so flexible the owner has multiple options for the use of the space depending on their lifestyle. The building is extremely private with around-the-clock concierge, a swimming pool, and the tax-saving Mills Act.
There has been a recent resurgence for LA's Downtown and Arts District with a new Whole Foods, new indie restaurants, three just-launched breweries, art galleries, boutiques and the revitalized Grand Central Market. The members-only Soho Warehouse opened in 2019 with a hotel, gym and two restaurants directed at LA's creative crowd. A group of savvy celebrities also have their eye on the neighborhood such as Johnny Depp who owns several condos in the area.
The listing agents are Justin Alexander and Tab Howard of the Alexander Group, Compass, Los Angeles and Jimmy Lin of One True Loan, Los Angeles.
Source: www.compass.com
For details of these houses and other celebrity homes, please visit:
www.topTenRealEstateDeals.com
https://toptenrealestatedeals.com/weekly-ten-best-home-deals/home/john-legend-and-chrissy-teigen-list-their-new-york-city-penthouse-project
https://toptenrealestatedeals.com/weekly-ten-best-home-deals/home/fast-furious-10-director-justin-lins-historic-la-penthouse