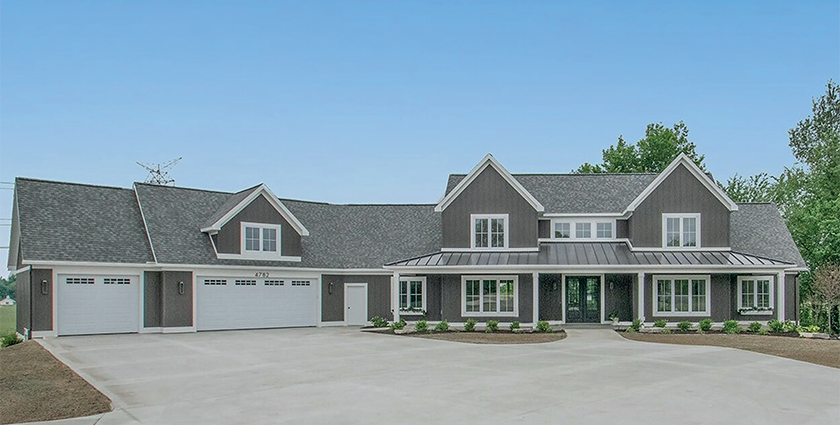 Appreciating the little things
Putting life before work, Scott Hekstra Builders shares its unique approach to creating some of west Michigan's most impressive custom homes
It has been quite the journey – and it all started with my grandpa," begins Scott Hekstra, President at Scott Hekstra Builders, who sat down with us to share the incredible story behind the business that proudly bears his name. "He immigrated from the Netherlands and became a builder, working on his own houses in the US."
It soon became a family affair. Scott's father and uncle started working for the family framing business. In time, they were ready to split off and begin their own company.
"However, instead of starting a joint venture, grandpa said they should create separate businesses because they had different ideas about building," adds Scott. "That turned out to be great advice. Dad went into contracting and my uncle went into framing. From a very early age, then, home building was always a big part of family life. Throughout school, I would work with my father and my uncle, learning how to frame houses, cover roofs, and create elegant soffits with intricate tongue and groove."
Working as part of that family unit served as a successful conduit for an education in the building trade. Yet, prompted by his father, Scott left the industry and attended Davenport University, where he completed his degree in Marketing and Business Management.
When Scott returned to Michigan, the corporate world that was waiting for him was simply not conducive to those salad days of his youth, which were carefully shaped and planed by framing and home building – not office work. In 2015 then, Scott Hekstra Builders was founded to channel that passion and share it with the rest of the west Michigan region.
What kind of company would it become? Well, the clue is in the name.
"If you are employed, it always feels like someone owns you – and I like my freedom," admits Scott. "If my team works really hard during the week, then sometimes we will take the Friday off. Everything comes down to relationships: both with your team and with your customers. In terms of the former, usually once or twice a week I will go out and buy coffees and lunch for the guys. Alternatively, on that Friday off, we will play golf together.
"Life is not all about work," he goes on. "Certainly, we work hard and give each project everything we have; but life is about enjoying time with friends, family, and everything God has given us. Recognizing that fact allows you to keep your team motivated. My name is tied to the company, and the team all know my wife and children; in fact, if we are working nearby, then they will typically come over for lunch or dinner. Right now, we have installed a grill on-site, and we will go out hunting or fishing and cook up that fresh meat at lunch together. Little gestures like that save your team money, which they can then save or spend on their families. Like life, business is all about the little things."
Valuable relationships
Along with a solid work ethic, the importance of strong relationships between business owner, the team, and then the client is something that has been passed down by generations in the Hekstra family. "With clients, robust and responsive relationships are essential," asserts Scott. "We are working on a house that the client is putting a lot of money into; though we might know that the home will turn out beautifully in the end, we need to be able to establish trust with customers to communicate that assuredness. Like my father did with his business, Scott Hekstra Builders bears my name; customers know that name is associated with high-quality home building, so it always pleases them to know that their questions will be answered by myself – the owner – rather than someone they do not know.
"I always tell my clients that you are basically married to your builder for the next year," he continues. "As such, you must be able to speak your concerns. If I get the feeling that a client is not quite right, then I will recommend them another builder; there is plenty of work out there, so it is not so much about the size of the project but, rather, the working relationship you can build from it. In doing so, if something should come up, then the client knows we will never pass the buck. Instead, we will acknowledge the problem and make it right."
Special project
As Scott goes on to highlight, project innovation is fueled by that shared sense of trust. The intricate ties between a builder and their client enables the former to bring the latter's dreams into the realm of possibility.
Often clients will bring Scott several pictures suggesting what their ideal home might look like. Here, the client is placing their trust in Scott Hekstra Builders to transform that spark of inspiration into a home for life.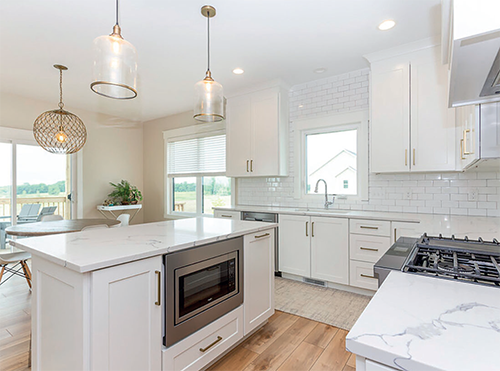 Scott will then use that spark to draw up designs using CAD software, and then work with clients through various revisions of their dream home. One successful project completed by virtue of this process is The Modern Farmhouse, which is located on an impressive four-acre estate.
Surrounded by woods, Scott envisioned a private oasis: a place that his client could relax and spend time with family – to cherish the little things, as he might say. Through several design changes, Scott was able to create a refined and cost-effective plan. For instance, a proposed barn was swapped out for a garage-on-garage unit, saving over 50 percent of the costs already allocated to the barn build.
"In terms of the house, the floor plan stayed the same from the beginning," remembers Scott. "Our client wanted it on a 45-degree angle to offer more privacy. We took that one step further and made the back face straight west, allowing them to watch beautiful sunsets as they have a quiet drink and look out over their land. To bolster that vision, we created a big, covered deck to create the perfect spot for hosting friends and family: somewhere to sit with a hot toddy and reflect on life. Ultimately, God created this world for us to enjoy. Our homes should reflect that. Of course, that poses several challenges; however, we aim to overcome them and make something truly special for the client."
Future considerations
Scott Hekstra Builders had to quickly become familiar with challenges when the pandemic hit. Covid-19 proved to be a test of resilience for companies all over the world, and it was no different in west Michigan.
"One of the biggest obstacles we have faced has been staffing," reveals Scott. "At the minute, we exist in a worker's market; there are a lot of jobs around. More often than not, people will take one before quickly moving onto another. The challenge, therefore, is to find staff and retain them over the course of multiple projects – only then can you build up internal rapport and a sense of trust, which can then be translated to the client.
"Another issue brought on by the pandemic is supply chain disruption," he concludes. "Our entire scheduling process has been scrambled; windows, for instance, now have a lead time of up to 20 weeks depending on the brand, and that all adds to the stress of home building. It has been a steep learning curve. Lumber prices have shot up and interest rates are flip-flopping; however, we remain unperturbed. Going forward, we intend to overcome these issues and continue building beautiful bespoke homes, particularly those with zero-barrier entryways since, in the end, we are all getting older. While we might age, our appreciation for a good home – for all the little things – remains the same. At Scott Hekstra Builders, we will keep fostering that appreciation for many years to come."
Scott Hekstra Builders
www.scotthekstrabuilders.com
Services: Custom home builder