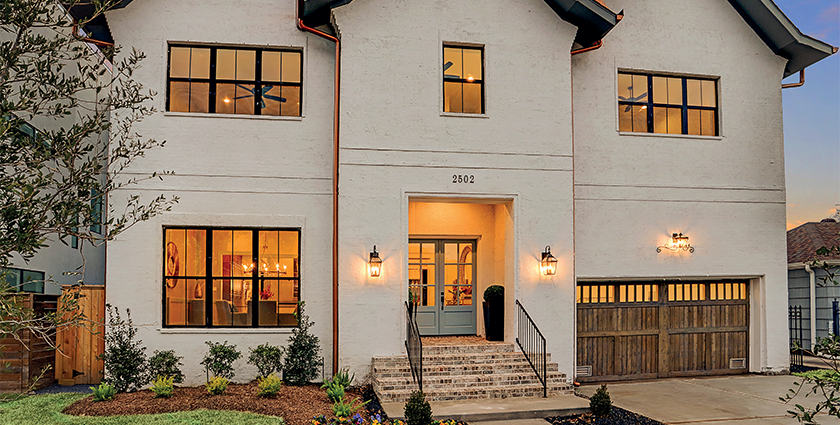 The time is now
Having carved out a strong reputation in Texas, and as a distinguished member of the Greater Houston Builders Association (GHBA) and the National Association of Home Builders (NAHB), customers know that, when they work with Royal Texan Homes, they are getting the real deal
Based north of Houston, Texas and operating out of The Woodlands, Royal Texan Homes (Royal Texan) has exceeded the scope of its founding vision. Established by Mark Garraty in 2014, the company almost instantly grew, quickly amassing a large team of likeminded people that share a passion for historical architecture, design, and construction.
These conceptual commonalities underpin Royal Texan's core mission: to build historically inspired homes that are designed for modern living. As Ashley Walker, Managing Director and Partner at Royal Texan, tells us, that is the foundation upon which every Royal Texan home is built.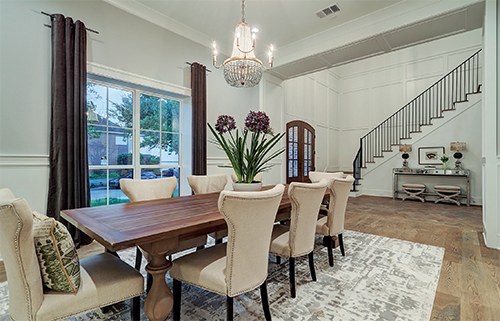 One recent milestone in the business was the opening of Royal Texan's very own, in-house design studio at the beginning of 2021. Since then, it has provided the firm with a space and platform to engage with clients and assist them in bringing their myriad building dreams into the realm of reality.
"The finishes presented at our new design studio, and the breadth of knowledge our designers can provide, allows our clients to choose beautiful selections for their home – without having to travel all over Houston," explains Chrissy Bailey, Design Studio Manager at Royal Texan. "Our experienced and creative team have curated products from the most reliable vendors in the market and have chosen the best finishes to be displayed in the studio for people to experience in person.
"That really works to set us apart from all the competition," she goes on. "It is a unique place where every client is partnered with a professional designer to work on their visions of a home. Yet, Royal Texan Texan's range of standard features also provides our clients with an elevated starting point to achieve their dreams. It is, after all, small things that add up to make the biggest difference! In our design studio, you will often find timeless designs and classic materials intermixed as the advancement technology permits us to create historically inspired looks for clients, but are also built with the durability that modern demands require."
Looking beyond the new in-house design studio, Royal Texan also proudly offers a set of predesigned floorplans, which offer the same level of historical architectural sensibility, but can dramatically reduce build times. Examples include: The Stratford, which comes in at around 2300 square feet; The Trafalgar, measuring about 4250 square feet; and, the largest of them all, The Winchester, a stand-out home that comes in at a whopping 5500 square feet.
Timeless design options
All these floorplans – and more – are given in ranges. As a result, they can be accurately tailored to specific land requirements that clients have.
"If you want to create a graceful and timeless design in your home, you start with balance and the element of symmetry," says Ashley, having just been asked about how Royal Texan manages to balance two ostensibly antithetical design modes: the past and the present. "Historically inspired, designed for modern living – that is the philosophy behind the Winchester floorplan. The inspiration for that incredible home comes from the beautiful cathedrals of Europe. In fact, all our floorplans, which are available to view on our website, have a historical design element that allows these plans to not only test but transcend the span of time and epochal trends.
"While that in itself firmly sets us apart from our competitors, another thing that we pride ourselves on – and which is, no doubt, one of the most important aspects of the company – is the team behind Royal Texan," she asserts. "We all come from different backgrounds but we a share a passion for what we do and the reasons we do it. Every employee wants to believe that they have value at the company they work, and I can honestly say that every employee at Royal Texan adds immense value to our mission."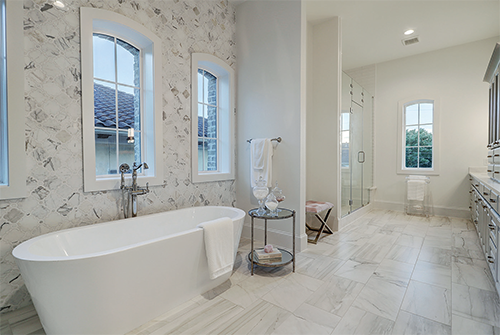 Quick to corroborate that assertion is Chrissy: "We have truly cultivated a family-like environment at Royal Texan," she explains. "Each member of the team is invested in the success of the company, but also in the success of individuals that make up that team. In a small company, staff must be able to reach across and help their colleagues in the same way that they would with family members, and that is what we do here. Just as families will gather, we make sure to plan a team event each month, which serves the dual purpose of promoting social engagement and the celebration of personal and career achievements."
While a firm believer in empowering its employees, Royal Texan also operates with a robust sense of social responsibility. Since 2014, for instance, it has worked with the Independent Schools District, through both direct financial support programs and volunteer initiatives.
Again, small changes add up to make the biggest difference. Across Willis, Montgomery, Conroe, and Huntsville, Royal Texan has made a discernible impact on local communities. "We do not just base our success on the bottom line," states Ashley. "Rather, we also consider the power we have to change the communities in which we live and work. In the end, we benefit from them, and they have opened their doors to us. Therefore, it is our responsibility to ensure we help make those communities better.
"To that end, we work with numerous school districts to assist students in need, help fund several local charities, and conduct a scholarship program that encourages secondary education for local students who are passionate about art, music, and academia," she goes on. "In 2021, for example, we were very proud to award ten scholarships to local high school students. We are also supporters of Compassion International, the HUGG collective, Operation Underground Railroad, and World Vision, and will, going forward, continue charity work through volunteering and donating resources to community projects."
Customizable upgrades
With regards to the projects that Royal Texan has undertaken, the conversation first drifts back into fond recollections of past homes, before flowing back downstream into the present and beyond. "One project that really stood out for us this past year was an English country-inspired estate home on Goldsmith Street in Houston," remembers Ashley. "The architectural style offered an elegant but soft approach to modern life, and key details included elaborate brickwork, with its tall and elegant roof pitches, as well as carefully applied copper accents, which are reminiscent of the centuries-old cottages and large manor homes that you see dotted throughout the English countryside."
As Chrissy adds, the successful final product can be traced back to those initial design meetings at Royal Texan's in-house studio. "Our team wanted to transport the aesthetic of the English countryside and its homes into the interior finishes of the Goldsmith Street project," she notes. "To achieve this, we featured an over-sized fireplace, unique trim details, exposed wood beams, and a kitchen that was large enough for the whole family.
"A similar, methodical design process went into our latest model home in Republic Grand Ranch," she continues, bringing us back to Royal Texan's timeline for the rest of 2022. "That project, which we plan to open at the end of the summer, includes many of the standard features that our customers have come to expect, but also provides an example of the customizable upgrades available through our design studio. In this model home, we wanted to put forward tangible examples of the vast options that clients can pick and choose from when they work with Royal Texan."
"Our most recent model home is set in a beautiful forest," says Ashley. "The location offers space and privacy, conjuring feelings of peace and security. It promotes a devotion to and appreciation of the outdoors by ensuring that community development has included hiking trails, parks, and a lake which is privately stocked for fishing. We noticed that clients were homesteading there; they valued a life outdoors, and thus we have made sure to incorporate oversized rear porches across our model and showcase homes to give families an additional space to gather together under those beautiful and long summer evenings that residents have come to cherish."
Though a relatively new company, it has been made abundantly clear throughout the course of our interview that Royal Texan has achieved a lot in just eight years. Not only has it proved itself in the Houston home building space, it has also led by example through its delivery of robust social initiatives, which serve to give something back to the local communities that need it most.
When asked about what the next three-to-five years hold for Royal Texan, Ashley is quick to answer: "The future!" she laughs. "Everyone finds that question tricky. However, I am confident that we will continue to see tremendous growth for the company. Indeed, thanks to our Simply Custom product launch and a host of other new developments that we are working to be a part of, there has never been a better time to build in Texas than right now."
Royal Texan Homes
www.RoyalTexan.com
Services: Custom home builder