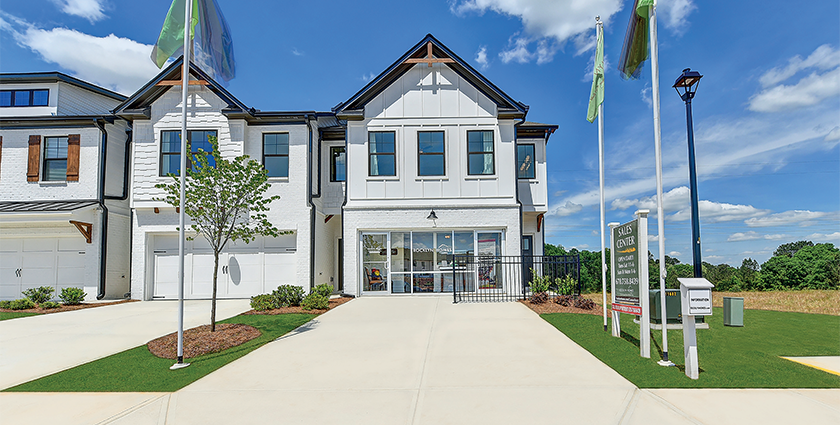 Creating communities
With more than 100 years of combined experience across its award-winning team, Rocklyn Homes has surely found the formula for success: building expertly designed homes at the best value in the most desirable of locations
Within the greater Atlanta metropolitan area, Rocklyn Homes (Rocklyn) is building an intricate map of communities. As one of the most recognized builders in the region, Rocklyn has been awarded numerous accolades and prizes for its exceptional new builds.
At the 2021 OBIE Awards, for instance, which were presented by the Greater Atlanta Home Builders Association and the Atlanta Sales and Marketing Council, Rocklyn won gold awards for Best Building Design: Single-Family Attached,' 'Best Building Design: Attached Model, $299,000 and Under,' and 'Best Merchandising: Model Home, $299,000 and Under,' as well as a slew of other accolades given in recognition for its homes and employees. It was also recently named a top-five home builder by the Atlanta Business Chronicle.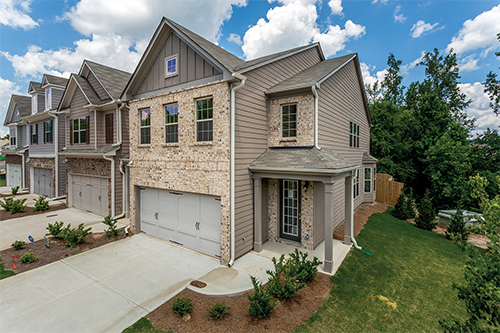 Offering an insight into the award-winning company is Jack Brewster, President at Rocklyn Homes. "We are a family-owned company that was founded in 2009 by David Jenkins, who formerly owned and operated Winmark Homes until the market downturn of 2007. Though he decided on using the same people, he wanted a fresh start. So, a different name for a new company was chosen – that name was Rocklyn Homes. Before the home building business, David owned and operated a paving company until he was inspired to use a family piece of land to start building homes. We're grateful he did! Here at Rocklyn, we are a full-service home building company, and that means we develop, design, and build all our own neighborhoods, creating distinct individual communities in the process. This fact sets us apart from the competition; it enables us to move quickly through all parts of the development and building process, allowing us to adapt to new scenarios with confidence.
"At the heart of the business is people," he continues. "In fact, our people are the only reason we are in business. The pandemic certainly created challenges on the personal side of things, so we try to arrange plenty of team building activities throughout the year to keep people in touch and bring them together, especially those who wouldn't otherwise have the opportunity to see or speak to each other. However, Rocklyn's conception of its people also naturally extends to its customers. To that end, we run a simple but beneficial referral program, allowing homeowners to refer friends and family to our services. When they fill these forms out and refer someone, they are then given certain credits and prizes for doing so."
Why Rocklyn?
Moving away from the myriad accolades and awards the company has won, another prominent way that Rocklyn is making its name known is through a high-profile partnership with the Atlanta Falcons. The popular NFL team, which competes in the National Football Conference, is not only an instantly recognizable name for those in the Atlanta area, but it also carries a certain kind of cultural weight. Indeed, not every company will be approached to partner with a conference-winning football team.
"We are avid Atlanta Falcons fans – as individuals and as a company," Jack comments. "We were approached by the Falcons' marketing team to become their exclusive builder. That means we can promote our company at games and use their logo on our print material. As a result, this has allowed us to display our continued, passionate support of the home team, which in turn offers us a platform to show our commitment to the greater Atlanta community."
Rocklyn was founded with a simple vision: to build beautiful and well-constructed homes at a reasonable price. By bolstering its builds with a keen passion for spacious interiors and attractive exteriors, the Georgia-based company draws from the expertise of its knowledgeable team, strongly experienced in building, design, and customer care, to create homes that customers can fall in love with for a lifetime. Rocklyn also makes it easy for first-time buyers to step onto the property ladder, guiding them through the entire process – from sales and design to closing and post-closing.
In Atlanta, the company is known for many local developments, including Bentley Estates, Cannon Trace, and Renaissance at South Park. Three more developments are now in the pipeline and will be available for prospective buyers very soon: Hawthorne Station, Spring Valley, and Beverley Heights, all of which will offer a variety of homes within the $200,000 to $400,000 pricing bracket and from 1400 square feet up to 2000 square feet in terms of size.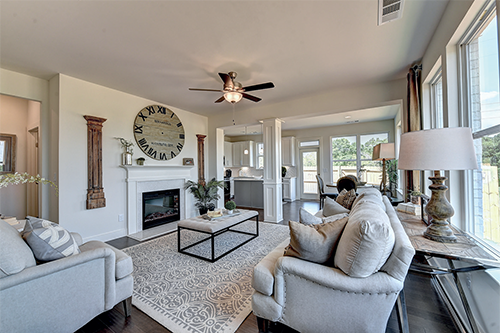 As Jack makes clear, however, these developments are just one string to Rocklyn's giant bow at present. "We are currently in the process of finalizing a video series we are calling 'Why Rocklyn,' which will demonstrate our commitment to the company's culture and its build quality," he details. "We are hoping to finish the series within the next few weeks. But we're also exploring new ways to combat the challenges we have seen in the supply chain since the pandemic. Fortunately, we have a large purchasing power dynamic, and that means, unlike many others, we can commit to taking on larger orders.
"As mentioned previously, we are a small, family-operated firm with the ability to make decisions quickly, especially when it comes to product changes," Jack adds. "In turn, these factors help us to adapt and switch products on the move, particularly when we are hit with supply chain constraints or when a part is specifically requested by a customer. We are also welcoming more customers into our design studio – an amazing 5000-square-foot space that allows buyers to come in and customize their homes. It gives them an opportunity to see and touch the materials that will end up being installed in their dream build."
That final point is one worth pausing on since, as anyone who has done so before will attest, there are few experiences like selecting all the different options and upgrades that will be incorporated in your new home. Tailoring it to individual wants and needs, choosing everything from the flooring to the faucets, the whole process is an opportunity that many homeowners will never get.
Fortunately, Rocklyn's own design studio offers new buyers a stress-free and seamless experience, offering soon-to-be homeowners the confidence and ability to personalize their purchase, turning it from a new house into a familiar home. Visitors to the design space, which is located just outside of Atlanta in Duluth, Georgia and is staffed by two full-time professional interior designers, can expect a detailed and ordered process. Buyers can examine exterior options (brick, stone, paint colors, and other features) and investigate imaginative interiors (over 75 options of fixtures, railings, appliances, wood treads, carpeting choices, and kitchen fitting options are available).
In the tile section alone, there are over 160 selections to choose from, indicating that this is a truly bespoke experience. The on-site interior designers efficiently guide customers through the process, meaning that any concerns can be addressed quickly and with care.
As it turns towards life after the pandemic, Rocklyn is ready for a future of continued growth. "We are building and developing as quickly as we can to keep up with the incredible demand that we are seeing," explains Jack. "We may not have a record-setting year because we have sold through our inventory quicker than we have been able to develop, but we are preparing for another great year. Looking further ahead, in several years' time, we expect to generate more of the same growth we are currently experiencing and expand into new markets across the southeast."
Rocklyn Homes
www.rocklynhomes.com
Services: Home builder