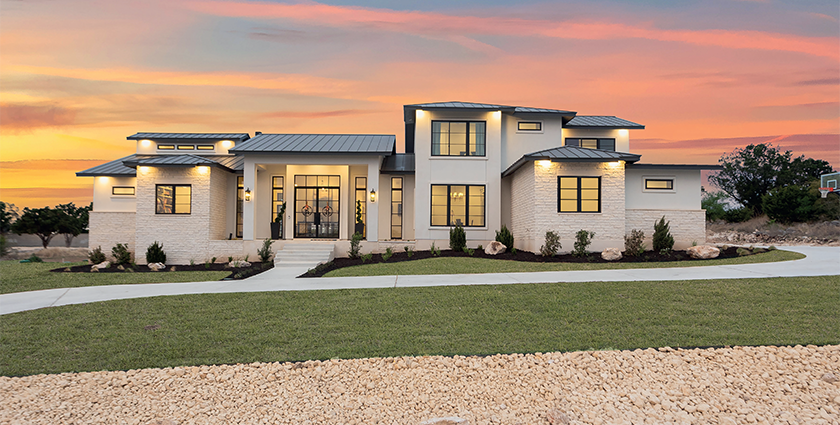 Boutique means better
Formed in 2012, Pencsak Builders has enjoyed a steady growth trajectory, culminating in its recent work in the San Antonio and surrounding areas. A boutique home builder has the added benefit of a higher standard of customer service
David and Angela Pencsak haven't always been homebuilders. Before the husband-and-wife pair joined forces to found Texas-based Pencsak Builders (Pencsak) in 2012, David had forged a successful career designing, owning, and building restaurants for 35 years, while Angela has been awarded the title of 'San Antonio's Photographer of the Year' an impressive four times consecutively, alongside her 15 years owning and operating a photography studio.
Today, the Texas-based outfit is a boutique builder, specializing in the construction of luxury homes. For both, it was a largely seamless progression. In his work, David is able to draw on a rich experience of designing, organizing, and creating spaces as he considers the flow and functionality of each of Pencsak's home projects. As he puts it: "The level of coordination required in owning, operating, and staffing a restaurant is much more complicated than that of typical home construction. I would also select the architects, and work with them to design restaurants in conjunction with interior designers."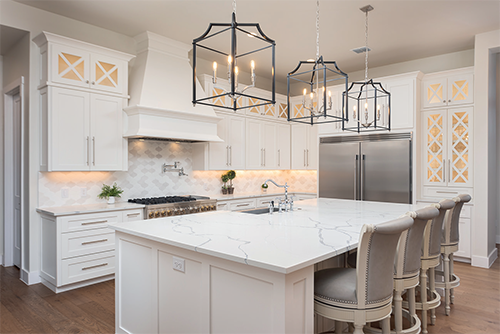 Likewise, Angela cites a familiarity with "color, harmony, light, and creating a mood" as crucial factors in her own contribution to Pencsak's success. "How is that space going to make you feel? Where does the sun come in? How can we add simple sconces to a space to create a mood?" she says, before admitting that her favorite part of homebuilding are the relationships it helps to create. "We prefer to work with clients from the beginning, locating the land, matching the designer and architect with our client's needs, and working as a team to design each home," she continues. Angela being a realtor is also a perk for their clients, whether it be finding the land or helping them sell their current home.
The last few years have not been without their challenges, but despite the restrictions imposed by Covid-19, Pencsak has continued to post strong growth. It's a trend that's set to continue. As Angela points out, with the rise of working from home, it's now more important than ever to have a space that's more comfortable for everyday life and work.
"The pandemic does remain a challenge, because we've had to replace some of the sub-contractors that we have used for years, simply because of the way their business didn't really pan out," she notes. "We really care about keeping the bones of the home of a high quality, so we need to make sure we're receiving the highest-quality materials and labor."
One recent project for Pencsak has been its work on 'The Estates at Zaccaria Ranch'. As part of the development, the company is helping transforming 278-acres of land into a luxury 20-lot neighborhood. "The land has been owned by the Zaccaria family since the 1960s," David reveals. "The lots themselves vary from five-to-17 acres. It will feature a private gated entrance, and include its own wine bar and entertainment center for the residents. We're proud to be the preferred builder for what are some of the most beautiful high-end homes in the area."
Such is David and Angela's passion for the development, they've decided to move in themselves. "We bought 13 acres, on which we plan to build another home with some very unique features," Angela confirms. "At the same time, we also hope that it will serve as a model project, showcasing the full range of our capabilities for people in the area."
For David, each project represents its own challenge. "All the homes we build are different in their own way," he insists. "One project that we're particularly pleased with is one for which we won the 'Best Specialty Room, Custom Builder' award at the Greater San Antonio Builders Association's 2021 Summit Awards. As a spec home, it was so impactful, leading to a number of new builds and real estate transactions."
Sustainability is a big focus for the homebuilding couple, whose projects feature spray foam insulation, some of the highest energy efficient windows and efficient cooling and heating systems, and LED lighting. David comments: "All these components of our building will dramatically cut the cost of our clients' monthly electricity and water bills, while providing managed, clear air throughout the home. We continue this throughout the exterior of the house as well, using a Huber Zip System to make the home airtight and waterproof."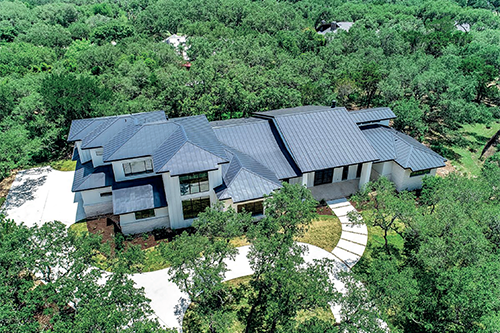 Boutique status
Client relationships aren't the only kind that Pencsak is keen to cultivate, however. The company also places a strong emphasis on community involvement, fostering close ties with the local high school. "We have four kids, and the memories that their school has given them are unbelievably impactful," Angela says. "We had two on the varsity dance team, a cheerleader, and a varsity basketball player. As a company, and new empty nesters with our four dogs, we still make donations to the teams."
Returning to Pencsak and its projects, there's a busy year in store for the homebuilding couple, who reveal that they have a model home under construction, and two other speculative homes in the design process, which is an important part of their marketing process. Angela comments: "We have always had a model/spec on the ground so that we can showcase our design and quality of construction to our clients. It is something we enjoy and allows us to get really creative!"
"There's a lot to come!" David confirms. "We have multiple new client builds in the area under construction and in the pipeline for next year that are absolutely stunning."
Turning to the long-term, Pencsak is intent on maintaining its boutique status, something which David and Angela believe is key to preserving the company's exceptional standards of customer service. Angela says: "We really love to have one-on-one time with our clients, and to be able to provide the service that we do."
"When you have numerous subcontractors putting their hands on your home, it takes a lot of supervision and coordination," David adds. "You have to be a master scheduler. For instance, with supply chain issues we have to deal with today, we are ordering appliances and windows before the slab is poured. Selections have to be chosen and ordered earlier than ever before. Sometimes they show up early and now we have to store product for a while, but it's better than waiting and it keeps the build on track.
"We'll continue to be on top of the newest and best practices," he goes on. "In November we will attend the contractor coalition summit and we always attend the International National Builder Show, where we have and build relationships with other custom home builders and our vendors. This is so important for our company."
Being part of a community of builders is very important to both David and Angela, as it is a great way to boost everyone's success. "A rising tide lifts all boats," agrees David. He also noted how the business is keen to continue to learn and improve. "We are especially thankful to builders, architects and designers who share their experience and knowledge through social media; Youtube, Instagram, Tiktok, and Facebook. You gain knowledge so quickly," says David. "We have some favorites, such as The Build Show with Matt Risinger and his contributors from architects, builders, and the trades, like Steve Baczek, Jake Bruton, and Zak Dettmore," adds Angela. The couple also noted their admiration for Brad Leavitt of AFT Construction, Nick Schiffer of NS Builders, and Morgan Molitor of Construction 2 Style for their content on social media.
"We always strive to improve," Angela concludes. "As new products come out, we continue to educate ourselves – since we first started building homes, we've continually improved our capabilities. Over the next five years, we will continue to maintain good practices, integrity, transparency and highest quality for our clients."
Pencsak Builders
www.pencsakbuilders.com
Services: Residential luxury homebuilding