Professional problem solvers
In the midst of celebrating its 60th anniversary, P&D Builders pauses to reflect on what has made the company stand out from its competitors for so many years
Based in Columbus, Ohio, P&D Builders (P&D) is a premier residential custom home builder, combining timeless design and high-quality construction with a collaborative building process. For more than six decades, P&D has carved out a strong reputation in the Columbus market, constructing energy-efficient custom homes in both subdivisions and on client-owned land. As Andrew Rus, Marketing and Design Consultant at P&D, puts it: "We guide clients through the entire build: from the first time they walk through our door, to the time we hand over the keys, and long after moving in. At the beginning of the building process, our professional in-house design staff will get to know our clients and their goals, attending to their individual needs. After we finalize the floor plans, pricing, and contract, our construction team will begin putting the pieces together. Our flexibility, creativity, and personalized approach during the entire process has allowed us to stand out as a builder."
Innovative techniques
More than 900+ floor plans are available to browse through the company's online design archive. Alternatively, P&D's design team can start from scratch, and incorporate custom features like in-law suites, home spas, cinema rooms, messy kitchens, expansive entertainment areas, and much more.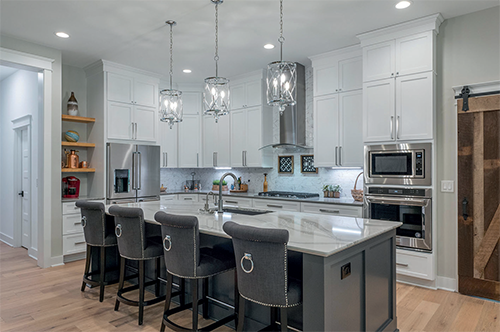 "We've been fortunate to partner with some incredible people, and that includes both our clients and our wider collaborators, such as our suppliers, vendors, and subcontractors," Andrew continues. "By fostering strong relationships with all those involved in home build, we can ensure that the highest level of quality is always maintained. Columbus has proved a robust location for the company; it's often ranked as one of the top ten US cities for growth. Originally started by Richard Dillon in 1962, P&D has a strong heritage in Columbus. Richard's son, Dan Dillon continues to lead P&D with his three partners: Mac Roberts, Darin Hilt, and Ed Snodgrass. With their leadership, we have been able to bring on the right people and head in the right direction. Everyone at P&D knows what they do well, and recognition of such has helped us capitalize on our collective strengths as a team."
Over the decades, P&D has built more than 1500 homes, often conducting repeat business for its clients and cultivating new business through positive referrals. Moreover, with over 100-plus combined years of industry experience and know-how, home building newcomers will find themselves assured during what can otherwise be an anxious time. As Andrew makes clear, numerous factors set P&D apart from the competition. For instance, in the rapidly changing home building industry, the Columbus-based firm is proud to continue to innovate, creating new techniques to improve its end product. Building practices and materials, often considered upgrades from traditional building practices, are seen in every P&D home, such as two-by-six-inch exterior walls, blown wall insulation, and integrated weather resistant sheathing to improve energy efficiency ratings.
"From a wider perspective, then, we can define our success through our people, processes, systems, and reputation," he asserts. "Together, they have sustained the company for six decades. That longevity has also been a by-product of our ability to adapt and optimize those processes. Every great business has core systems; however, they can't be run without the right people. In that way, we've always heavily relied on our staff to refine our systems and be proactive when needed.
"Consequently, we seek out the latest technology to improve our services," he goes on. "For example, we recently adopted a cloud-based software and equipped all of our project managers with iPads, allowing them to access an entire database of field documents on-the-go. With this software, they're able to pull up plans and reference design concepts without having to pick up the phone and call the office. Increasing our efficiency in this way, not only streamlines our services, but enables us to act and react quicker. The ability to relay information accurately also underscores our focus on communication and transparency."
When asked about some beloved past projects, Andrew pleads the Fifth. "It's hard to pick favorites!" he laughs. With an accomplished resume and noteworthy portfolio containing hundreds of homes, that's certainly understandable.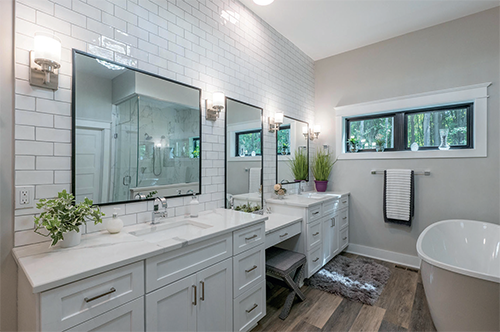 "Within every project, there's always this overwhelming feeling that people are coming together to create something truly amazing. The logistics, planning, and coordination that we complete on a daily basis often are less recognized, but it is worth all the effort when we hand over the keys to our homeowners," he says. "We spend time with our clients and get to know them, their family, and about their daily lives. In the interview process, we're listening, taking notes, and asking the right questions. We're not telling them what to do; rather, we're cultivating their thoughts to help design the perfect home. To see that hard work finally come to light when the home is complete, means that every project becomes one we love.
"But there are definitely those really memorable and unique projects that leave you in awe," he admits. "We've built some incredible indoor basketball courts and swimming pools. Right now, we're nearing completion on a really sensational project. The plot had an existing small barndominium structure on it (a barn-style structure with a living space in it). In this particular case, we removed the siding and the large barn doors from the barndominum, and then designed and built a 5000-square-foot house to connect the two spaces, creating a truly inspiring home. The inside finishes of the home are spectacular. As a company, we feel fortunate our clients place their trust in us and that we have the ability to build something that will last generations."
History and experience
Over the last two years, however, to complete these kinds of projects, colossal hurdles have had to be scaled. Solving issues related to the pandemic and its enduring aftermath is a persistent task at P&D.
Yet, as Andrew notes, this isn't firm's first rodeo with adversity. "We're professional problem solvers," he asserts. "When problems arise, it's likely that we've seen it before and know how to reach a solution. Our status as problem solvers also goes back to the longevity of the company – behind each of our solutions, there's more than 60 years of history and experience. We have the appropriate systems and processes in place to not only pivot, but also be creative at the same time.
"Like many builders nationwide, the main challenge we face is with supply chain constraints and labor force," he concludes. "To overcome them, the first thing we ask a client to do after they've signed the contract is to make their core selections immediately: cabinets, appliances, plumbing, and windows and doors. That way, we ensure a head start in the process and that we're better able to circumnavigate extended lead times to the best of our ability. Indeed, the best way to overcome challenges is to show up every day ready to go. The last two years have been difficult, but together we've got through them, and we're excited to keep moving forward. During the next few years, you will see us balance healthy growth and the continuation of what has, since 1962, made us a great company."
Follow P&D on Instagram/Facebook at @PNDBuilders, or visit www.pndbuilders.com.
P&D Builders
www.pndbuilders.com
Services: Custom home builder