Pacwest Builders: from home renos to dream abodes
Jim Yozamp, Owner, and his wife Kristy, started out by remodeling their own home in the 1990s. This soon led to adding an extension to the property, which was swiftly followed by building a brand-new home: followed by another, and another. Before they knew it, Pacwest Builders (Pacwest) had been born.
"We moved to Oregon in the late 1990s and started building full time, simply because we enjoyed it so much," Jim opens. "It wasn't long before others approached us with projects in mind, and it was this manner of working directly with clients that led to us adopting the design-build concept. Spencer Williams, Architect and Owner, joined us almost 18 years ago, after graduating in Architecture from the University of Oregon, and we've been bringing people's visions to life ever since."
Spencer recently received the Central Oregon Builders Association (COBA) Architect of the Year 2022 Excellence award. "Being recognized by your peers and community for what you've created is always nice," Spencer says. "It's a reminder of the vibrant construction industry that we have here, in which people care about each other's work and achievements."
Fine family homes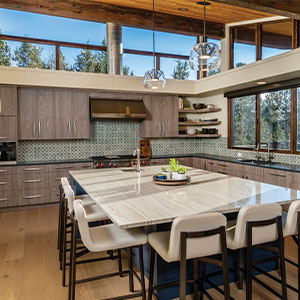 Pacwest, today, has come a long way from being Jim and Kristy's passion project. "I had never envisioned the company reaching the size it's at today. In fact, I'm not sure I would've thought that we would still be in business," Jim explains. "We were doing it out of enjoyment, and being self-employed allowed us the independence and freedom to do what we wanted, when we wanted. We just kind of moved from one job to the next focusing on producing high-quality work, but I always knew that I wanted to serve the custom market, so we've definitely hit that goal.
"We're doing multi-million-dollar properties now, and we're currently working on one that may break the $10 million mark, which is exciting, but the market has changed too. This was a second-home region for some time, with a lot of people coming here for the outdoor activities, space to raise their families, and the general quality of life. That's what attracted us to the area, as we had young children back then, it's a great place to live and I'm so happy that we have been building some of the finest homes in Oregon now for a quarter of a century."
Customer experience
Among the business' impressive portfolio is the Awbrey Butte-Starview Mountain Modern Home. "We hadn't done a lot of mountain-modern designs, so this one was particularly exciting for me," says Spencer. "We had a lot of people coming to us with images from Martis Camp in Lake Tahoe, often without realizing they were looking at $1000-per-foot projects. Luckily the clients for this property were aware of the price tag for this type of architecture and purchased the lot without seeing it in person, but on my recommendation and an endorsement from friends. I designed the home to feel light, incorporating steel and engineered lumber to span great distances, allowing for floor-to-ceiling glass and an open floorplan. This gives the impression that the roof is resting atop the exposed structure, and the abundance of windows and sliding glass doors creates a strong visual connection to the outdoors.
"It looks out over the Cascade Range. The clients can see seven mountains from different parts of their main living areas on the upper level, including their bedroom. It was a true pleasure working with them to develop a design that didn't cost $1000-per-foot, yet still emulates the architecture they'd fallen in love with, in Tahoe. We were successful in making it work within their budget, whilst appeasing the review committee that governs the neighborhood's designs, and, despite the tricky nature of the steel and framing details, everything came together perfectly.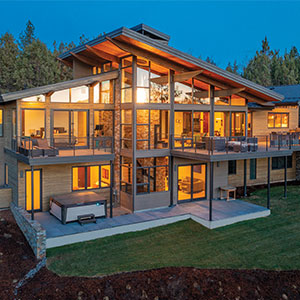 "Customer experience is a key part of the package that we deliver," he continues. "We want the journey to be a fun one for our clients, as they are committing a lot of time, money, and mental energy to whatever project they approach us with. We try not to overwhelm people by throwing everything at
them at once, we would much rather things be as smooth as possible from the get-go. In fact, later this morning we're walking through a new lot with some potential clients to discuss the process. We consider it to be as much of an opportunity for us to interview them, as it is vice-versa, to make sure that they're a good fit for Pacwest. When you're signing up to a multi-year commitment with people, you need to know that you can achieve their dreams within their budget and that you're not overpromising things to match their expectations.
"We also achieve this through our approach of working through the process methodically and maintaining constant communication. Transparency is key to the two parties understanding one another completely. That way, they can
see where the money is being spent and where perhaps they can cut back on costs to allow for more extravagant features elsewhere."
Promising future
Many construction companies have been dealt a difficult hand in recent years, with the pandemic, long lead times for materials, labor shortages, and now a volatile inflationary climate. However, according to Jim, Pacwest has been generally unscathed by the latter, as he details: "We haven't actually seen the negative impacts of the rises in inflation in our markets yet. Clients haven't been cancelling projects, which is the main thing, however I do see the front end starting to slow. It's frustrating from the standpoint that everything costs more money now, be that houses, materials or land, but as many of our customers are paying for their homes out of their pockets, interest rates haven't really affected their ability to build. I think really, it's a case of waiting to see if this is going to continue and where we will go from here, but some people are jumping to conclusions and assuming things can only get worse.
"In terms of the business, I would like to see it continue doing what it's doing now," he concludes. "Hopefully it will hold up, it deserves to. We do some of the finest work in our community, and in terms of Spencer and a number of other colleagues who have grown with us over the years, we love to see them now commanding their own departments and managing their own teams. Eventually I'll be stepping back, so I hope that this generation will be able to continue the brand for the foreseeable future. I can't wait to be able to look back and say 'wow! I never knew we were going to be capable of that!' That's the exciting part.