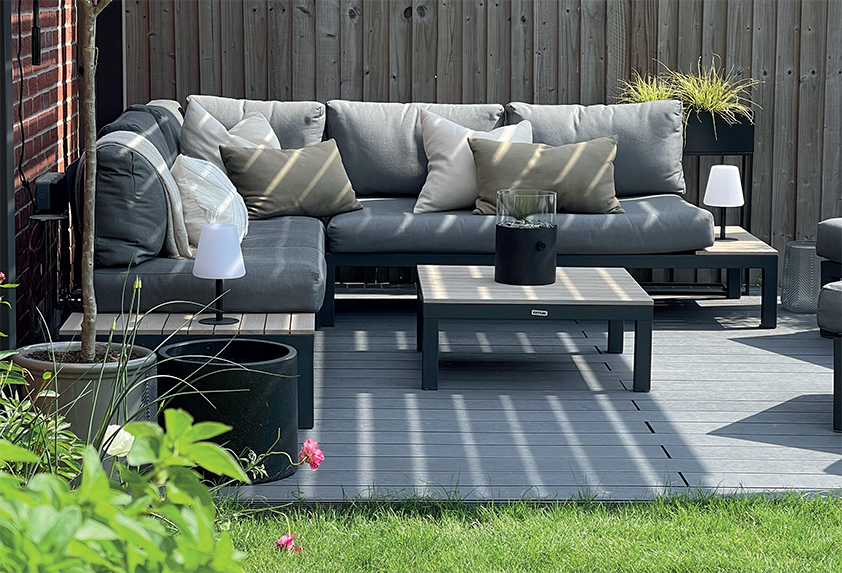 Outdoor living is a key trend for 2022 and research has shown that the inside-outside trend has featured in 11 percent of the top images under the #gardeninspiration hashtag in the last 12 months, according to Luxury Rattan.
Ash, a product designer from Derbyshire and his partner, Tom transformed their patchy, lifeless new-build garden into a cozy outdoor lounge space. The pair have created an extension of the home, with interior and exterior decor working together in harmony, to allow them to entertain outside, all year round.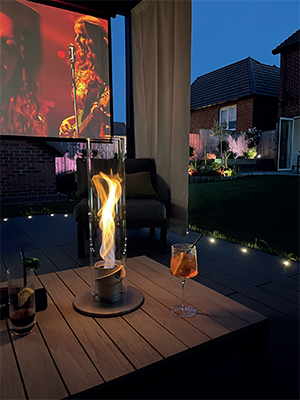 Chronicled on Ashley's Instagram account, @Insidesixtythree, the garden 'glow-up' is complete with a projector screen set, a luxury, weather resistant pergola and sustainable, slip-resistant Composite Prime® decking.
Commenting on the garden renovation, Ashley said: "We loved the property, but as is the case with many new builds, we found the garden to be really uninspiring and wanted it to really reflect our personality. One thing that was so important to us was to create the feeling of outdoor living in the evenings, where we could relax and watch a film after work, enjoy cocktails with friends at the weekend, and spend quality time with our loved ones during the holidays.
"Investing in the decking space has meant that we don't need to spend so much money on going out at the weekend as we can enjoy most social activities from the comfort of our own home!"
Carefully laid in the corner of the garden to attract the most sunlight, Composite Prime's HD Deck® 150 in silver is positioned under an aluminum Nova Outdoor Living pergola and complemented by a chic sofa set. The area also features a minimalist charcoal floor lamp and stunning fire pit, which brings the 'lounge vibe' to life.
Ashley continued: "We achieved our outdoor living room look through carefully selected lighting, comfortable furniture and perfectly placed composite decking, which is durable and will ensure any spillages or stains are easily removed; allowing the space to remain looking like new for many years to come.
"I work for a design consultancy specializing in sustainable packaging design and innovation so being environmentally conscious is something that is really important to me. It struck me that Composite Prime® products are produced using sustainable materials, with each square meter of composite decking containing the equivalent of more than 3,000 plastic bottle caps or 280 plastic bottles. It's also the most authentic timber alternative we spotted during our research."
Composite Prime® is the UK's leading brand of sustainable composite decking and flooring products. The Yorkshire-based brand manufactures its unique products from FSC 100 percent certified quality oak wood fiber and recycled plastics. In the seven years of operation the brand has saved the equivalent of 176 million plastic milk bottles from landfill and over 1.8 billion bottle top caps.
www.composite-prime.com