Quality, efficiency, and speed
In less than a decade, Modern Homes Ireland has managed to disrupt the residential construction sector in its home country with an innovative, game-changing offsite volumetric build process – now the pioneering home builder is looking for a new challenge overseas
Established in 2015, Modern Homes Ireland (MHI) has completed more than 650 homes and 2,500 modular units. Though the fledgling business initially focused on low-rise residential building, it soon transitioned to mid-rise residential units like apartments and duplexes. Moreover, as the country's only volumetric housing provider certified by the National Standards Authority of Ireland (NSAI), the Ballyjamesduff-based builder has recently begun constructing ten-story residential units up to 30 meters in height.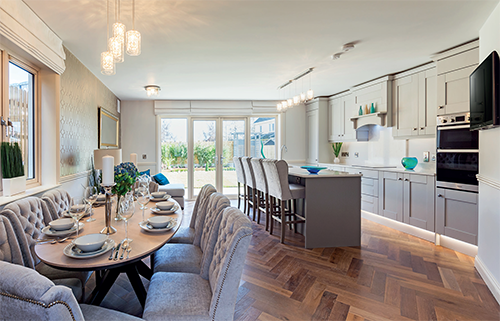 Operating out of a small rural town in County Cavan, MHI was born out of a gap in the wider home building market. As the company saw it, the sector's relative lack of technological innovation was amplifying the rising issue of Ireland's housing crisis. Motivated to address this apparent gap, MHI conducted in-depth research in offsite volumetric manufacturing, studying the unique home building system as implemented in parts of the UK, Europe, and the US. Building on the benefits of the process and mitigating its limitations, MHI soon established its own pioneering volumetric building methodology, investing heavily in technology, people, and the required facilities. With the backing of Dutch construction giant, the Royal BAM Group, MHI has since gone from strength-to-strength despite recent challenges in the global economy.
Discussing offsite volumetric building in more detail is Micheál Keohane, Director at Modern Homes Ireland, who offers an insight into the groundbreaking process behind the company's year-on-year success: "To begin with, we take a roll of standard, light-gauged raw steel product, and then we use our computer editing CAD/CAM software to program an in-house design for the project. We input that design into our roll forming and bending machines, which then process the raw steel into elements for our modules. The machines will give each element a unique manufacturing code, which our team will then use throughout the factory production process. The bespoke, highly-specialized CAD/CAM process sets us apart from both the competition and results in about an 80 percent reduction in waste compared to traditional construction methods. Furthermore, since everything is made in a factory-controlled environment, we're able to carry our 48 different quality control stages for each individual module – eight times more than you could possibly make on a construction site.
"From an environmental perspective, the reduction in waste from offsite volumetric building is significant," he adds. "As a company, we've been able to reduce our embodied carbon by more than 40 percent. With high performance standards and a streamlined manufacturing process comes speed, and with speed comes less energy demands. In four short hours, we have the capacity to install a standard house via six different modules, make them weathertight, and finish them to about 90 percent completion – all without compromising on quality. The only challenge of this process is the initial rapid-fire design required. While foundations are being dug, we're already selecting which door and window handles to use! Ultimately, however, we see this an additional strength of the overall process; it means we can have up to 60 modules on the factory floor at any one time, allowing our architects and engineers to witness the build materialize and enabling them to carry out further checks on top of our already well-established quality control methods."
Sophisticated facilities
One example of MHI's trailblazing process stands tall in Dublin's city center. As part of an affordable homes project with Clúid Housing (Clúid), a local not-for-profit Approve Housing Body, MHI constructed an entire block of 20 apartments through its offsite volumetric build process. Over 90 percent of the build took place in the company's Ballyjamesduff factory, granting a 50 percent faster build time and offering significant cost savings. Indeed, the ingenious construction solution was crucial for the incredibly confined site; the planned apartment block was hemmed in by a listed building on one side and a building just five meters away on the other. To top it off, directly adjacent to the block was a river. However, by lifting the 46 required modules over the four-story listed building, MHI was able to fully install the modern block of apartments in just over two weeks.
The logistical backbone of the entire MHI operation is almost as impressive as the offsite volumetric process itself. To achieve the company's unrivalled efficiency rate, as Micheál informs us, a mammoth facility fitted with the latest technology is required. "We work out of a 200,000-square-foot building," he explains. "Our unique manufacturing process requires a pretty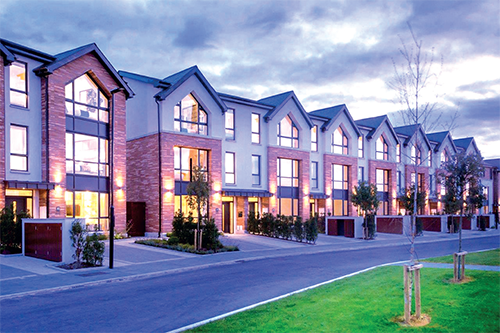 large footprint: we have a moving floor system, comprised of different work beds, which all our modules sit on, facilitating the efficient delivery of modules to different work zones – each with its own materials, activity, and quality control processes. We also utilize BIM 360, a construction field management software, to monitor quality processes in the factory and take photographs and videos of commissioned tests.
"In terms of design, we've just implemented a software enabling us to deliver generative designs for apartments," says Micheál. "That means, on the computer, we can pick a site, map it out, and then automatically generate up to 20 different designs for our apartments, all of which will be tailored to suit different customer requirements. Radio-frequency identification (RFID) also plays a big part in creating these tailored solutions. RFID trackers fitted to modules not only allow us to monitor every unit as it moves through our factory but also enables the end user to scan that RFID code and bring up an original operation and maintenance manual for the house or apartment. Many years into the future, then, homeowners will be able to accurately find out where each individual door, window, and handle is from."
Automation and sustainability
Despite challenges brought about by Covid-19 and Brexit, the acute attention to detail described by Micheál has ensured MHI's year-on-year growth. Yet, as he also keenly observes, external market pressures have motivated the company to look for business overseas. "The Irish home building industry is in a difficult place," he admits. "Inflation has caused materials to wildly fluctuate in terms of price, and that has meant some developments have become increasingly unaffordable. In fact, we're currently seeing certain projects paused until the market becomes less volatile, which only serves to exacerbate the national demand for more housing. That has, in part, led to our first project outside of Ireland: an exciting 254-home development in Blackridge, between Glasgow and Edinburgh, called Redburn Meadows. We're currently in the design process and are expecting to move onsite this summer. The project in Blackridge reflects a wider goal of building more homes across the UK, particularly since the Royal BAM Group has unified its UK and Ireland division, allowing us to grasp even more opportunities as they arise."
Quality, efficiency, and speed – the three tenets underpinning MHI's pioneering vision. As Micheál has made abundantly clear throughout our interview, the company shows no signs of dropping its standards or of slowing down. "We will be soon starting another project with Clúid in Ireland," he concludes. "Located in Gorey, County Wexford, this development will be the first of the charity's new 3D framework for local authority housing and will also incorporate our offsite volumetric build process. Looking further ahead, within the next five years, I'd love to see MHI deliver over 1000 homes and apartments per year. To achieve this figure, we've begun to study robotics and automation as a means to further increase our efficiency and thus reduce our carbon footprint. Indeed, in the same time frame, we want to demonstrate a reduction of between 60 and 70 percent in terms of embodied carbon and electrify our fleet as part of a wider company transition to greener delivery methods. Coupling these two intrinsically linked elements – automation and sustainability – will be a big part of our future going forward."
Modern Homes Ireland
www.mhi.ie
Services: Modern home builder