Reconstructive surgeon-to-the-stars, Alex Kadavi, made his fortune keeping the beautiful people looking their best. His success in the cosmetic-medical field made it possible to fulfil one of his dreams: design and build, in collaboration with Ali Rad Design Group, 'Palazzo di Vista,' a contemporary-futuristic home. It is located on top of a promontory in Bel Air with some of LA's best views.
Located in the city's Bel Air neighbourhood, Palazzo di Vista is for sale with a unique asking price of $87,777,777. The number seven has been incorporated in the home several times in addition to the price, including bedrooms (there are seven) and measurements.
According to the listing, the home's Non-Fungible Token (NFT) art gallery features seven indoor large-screen media displays and a rotatable 2-D laser projector that casts light in a rhombic-shape up to 1,650 square feet over the pool with misters, emulating Disney's California Adventure Park's World of Color attraction. Also featured is artwork by Ghost Girl, Andy Moses, Shane Guffogg and Jimi Gleason.
More unusual design features include a retractable DJ table in the foyer, a koi pond as large as a swimming pool that can be viewed from inside through glass walls, a glass elevator encompassed in the koi pond, and numerous seven-horsepower jets in the infinity pool that coordinate with the home's music – so swimmers can literally feel the beat.
The house is sited on a bit over one acre with seven bedrooms and 11 baths, which includes a master wing with a floating wrap-around deck and the 'seven-star resort' bath. There is a glass-walled wine room, multiple dining venues both inside and out, a theater large enough for a crowd, additional lounge areas and a suspended glass floor walkway. The kitchen is large and minimalist in design and is open to the outdoors with two glass walls. There is also a detached guest house. The NFTs and physical artwork are not included in the listing price but are negotiable.
The listing agents are Aaron Kirman of Aaron Kirman Group at Compass and Mauricio Umansky of The Agency.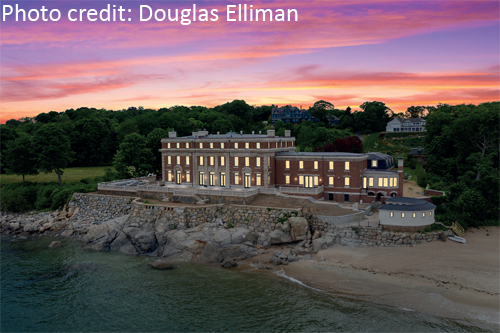 Updated mansion
Many of America's Olympic stars of today can thank socialite Eleonora R. Sears, who in the early 20th century made women's sports in the United States acceptable and popular. When she died in 1968 at the age of 86, Boston Globe sportswriter Victor Jones wrote, she 'was probably the most versatile performer that sports has ever produced — not just the most versatile female performer, but the most versatile, period.' She was a four-time national tennis champion, the first women's squash champion and an accomplished horsewoman, who was the first woman to ride a horse in a major polo match. With her social standing and the wealth it provided, the home she chose was a glamorous Gilded Age mansion with 400 feet of Massachusetts Atlantic oceanfront and private beach, where she lived for 40 years until her death in 1968. Named 'Rock Edge' due to its location above the rocky shore, the home has undergone a meticulous 21st-century update and is now for sale at $22 million.
As a socialite whose friends and frequent home visitors included the Prince of Wales, Harold Vanderbilt (to whom she was once engaged), Cole Porter (who played the piano at some of her gatherings) and Judy Garland, her oceanfront mansion was the perfect venue for everything from intimate dinners to fundraisers. Two years after Eleonora's death, the home was purchased by a family-owned Boston construction materials company, Benevento Companies.
Built in 1904 on Massachusetts' Gold Coast, the 28,000-square-foot mansion has 11 bedrooms and 13 baths sited on three oceanfront acres with a private beach and carriage house. All rooms have ocean views with most having fireplaces retaining the original mantels. Large slabs of white marble have been used in the spacious kitchen and bathroom updates. Large windows and French doors open to the terraces that fill the home with sunlight, creating an elegant beachy vibe.
The listing agent is George Sarkis of The Sarkis Team, Douglas Elliman Real Estate, Boston, Massachusetts.
Source: www.elliman.com
For details of these houses and other celebrity homes, please visit:
www.topTenRealEstateDeals.com
https://www.toptenrealestatedeals.com/weekly-ten-best-home-deals/home/l-a-s-best-views-laser-art-dj-booth-seven-star-resort-bath
https://www.toptenrealestatedeals.com/weekly-ten-best-home-deals/home/americas-most-versatile-athlete-her-historic-mansion-is-for-sale