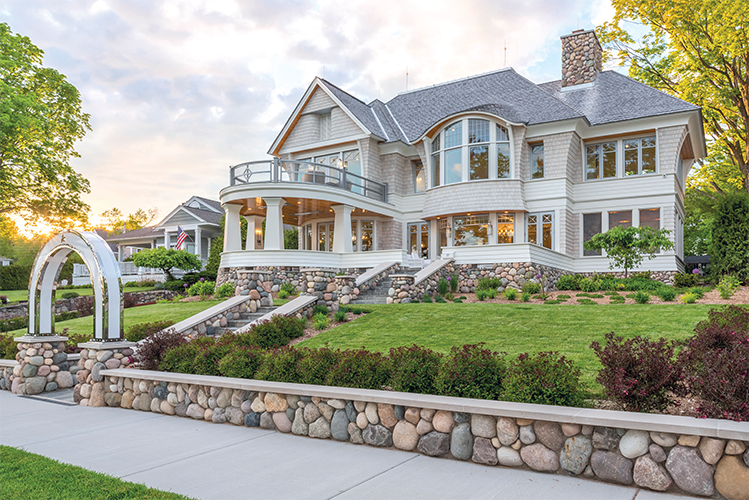 Miller, Poineau and Naumes
The finest quality
With its team of experienced craftsmen and build professionals, Miller, Poineau and Naumes is firmly established as one of northern Michigan's foremost full-service, high-end home builders
Delicately poised on the edge of the southern arm of Michigan's Lake Charlevoix, the city of East Jordan was founded in the 1870s, following the construction of a logging mill along the nearby Jordan River. The city grew rapidly throughout the ensuing decades, with a feed mill and large ironworks—still in operation today—adding to its credentials as a major manufacturing center. Around the turn of the century, this status was further cemented with the addition of two railroad connections: the Detroit and Charlevoix Railroad in 1899, followed by the East Jordan and Southern Railroad in 1901.
Despite the closure of both rail connections by 1961, East Jordan's legacy as a hub for infrastructure and manufacturing lives on in the number of companies and corporations—large and small—that continue to operate from within the city limits. Among them is Miller, Poineau and Naumes (MPN). Owned and operated by partners Chris Miller and Scott Naumes, MPN is a local leader in full-service, high-end custom home building, servicing northern Michigan's Charlevoix, Antrim, Emmet and Kalkaska counties. In tandem, MPN's sister company Mapleridge Construction has established its own reputation as a custom home-builder, specializing in new construction and extensive renovation.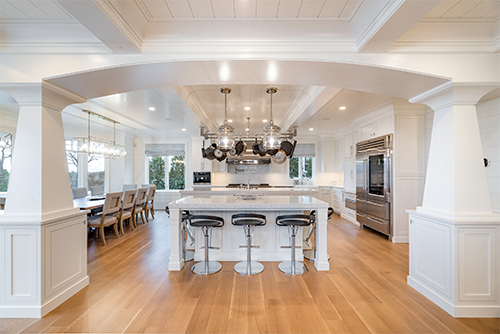 Formerly trading as Andre Poineau Woodworker, the name MPN takes its middle initial from celebrated craftsman Andre Poineau. A household name within regional building, Andre is widely recognized for his ability to create unique and timeless lakefront homes and cottages that blend seamlessly into the historic beauty of Michigan's natural and architectural landscape. Under the successive banners of Andre Poineau Woodworker and MPN, Andre has designed more than 35 homes on Lake Charlevoix, along with additional properties across the region's surrounding lakes. Further designs have been published and built throughout the US from North Carolina to Colorado—a true testament to his woodworking expertise.
Following Andre's recent retirement from MPN, the task of upholding his philosophy now falls to Chris and Scott. For the former, that means forging client relationships with trust at their core. "Our goal is to create the home of our clients' dreams with the highest level of quality and attention to detail," says Chris, MPN Co-Owner and General Manager. "Our approach is simply to guide them through the entire process with careful explanation, detailed specifications and budgeting in order to eliminate unexpected surprises that can strip the fun out of building a new home."
Delivering sustainability
Distinguishing MPN from its competition is the company's full-service build offering, encompassing everything from construction management, architectural and interior design to framing, siding, stonework and painting. "We offer our clients endless custom-build capabilities on each project," Chris explains. "In doing so, we're able to draw on the unrivaled facilities at our 11,000-square-foot woodworking and cabinet shop and custom commercial paint booth."
Despite its world-class services, MPN remains heavily invested in the local landscape in and around East Jordan. For one of its most recent developments, the company executed yet another lakeside home on the majestic Lake Charlevoix. Among the final projects to be designed by Andre himself, the property features white board-and-batten exterior and 2399-square-feet of covered patios and balconies. For the interior, MPN delivered a rift-and-quartered oak floor, together with handcrafted ceilings, a cypress built-in bar, maple cabinetry and a wood-burning fireplace clad in black granite.
The completion of the Lake Charlevoix property closely followed MPN's finalization of another project in the charming waterfront community of Harbor Springs, to be found on the north shore of Lake Michigan's Little Traverse Bay. Creating the entire property from scratch, MPN worked in collaboration with designers Fred Ball and Kelly Konoske to deliver what would become a beautiful shingle-style home befitting of its coastal location, complete with majestic views down into the bay itself. To deliver this project, as with its properties in Lake Charlevoix and beyond, MPN relies upon its 50-strong team of dedicated craftsmen and build professionals, equipped with more than 60 years of combined experience.
"We couldn't be prouder of our team at MPN," Chris tells us. "They truly are the artisans that bring our clients' visions to life. On each and every project, they'll go above and beyond expectations to make the exhilarating process of building a new home as smooth as possible—from providing a client with their very first designs, to welcoming them in, and beyond. In return, with new products and tools being developed every year, the responsibility falls upon myself and Scott to make sure that our team are trained and up-to-speed with the latest technology and practices in our ever-evolving industry."
One such evolution has been a growing call from clients across the building industry for homes that embrace and celebrate the possibilities of sustainable material choice, design and construction. For MPN, with a reputation built on its attentiveness to customer demands, it makes for a significant consideration. "We try to design and build our homes to be as energy efficient and sustainable as possible," Chris says. "Among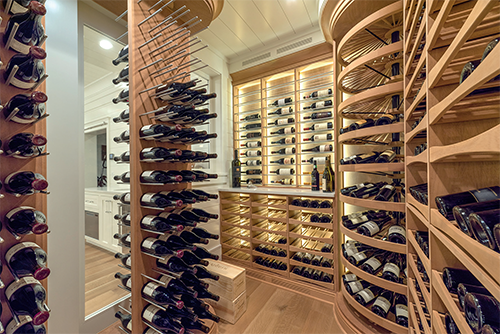 the products we install are insulated concrete form (ICF) foundations, thermal breaking, zip-panel exterior walls, energy efficient windows and doors, and geothermal heat pump systems, to name just a few."
Despite its recent success, MPN's operations were heavily impacted over the last couple of years following the arrival of the Covid-19 pandemic. Nevertheless, the period hasn't been without its learning opportunities. "The first shutdowns in our state came in early 2020," Chris recalls. "For our whole team, that meant entering uncharted territory, with a complete and immediate halt to our operations for over a month. Thankfully, we were still able to continue paying our staff so that they could provide for their families, and we're proud to say that everyone was retained despite what was an immensely difficult period. As life gradually reopened, those employees all returned, and we were able to get back to work."
Future builds
For Chris, however, the impact of the pandemic continues to linger. "One thing that remains a major challenge is the need to make sure that we're ordering our materials a few months in advance, instead of weeks," Chris notes. "Similarly, the ever-changing fluctuation in material pricing is a substantial obstacle as we look to keep our clients on-budget. Again, our ability to deal with these issues goes back to the strength and expertise of our team. Our talented project managers have done a tremendous job staying on top of everything, and it's thanks to their hard work that we've been able to keep our builds organized and on-schedule."
MPN is now gearing up yet more projects in the months ahead. "One thing we've learned over the last couple of years is the need to be prepared for anything," Chris admits. "As a result, we're readying ourselves for the best and the worst, even as we acknowledge that things are looking bright. We're blessed to have an absolutely amazing portfolio of homes signed for 2022 and 2023, with true architectural masterpieces either scheduled to be built or already underway."
Miller, Poineau and Naumes
www.mpnbuild.com
Services: Homebuilding and estate management