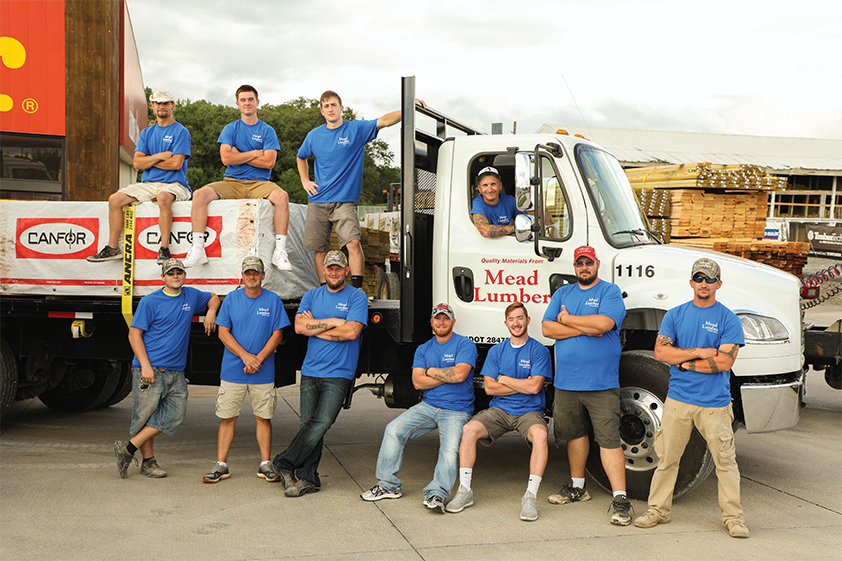 Employee owned, customer oriented
With 48 locations across eight states, Mead Lumber continues to provide the best quality customer service alongside its impressive range of home building materials and resources
Major building materials supplier Mead Lumber, has really focused on its strengths over the past few years, as the housing construction market continues to boom. As a modern company with a long legacy, Mead Lumber prides itself on delivering the highest quality, and best value, to its customers. This philosophy has helped the company grow into an industry leader, distributing a wide range of building materials and services to both professional and retail customers across the Great Plains.
Since 1910, Mead Lumber has been a major player in the lumber and hardware market. The company began as a family business, and was later sold to its employees through the creation of an Employee Stock Ownership Plan, or ESOP. "This switch toward employee ownership took place across several years, with 28 percent being sold in 2000, and the remaining 72 percent changing hands in 2014. By 2015, the company was wholly owned and operated by employees," details Dave Anderson, current President and Chief Executive Officer of Mead Lumber.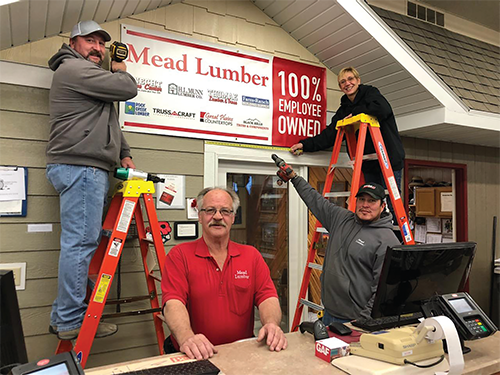 Over the years, Mead Lumber has diversified in order to provide a one-stop-shop to customers ranging from professional home builders to everyday consumers, as Dave discusses: "We are very diverse in terms of product and service offering. Our building materials are primarily sold to new construction, repair, and remodelling projects. We supply building materials, lumber, doors, windows, millwork, insulation, siding, decking, and more.
"Today, Mead Lumber's offering is especially diverse. We have five truss and wall panel manufacturing plants, and a sixth plant that specializes in solid surface counter tops. The majority of our stores are professional contractor lumber yards, but some locations, for example in our Rapid City, South Dakota, market, include hardware stores. We run the gambit from actual retail hardware stores to contract lumber yards and manufacturing operations. On the manufacturing side, we have a number of door shops."
Strong core team
Maintaining expertise in a range of products and services, whilst operating within a single market, has allowed Mead Lumber to expand its footprint, and become a well-known name amongst lumber professionals and home builders alike. As Dave explains: "Today we have 48 store locations across the 'Great Plains' states. Our furthest North-West location would be Montana, out in Red Lodge. We also have a large presence in the Rapid City, Black Hills area of South Dakota.
"Our footprint extends in the other direction too, over to the East side of South Dakota into Yankton. We have a couple of locations in Colorado, and those sites are responsible for our South West operation. We are located in Ames, Iowa, reaching as far south as Ada, Oklahoma. We also have nine locations in Kansas, and 16 in Nebraska."
Building this scale of infrastructure takes time, and indeed, Mead Lumber has been operational for over a century. In that time, it has developed an internal structure that has played a significant role in its growth. As Dave enthuses: "Mead Lumber definitely has a few secrets of success. Number one would be our people. We have a really strong core team, full of high-tenured folks that have been with us for years.
"The second asset that has proved important time and again is a real entrepreneurial spirit. We have a vast footprint, so each of our store managers, across 48 locations, are running their own business with the support of our corporate structure. It definitely requires trust, communication and hard work, but ultimately gives us the best of both worlds. The ownership structure also adds a lot to the cultural positives, because employees feel a lot more empowered."
At the core of Mead Lumber's success is its working culture, which has kept the company cohesive despite the considerable growth it has seen in recent years. "We are always looking for growth, but within that we want to maintain the 'family feel' that Mead Lumber started with," asserts Dave.
"We don't want to lose sight of the Mead family legacy, and the culture that came with it. Even though we are a large company, with numerous locations and over a thousand employees, we still want to maintain close relationships with one another. These relationships are foundational to Mead Lumber's success, because, at the end of the day, we are a sales organization.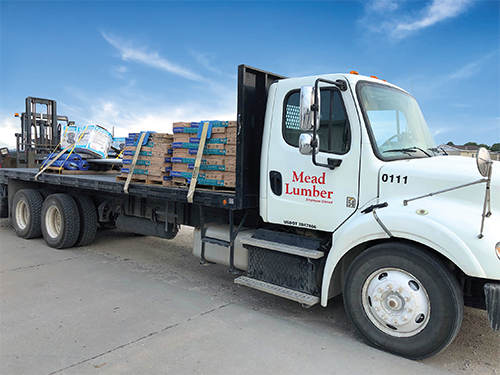 "It really always comes down to relationships. Relationships between us and our customers, and then internal relationships between colleagues. The ESOP culture of ownership kind of allows everybody to row in the same direction," he elaborates.
The company's tight-knit community came together during the Coronavirus pandemic, and this has ensured the company's ongoing success. As Dave reveals: "In all 48 locations, across eight states, our stores were considered essential. This was incredibly important during the pandemic, because it meant that we didn't have to close down any of our locations. Like everyone, we were scared and unsure of how to proceed. Back in spring 2020 we were making contingency plans regarding what could possibly happen as the result of Coronavirus, however we soon realized that this was a real boom for the industry.
"All things pandemic related, such as working from home and mortgage assistance, really led to a spike in demand for housing supplies and materials. Mead Lumber really benefitted from being in an industry that people wanted to come to. A lot of our markets are particularly busy right now because people are more in control of their working environments; you can work from anywhere, so naturally you want more room, a better cost of living, and with that, a lower cost of housing. We are located in regions with a lot of available space for these kinds of projects, which has been a real positive for us over the last few years."
Modernization efforts
Even during an unprecedented housing boom, Mead Lumber ensured the wellbeing of its staff and customers every step of the way. As Dave confirms: "Obviously, we had to make sure we had safety protocols in place. We had to be really careful about our people, and so we did a lot of Covid-19 related things for our employees to help them stay safe and financially stable. With the increase in activity, we had to make sure customers were safe also; a number of our stores began offering curb-side delivery, for example.
"We still tried to provide a customer service experience for our customers that worked for them, but inevitably difficult conversations needed to be had. A lot of our customers on the supply side are professional contractors, and supply side constraint issues have been particularly prevalent for the last few months. Commodity price fluctuation is still something we are trying to manage, so it was important at the time that we had honest conversations with customers about what was happening with supply."
In addition to diversifying, Mead Lumber has made numerous efforts toward modernization over the last few years that now put it in good stead for the future. "About five years ago Mead Lumber switched to a new ERP system. Our growth from there has been built on acquisition activity and a new greenfield location start-up. We have developed a corporate structure in order to manage our size, this helped with standardizing product offering and maintaining company-wide vendor relations.
"Many of our suppliers are of a similar size to us, and therefore we developed distribution centers, which would prevent the supplier having to drop materials off to numerous small locations. These distribution centers are in Rapid City, South Dakota, and Grand Island, Nebraska; they make it easy for vendors to make one large drop, which is in turn distributed to our smaller locations across a wider region.
"In order to improve overall satisfaction in terms of our suppliers, we have maintained consistent processes, policies and procedures. We have also added value to our stores in the form of new systems, branding and avenues for communication. These changes will continue to take the overhead burden off of individual stores, allowing their managers to focus on customer satisfaction. Ideally, the stores should be focused on selling products and services, and building customer relationships. Corporate and HR, on their end, can support this by making sure that administration, purchasing and supply is all taken care of," summarizes Dave.
Successes over the past few years have placed Mead Lumber in an incredibly strong position for 2022 and onward. As Dave asserts: "One of my main goals is to create and increase company value. Our ESOP is really about people, and so we are looking at smart, strategic growth that will benefit everyone within the company. The industry today is pretty ripe with opportunity, and we plan on making the most of that.
"I think our path forward will be similar to what we have done in the last five to eight years. It is likely that we will continue growing, and from that we will add value for the benefit of our employee owners and customers alike. I think our challenge is to maintain our working culture, even as the company gets bigger."
It is clear that Mead Lumber has a bright future ahead of it, largely due to the company's working culture, and employee-owned structure. As Dave concludes: "We are only successful because of the people we have got; it's really because of the relationships that they have built with our customers that Mead Lumber has grown into the company it is today. As we continue moving forward, it's important to never lose sight of that."
Mead Lumber
www.meadlumber.com
Services: Building materials supplier