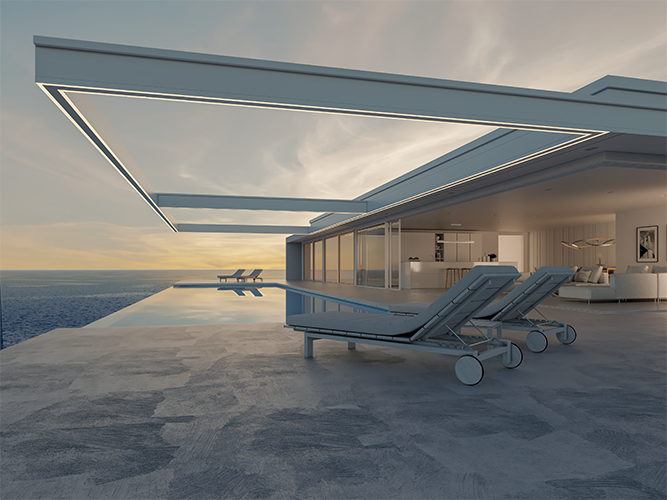 Site, function, and budget are all important factors to consider when designing an outdoor space: What can my property accommodate? What kind of space do I want/need? How much money am I willing to spend? However, it's also important to think about outdoor upgrades in terms of return on investment. How can I create a space that can be used year-round? Will the upgrades increase my property value? The answers to all of these questions will help inform choices well beyond furniture selection, like whether to add fixed structures, water features, or built-in appliances.
As with interior design, a well-designed outdoor space needs to offer both comfort and function. Without both, it won't get used. In addition, an outdoor space must be designed to withstand the elements. Even the most well-curated outdoor lounge or kitchen will remain underutilized unless it can be protected from rain, sun, and extreme temperatures.
Treat your outdoor space as new-found square footage, and look for ways to maximize the value of that space. One way is by adding a high-quality pergola that will stand the test of time—one that can be matched to your home's architecture and color scheme—and then turning that protected space into any 'room' your family desires: outdoor living room, theater, kitchen, spa. Pergolas can also serve as anchors, helping to define unique spaces within a larger, multi-purpose backyard design.
The benefit of a sturdy, fixed structure with pivoting louvers is that it can be utilized in every season, whether you want shade, airflow, sunlight, or rain protection (our products can even withstand snow loads). And, as outdoor living continues to rise in popularity, statistics show that homes with comfortable outdoor spaces are increasingly attractive to buyers.
StruXure pergolas offer protection and durability. The motorized pivoting louvers, which can be shifted at the touch of a button to let the warm sunshine through or to optimize shade, can be fully closed on rainy days. StruXure products are made from durable, powder-coated extruded aluminum, which makes them scratch-resistant, non-corrosive, and nearly maintenance-free.
Additionally, the increase in technology for outdoor design is at an all-time high. The ability to add accessories that will withstand various weather elements, can incorporate lighting, heat and wind controls, motorization, and beyond, is key as well. For example, we have seen a rise in demand for our accessory track channel, the TraX System that allows for the attachment of more accessories to the brand's popular pergolas for an upgraded outdoor living experience. TraX provides three major points of use: cable management; the addition of LED strip lighting; and the ability to integrate motorized screens, which are great for both sun and insect control and we have found that customers and homeowners alike are looking for these added details for their outdoors.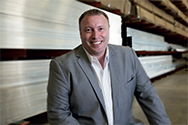 Scott Selzer is CEO of StruXure. Founded in 2011, CEO and Chief Product Architect Scott Selzer had simply set out to design a better pergola to improve the outdoor space for one of his clients. A middle-school teacher at the time, with a part-time remodeling businesses, Scott created his own product, a pivoting louvered-roof structure that the user could control, when he couldn't locate one on the market. Little did he know he'd begun a journey that would lead to one of the fastest growing privately held companies in the United States. Steady growth attracted top talent and led the company to open a state-of-the-art manufacturing facility and corporate headquarters just north of Atlanta, GA in 2016. A West Coast Fulfillment Center and Showroom, located just outside of Las Vegas, NV, was added in the fall of 2017. With StruXure dealers from Canada to the Caribbean, the company is poised and ready to lead the way to more innovative outdoor living across North America and beyond.
https://struxure.com