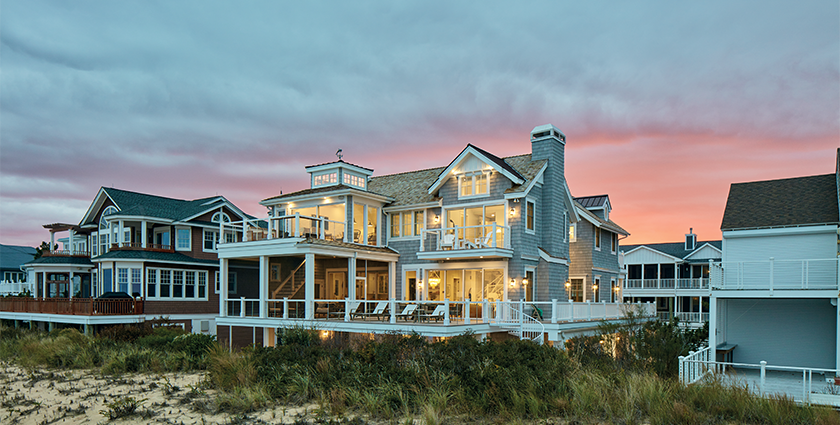 Unbeatable design
Delivering houses across the Bethany Beach oceanfront, Marnie Custom Homes is making a name for itself thanks to a creative, client-first approach to homebuilding
Marnie Oursler's journey to becoming a professional home builder is not what you might describe as typical. Her first introduction to the industry came at the age of 23 when she began working for a real estate agent in Delaware's Bethany Beach. It was there that Marnie, who was fascinated by the town's homes and the majesty of the Atlantic Ocean, discovered her dream: to live in an oceanside community.
To realize her dream, Marnie started saving whatever money she could. "Literally, I was eating peanut butter sandwiches for two years, before eventually saving up enough money to buy a house seven blocks from the beach," she laughs. "It was a tear down, but I went ahead and fixed it up anyway."
The daughter of a successful builder, this passion for home improvement runs deep in Marnie's blood. "I grew up cleaning houses in the subdivisions where my dad was building, doing everything from forming-up concrete to punch-out, interior trim, sweeping out houses, and anything else that needed to be done," she comments. But it wasn't until Marnie came to work on her own house that it dawned on her precisely how much she knew. After a quick turnaround, Marnie sold the property just nine months after she purchased it, securing a healthy profit in the process. From there, she didn't turn back, purchasing one more beach-side lot, and starting work on her first ever custom home.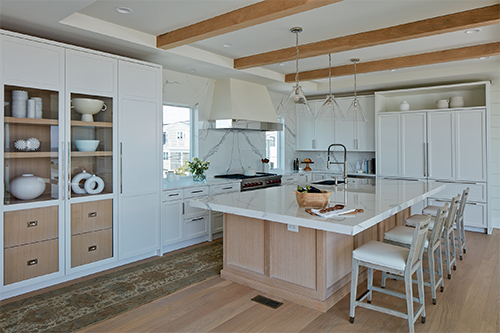 "I loved everything about it," Marnie insists. "Managing the project, the creativity, making decisions, working with subcontractors, and more." The project, beyond a source of personal enjoyment, also turned out to be a prime advertisement for Marnie's home building capabilities; with her work on full-display, she was approached by a local couple, keen to secure her services for the tear-down and rebuild of their own home. "They invited me to bid on their house," Marnie recalls. "So, I did. Line by line, I showed them how much the house was going to cost, with a spreadsheet a couple of pages long. They said yes – and with that, I started a company."
Marnie launched Marnie Custom Homes in 2007 and also hosted DIY Network's Big Beach Builds for two seasons in 2017- 2018 and HGTV's 2018 Dream Home. The company has since grown in terms of both size and capability, as that 2500-square-foot initial project has morphed into regular oceanfront builds up to 13,000-square-feet in size. Commenced in the fall of 2019, one such project is 'Kan't Beat the View,' a 6800-square-foot oceanfront beach house located in North Bethany Beach, which includes a clear line of sight to the ocean from front-to-rear. Beset by initial planning delays, and further impacted by the arrival of the Covid-19 pandemic, it was an intense build for Marnie, who managed nevertheless to deliver the project on schedule. "Late start or not, the completion date doesn't change," she comments. "We had to hustle and hustle for the whole nine months, being strategic in our approach to organize all the moving parts."
It was in recognition of Marnie Custom Homes Project Manager Dustin Burkett's work on Kan't Beat the View that Marnie nominated him last year for Pro Builder's Forty Under 40 Class of 2022. The award seeks to celebrate the home building industry's brightest young talents and next-generation leaders and innovators, with recipients selected from more than 100 nominations across the US. That Dustin was one such recipient is a credit to his hard work on Kan't Beat the View, and serves to further underscore the company's achievements.
Innovative approach
Kan't Beat the View wasn't the only project to present Marnie Custom Homes with a challenge. Two additional projects, Surfside and X-Ta-Sea, which began in 2019 and 2021 respectively, each saw disruption, as the initial pandemic gave way to months of supply-chain disruption. "There was nothing else to do but work, so we worked," Marnie says. "Seven days a week, we were finishing these houses. Everything was moving so fast, I set up an online platform for my internal team so we could discuss and update each other regarding deliveries, in-house schedules, and other critical information. I would go and inspect houses off hours to limit my interactions, and send videos to our clients to keep them informed. It was whack-a-mole every day."
Nevertheless, Marnie continued to deliver her projects on schedule, a fact that she attributes to her own and her employees' innovative approach to homebuilding. "What we hear from our clients is that we're more creative in every aspect, from design to completion, and even in terms of scheduling," Marnie says. "There are a lot of rules we have to follow and to account for when building on the oceanfront. Not only do we have to factor in hurricane winds and other risks, but we also have to consider how we can make the house look amazing, how to accommodate all our clients' wants, how to deliver it at the cost they request, and how to finish it on time.
"What sets us apart is that we do all of those things," Marnie continues. "I benefit from a fantastic team of devoted and dedicated employees, every one of whom has a passion for homebuilding. We also have a phenomenal team of subcontractors, many of whom I've worked beside for more than 15 years, digging ditches, picking up trash, finishing homes, and solving problems together."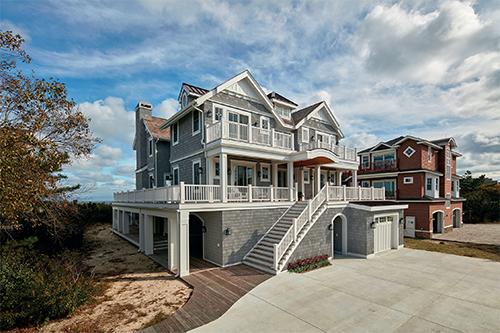 Team-oriented mindset
Reflecting on the last two years, Marnie is confident that her experience of the pandemic is set to shape the company's practice moving forwards. "Every day we learn," she insists. "Especially in our field, process is important: we're building homes that have never been built before. We typically start houses around Labor Day, with the goal of having them finished by June, in time for the summer season. It's a small window in which to build," Marnie adds. "During the pandemic, we became very organized upfront, and that's now helping us moving forward, in terms of how we work through any new challenges, how we get our systems in place, and then begin to perfect them.
"There are 11 people involved in building these houses, and we're at the point where we're all working in a way that's high functioning," she goes on. "We still meet in person once a week; although we're not always physically together, we're in sync."
In honing these systems, Marnie Custom Homes benefits from a strong and inclusive company culture, with a team-oriented mindset, inspired in part by Marnie's own love for sports. "I played a number of sports and follow a lot of teams," she reveals. "As a division one college athlete myself, I understand how functioning teams should work.
"At Marnie Custom Homes, we have our own players who are very good at certain positions, and we rely on them," she says. "As the leader, I'm the one who says: 'I'm here for you. I'm standing next to you for support. Don't hesitate to ask me for help'. One of the biggest and most unique elements of our culture is that at every meeting we ask for support and express our gratitude – whether it's for our colleagues in the room, or for something in our lives. Likewise, if an employee doesn't understand something, there's an openness: they can ask me or a team member, and it will be reviewed until everyone is on the same page."
As Marnie, like everyone, looks to put the two years of the pandemic behind her, the future for her company is positive, with a series of new projects in the pipeline. "We're currently finishing a number of projects, and they all are truly amazing," she confirms. "A large number are oceanfront, with a couple oceanside. All of them are special because of our clients, whose homes are personal, creative, and unique. For us, that's fun – although they might share similar features or a comparable style, no one house that we build is the same, and no client is the same. It makes for an exciting and enjoyable experience.
"Our coming year will then begin in the fall," she adds. "Once again, we'll be starting work on several new properties across the oceanfront, oceanside, and bayfront. That's always very exciting, because it means different views, different light, and different designs. For our team, it's set to be a busy year!"
As we conclude our discussion, Marnie is keen to reiterate the importance for continual improvement – both for the company, and for each member of the team – as she looks to drive and maintain the company's high standards of homebuilding. "Looking ahead to five years from now, my goal is to simply get even better at what we do," she concludes. "I know that I personally am going to continue on that path of exploring, 'How can we get better every single day?' I want to see that happen individually, as a team, and in terms of how we deliver for our clients, and work closely and effectively with our subcontractors and vendors. If we do so, I believe we'll be in the best position we can be. We just need to stick to what we know and learn from our mistakes, and hopefully the future will be very bright."
Marnie Custom Homes
www.MarnieHomes.com
Services: Oceanfront home building