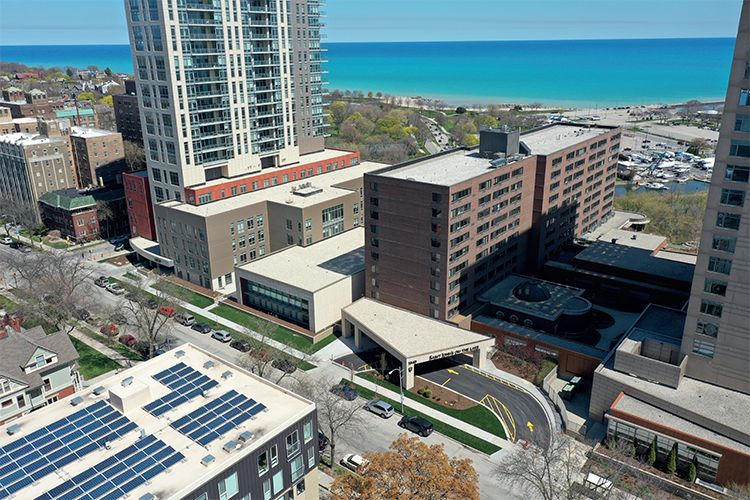 While a significant number of projects were halted when Covid-19 hit, those that weren't presented contractors with entirely new hurdles to overcome. Jobsite safety took on a new meaning as contractors rushed to implement procedures for social distancing, temperature checks and other precautions designed to keep workers safe.
As Covid-19 took hold, safety concerns were further heightened for VJS Construction Services, a Wisconsin-based contractor that had just begun phase two of a retirement community renovation and construction project. In addition to employee safety measures and considerations, VJS had to consider the health of seniors living near an active construction site.
Overcoming new safety challenges
The first phase of the Saint John's on the Lake project began in March of 2018 and consisted of building a new 23-story residential tower with underground parking, skilled nursing facilities, assisted and hybrid living, and independent living apartments. With this building complete, VJS set out to demolish an adjoining three-story health services building. Just a few weeks into the process, it became clear that Covid-19 would drastically impact the contractor's plans.
In addition to implementing its own safety protocols, VJS became an integral part of the Saint John's on the Lake's Covid-19 safety team. "It was critical to ensure that the protocols we developed aligned with the community's requirements," said Ben Bergles, senior project manager at VJS Construction Services. "It took a lot of out-of-the-box thinking and coordination between the Saint John's team and ours, particularly to keep disruption to a minimum for the residents."
Complicating matters was the close proximity of the old health services building to the new 23-story residential tower. Before VJS could demo the old building, its residents had to be relocated to the new tower.
"Relocating the residents was challenging on its own," said Bergles. "Separating active residents from construction workers, particularly with considerations for healthy airflow, and keeping both as protected as possible from Covid-19 added another layer of complexity to the process."
Infection control measures were implemented, including twice weekly Covid-19 tests and daily health screenings for workers. The teams also reconfigured the jobsite so that workers could access the areas under construction without entering parts of the building that were occupied by residents.
"Many of our trade partners needed to work between both buildings during the tie-in," said Bergles. "We installed temporary barriers to prevent airflow between the two buildings and did most of the demolition from the construction side of the partition so that debris wouldn't compromise air quality for the residents."
While Covid-19 made its mark, VJS Construction completed the project on schedule and without jeopardizing the health and safety of the construction crews or Saint John's on the Lake staff and residents.
Data visibility keeps the project moving
Bergles credits Trimble Viewpoint's Vista ERP solution, with the company's ability to track safety, job progress, invoices, subcontracts and digitally manage documentation over the project's three-year span. Vista is part of the connected, cloud-based Trimble Construction One suite of solutions, which standardizes data and streamlines workflows across all phases and functions of contractors' construction projects.
"When we put together the project three and a half years ago, it was impossible to think of everything," he said. "Throughout the project we had to input, update and adjust hours and codes. We wouldn't have been able to do that efficiently without Trimble Construction One and Vista."
Data visibility across the company is critical for VJS Construction's long-term success. The company migrated to Vista in 2012 to improve job cost accounting and access accurate reporting in real-time. "We integrated Vista to streamline our accounting functions, which was easy to implement because it's very user friendly. Everyone latched on it to really quickly."
Today, VJS Construction has expanded access to data beyond the back office and into the field. Invoices, job progress reports, production units, labor hours and more are easily generated in the field.
"Data captured in the field is automatically routed to accounting for approval," said Bergles. "This reduced a process that would take weeks down to minutes, and with all the data on hand, accounting teams can process invoices as they come in."
The advantages of modern technology
Decision-makers today need access to real-time data to make important decisions that keep both the business and its projects profitable. At the same time, the people managing work in the field need clear communication from the office to execute projects efficiently and effectively.
Through the speed and collaborative benefits of the internet and cloud-based technology, real-time data collection and analysis can give contractors an accurate understanding of exactly where projects stand.
A connected construction software suite can replace multiple systems and disconnected sources of out-of-date information with one source of data truth that can be easily shared in real time across executives, managers, accounting professionals and the field. This ensures everyone stays up to date, whether in the office or in the field.
Modern software also makes it easier to collect data from the field using smartphone apps, online portals, tablets and newer technologies such as wearables and RFID. This simplifies administrative tasks, giving field teams more time to focus on the actual building.
"When you think of putting together a project three and a half years ago, you don't think of everything," said Bergles. "Inputting phase codes and adjusting where some of the hours or costs were charged to was necessary through the project, and Viewpoint enabled us to do that very efficiently. It's been nine years now, and it's served as a very succinct reporting tool. I can't imagine where we would be without it."
Jenn Said is a freelance writer who covers the construction industry.
www.vjscs.com
www.viewpoint.com/en-gb/