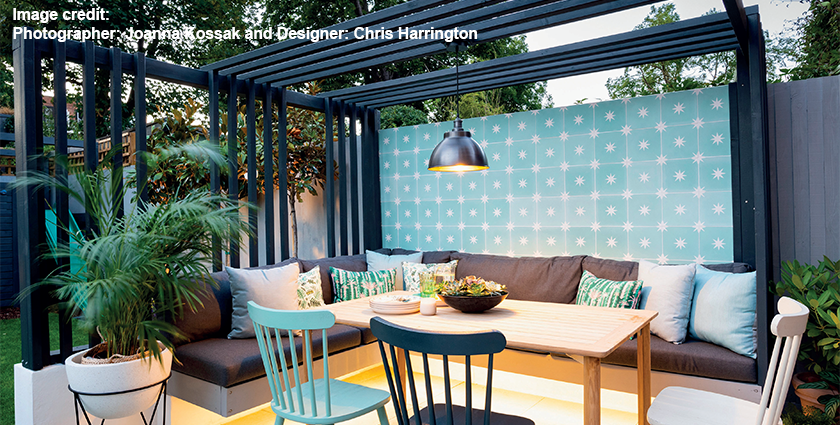 Outdoor lighting has the ability to rejuvenate your garden, and can make a huge difference to its look and feel, adding atmosphere, warmth and depth. With more time being spent at home, we demand more from our living spaces, both inside and out. The expectations for our outdoor space now hold the same design opportunities as our home interiors and having the correct lighting is vital to making the most of your garden, whatever the size. Not only should your lights be stylish, but they also need to be functional. Lighting plays a key part in ensuring the garden comes together, taking the design to the next level. While your outside space may look beautiful and inviting in the sunlight, come evening time, outdoor lighting is required to illuminate the area, so you can continue enjoying the great outdoors all night long.
Spending time outside has many proven benefits, from boosting your immune system and creativity, to improving eyesight and reducing anxiety. Gardens are meant to be enjoyed in the evening just as much as they are during the day, you just need to add the right lights and ensure their placement is correct.
Layered lighting design
Approach your outdoor lighting design in the same way you would your interior lighting scheme. To accomplish a well-thought-out, welcoming space, you need to embrace the complete range of lighting sources available and vary the lighting sources to create little pockets and pools of illumination. Work out which elements of your outdoor space you wish to highlight, both for practical and aesthetic reasons. Layer your exterior lighting and use multiple sources of light, including small lights to guide walkways, up-lighting for highlighting beautiful plants and trees, low lighting for ambience and wall lights and pendants in areas for eating and socializing. It is also important to ensure the lights are independently controlled, as well as installing dimmer switches for each light source if possible, to allow for a wide variety of moods to be created throughout the evening.
After selecting the style or styles of light needed for a space, the next thing which needs careful consideration, is their positioning. Think about the direction of each light to ensure you are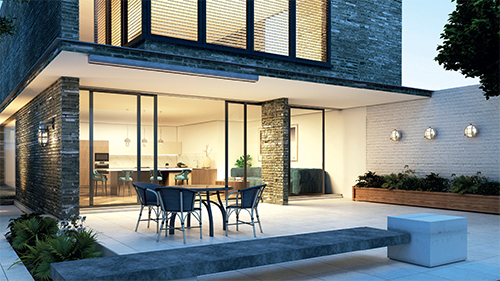 highlighting areas of your garden that you wish to draw attention to. Exterior lighting can accentuate the architecture, colors and textures of your property for an outdoor living space to be proud of. Make sure you experiment with different positions before you decide on a final placement. You can use a large torch in varying angles to see where it is likely to provide light. For glow without glare, opt for downward facing wall-mounted lights that create a relaxing atmosphere to be enjoyed by all.
Creating a seamless inside/ outside look
Gone are the days when the choices for garden lighting were limited to plain, uninteresting white security type lighting; today's modern designs are just as stylish and varied as those you would find inside the home. We have seen an emerging shift to take the industrial, rustic, and stylish look from inside the home, out into garden spaces. Open-planned interior designs are perfect for creating a seamless transition from your interior to your exterior, and as many of our industrial outdoor lights are also available in indoor designs too, you can create a style that looks as good outdoors as it does in.
There has also been a huge trend for chic outdoor kitchens, entertaining areas, bars and garden terraces. To create the perfect entertaining space outdoors, combine versatile bench seating with plenty of comfortable cushions for an informal, relaxed feel. Add atmospheric lighting such as stylish metallic wall and pendant lights to set the ultimate ambience for your friends and family to enjoy.
Sustainable choice
Always ensure you opt for good quality outdoor lights that are compatible with LED bulbs. Customers are much more environmentally-conscious than ever before and many of the newer weatherproof fittings are compatible with modern LED bulbs. They work by housing the bulbs and protecting them from the elements. LED bulbs are energy efficient and also have incredibly long lives, making them the perfect sustainable choice. The bulbs themselves are also now available in a variety of shapes and colors, to help you achieve the exact look you desire.
This could be different depending on the intended use, for example, bright white may be chosen for areas needing practical lighting, whereas a warmer vintage style amber bulb may be preferred to create a softer atmospheric glow. Another very popular option is to use motion sensor LED bulbs with compatible outdoor lighting fixtures. Not only does this offer multiple safety advantages but will also help to save on electricity bills.
Trends
Metallic finishes on outdoor lighting is a trend that's set to continue through 2022 and beyond and lends itself well to coordinating with other garden furniture and accessories. Metallic tones work beautifully against brickwork, wooden fencing, concrete or cladding and their timeless appeal means they'll never go out of style. As well as adding interest with texture and shine, copper and brass lights will also add a sense of luxury to an outside space. Bold shapes are also set to be big and are great for creating a statement. Modern outdoor designs come in all shapes and sizes and can really help to further enhance the overall look of the outdoor area.
Key Tips from Industville on how to design outside spaces effectively
Marketa's Top Ten Tips for Outdoor Lighting Design
Use a plan and carefully calculate; before you start shopping determine how much light is needed and where
Layer your lighting and include three types of lighting; ambient, task and accent
Use LEDs; they are the perfect sustainable choice
Choose fixtures that will stand the test of time; metallic finishes on outdoor lighting suit any space
Take a look from inside your home; it's important your outside space looks good from the inside, as well as out
Use subtle light for entertaining; a soft, indirect, subtle glow provides the perfect illumination for eating outdoors
Think about security; ensure entry points of the home, as well as garages and driveways are well lit
Position lights to highlight areas of your garden that you wish to draw attention to, such as architecture, a water feature or special plants and trees
Create a seamless inside outside look; use the same lighting style outside, as you have inside your house, for the ultimate coordinated look
Go bold with your lighting designs; have fun with your lighting and create a truly personal space that you are proud of
Marketa Rypacek is Managing Director, Industville Ltd. Industville is committed to providing exceptional service and high-quality products to meet and exceed statutory regulations. Striving to increase customer satisfaction whenever possible, Industville act as a UK and worldwide trusted supplier and leading producer of high-quality lighting and furniture. All products are designed in the UK by a team of in-house product designers.
www.industville.co.uk