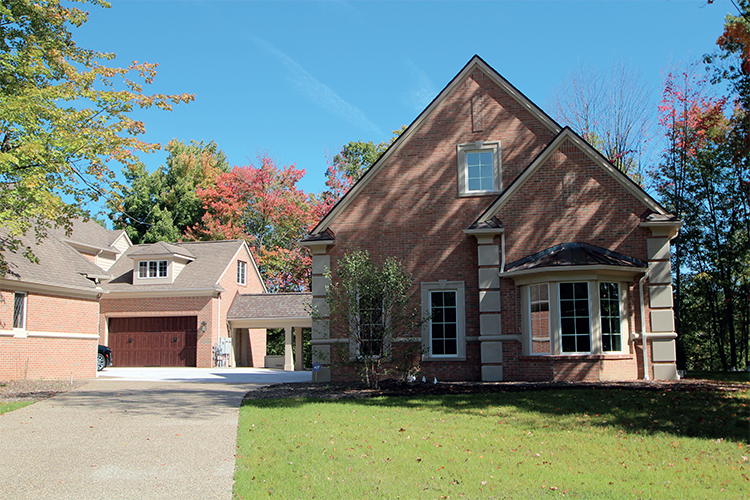 Building the best
As a service-orientated company, Lange Building Co. strives to exceed customer expectations of the building and remodelling process time and again. As owner and President of the company, Chris Lange takes a hands-on approach that is as unique as the homes he produces. A testament to Chris' hard work and expertise, Lange Building Co. is known for its attention to detail, and stunning portfolio of homes.
"I am the owner and operator of the Lange Building Company. I only take on a select number of projects each year, and I personally oversee each one," asserts Chris. "I have an extensive background in finish carpentry that provides me with an exceptional attention to detail. I am a hands-on general contractor, and
I often assist my rough and finish carpentry crews to assure the project is executed to my standard of excellence. I am usually onsite to answer any questions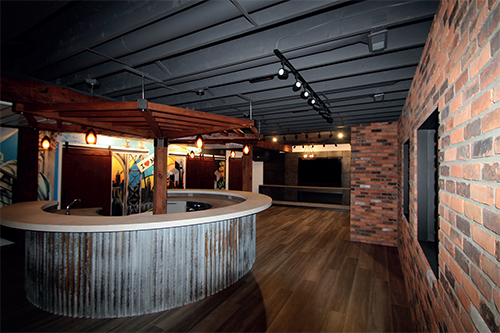 that my customers or trades may have. Being available to make changes on the fly, and provide clear interpretations of the plans, ensures that the possibility of re-work and do overs is minimal," he reveals.
Having worked in the finish carpentry business for years, Chris established Lange Building Co. in 1995. The company has since converted into an LLC and used its extended reach to emerge as one of the leading high-end designers of bespoke homes and renovations in the Midwest. "We specialize in high-end custom home building and renovation projects. We also do larger additions, unique finished lower-level projects, and upscale kitchen and bath renovation projects," Chris confirms.
Team collaboration
The company started to see rapid growth as the result of a major project in 2014, as Chris details: "One of our key milestones was the completion of a $6 million project. The project included the removal of our customer's existing home, and the construction of a new 'Super Custom Home' on the same site."
Now celebrating 25 years of success, Lange Building continues to grow, with an emphasis on the company's ability to combine personal taste with the latest trends. One recent project that highlights Lange Building's unique ability to create bespoke spaces that ooze with contemporary style is the 'New York Loft', as Chris states: "The 'New York Style Loft' was an idea that stemmed from my customer's former residence in New York City. My customer wanted to create a space in the lower-level walk-out area of their home that had the 'New York City feel.' They hired Young and Young Architects of Bloomfield Hills, MI to execute the necessary plans and elevations to create this space. Young and Young set Project Architect, Chris Harrington and Designer, Megan Run sat on the task to collaborate with me and the customer to create the space they had imagined.
Trends and tastes
"As you enter the new space the Statue of Liberty mural to your right grabs your attention. The staircase has been replaced with black powder-coated steel stairs, which are clad with hardwood steps by Northern Staircase, and a wood-capped steel handrail replaces the original closed wall stairwell. A cityscape mural by Matt Finish Murals runs the length of the wall in both directions.
"At the bottom of the stairs, you can head towards the entertainment center or into the service area of the radius bar, which has a radius overhead trellis detail. The trellis, posts and beams are made of reclaimed barn lumber, locally sourced from Reclaimed Michigan. The bar countertops are concrete, formed and cast on site by Line Studio Detroit, and the vertical face of the bar is made of weathered corrugated steel panels.
"The entertainment center cabinetry, by Aria Cabinetry, is clad in black metal with a large screen tv mounted over a linear gas fireplace from Bourlier's Fireplace Inc. A pair of Rustica Barn Doors lead into a mirrored work-out room and the other two barn doors close off the mechanical rooms. The ceiling is blacked-out with the exception of a white painted slatted detail that runs the length of the room, to give the ceiling an interesting contrast of color and texture.
"Around the back side of the stairs is a full bath with a subway tiled shower and a floating vanity with LED backlighting above and below. Near the bar, a subway exit sign leads you to the custom built-in cabinetry, which flanks both sides of the door that heads onto the patio area and overlooks the lake. With the help of the owners, the architect, the designer and all the trades that collaborated with me on this job, we created a space that exceeded the customer's expectations."
The 'New York Loft' concept was drawn from contemporary trends in interior design and colored by the client's own interests and desires. This level of service is standard with Lange, as Chris discusses: "We encourage our customers to engage with current trends in the housing market, but also to implement their own ideas, to create a space that is relevant to current styles and unique to their own tastes.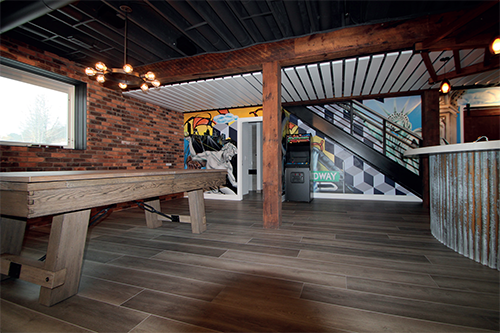 "We also promote energy efficient designs and construction methods, as an investment in our planet that also allows the client to mitigate future energy costs. A tight building envelope, high efficiency insulation such as closed cell foam and high-quality windows and doors, such as Marvin or Pella and Anderson, are recommended to create a comfortable home that is energy efficient."
Customer relationships
Another project that is emblematic of Lange's ambitious designs and stylish flair is the 'Man-Cave', a site which Chris personally oversaw in order to ensure the highest level of detail, accuracy and quality. "The 'Man Cave Project' is a 1750-sq-ft car garage, otherwise known as the 'Summer Party Room'," explains Chris.
"The building was connected to the existing home with a 30-foot-long open-air breezeway that created a large courtyard, which we then paved in exposed aggregate concrete. The connection allowed this large new structure to fit in with the existing home that already had an auxiliary garage attached with a portico. The interior and exterior finishes of the 'Man Cave' matched the high-end appointments of the customer's home.
"The exterior walls were two by eight, which allowed for optimum insulation as the building was heated with a radiant tube heater and prepped for future installations of Mini-Split A/C units. Three large ceiling fans keep the air circulating for summer and winter use. Linear LED lighting fills the space with plenty of bright light for any technical work, while the lighted ceiling fans and wall sconces can be used for a softer lighting atmosphere.
"There is a sitting area with a bay window, large screen tv and sound system, a full bath with tiled shower and a wash tub outside the bath to take care of any dirty working hands. The sitting area was also mechanically prepped for a future kitchen if desired. The exterior finish was brick, to match the existing home, which was built 20 years prior to this addition. The front elevation included limestone window surrounds, quoin corners and a bullnose belt detail – all custom made to match the existing home," he elaborates.
These projects are centered on the client's needs, as Chris asserts: "The attention to detail on this project was paramount as the customer is a GM Engineer and former plant manager for many of GM's truck plants. Working for a person that deals in thousandths of an inch is an opportunity to put to test my own level of commitment to precision and excellence."
The incredibly high level of quality achieved on all Lange Building Co. projects would not be possible without the company's network of efficient and knowledgeable suppliers, as Chris confirms: "With supplier and contractor relationships spanning more than 30 years, Lange Building Co. has built solid partnerships with trusted vendors and contractors. These relationships have created a smooth pathway to our shared goal of creating the best possible product."
With such a vast portfolio of ambitious and stylish homes under its belt, it is no surprise that Lange Building Co. has continued to see success despite the turbulence of the last few years. Stepping confidently into 2022, the company seeks out exciting new projects, as it continues to create high-end, high-quality homes.
"The last couple of years have been difficult for everyone on multiple levels. We are not out of the woods yet, but I believe if we all work together, we can make the world a better place to live. At Lange Building Co., we will continue to provide high quality products to our valued customers, by treating each project as if it were our own personal home," concludes Chris.
Lange Building Co.
www.LangeBuilding.com
Services: Custom home builder