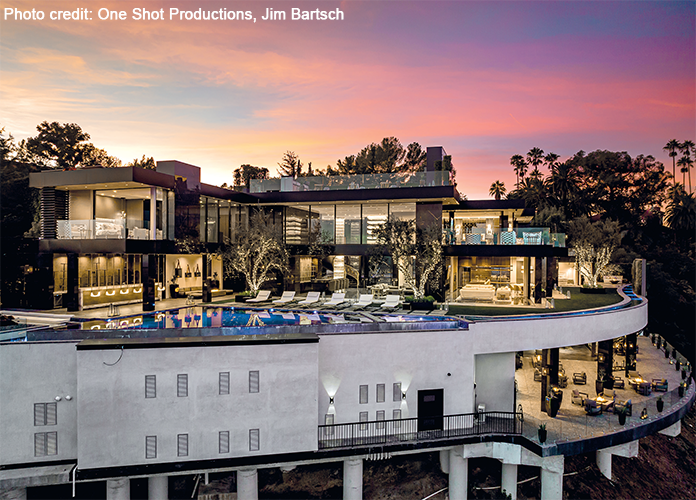 Five years in the making, a new contemporary estate in Bel Air might make even King Midas jealous. The mansion, known as 'La Fin,' includes gold marble, fixtures and accents, a 23-foot outdoor LED screen, bar with light-up swings, and a show-stopping entertainment room. Sitting somewhere between sublime and ostentatious, the home has gone on the market at $139 million.
Built by Joe Englanoff, who was also involved in the creation of the highly publicized Bel Air mansion, The One, which is currently listed at $295 million, he has pulled out all the stops and fully engaged his house fantasy in La Fin. Perched high above LA with knockout views of the mountains and LA skyline, La Fin offers first-time amenities such as a vodka tasting room with fur parkas available for chilly tasters. Another unique feature is the Las Vegas-style bar with a rotating six-car display that can be viewed while sipping the latest cocktail trend.
Besides the home's 12 bedrooms and 16 baths, the focal feature is the stunning spiral staircase that connects three floors and features a 44-foot chandelier of 50,000 crystals. There is a 6,000-square-foot nightclub, a glass-enclosed wine room with Murano art, and a cigar room with custom ventilation. Luxurious materials were sourced from Italy, Portugal and Belgium with the primary suite clad in Italian oak and marble fireplace from Portugal. Its bath contains book matched Calacatta gold marble, a 100-square-foot shower, and a floating-marble vanity. The leather on the motorized home theater seating was found in Belgium. There is also a gym with a rock-climbing wall and a full complement of equipment including multiple Pelotons. The amenities are that of a grand hotel and designed around entertaining. The kitchen blends in quietly but is set up for extensive party catering. Outside there is a pool, wrap-around pool deck, and aforementioned 23-foot TV screen that rises via hydraulics. And a separate, detachepenthouse for guests.
Bel Air has long been the neighborhood of choice for big celebrities and successful industry moguls. Some who have been drawn there are Jennifer Aniston, Beyoncé, Jay-Z, Ronald and Nancy Reagan, Elizabeth Taylor and The Weeknd.
The listing agents for La Fin are Jon Grauman and Adam Rosenfeld of The Agency, Beverly Hills.
Source: www.1200belair.com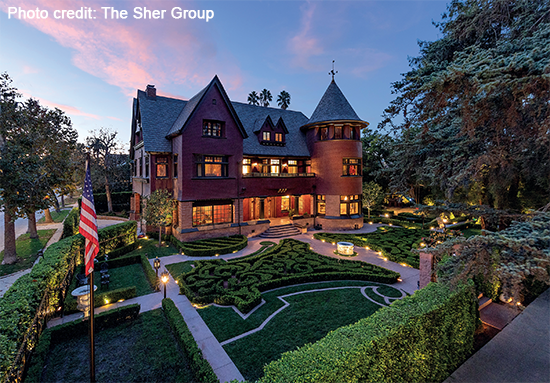 Spooky luxury from Kat Von D
Best known for her TLC reality show LA Ink, which chronicled her work as a tattoo artist and tattoo studio owner, Kat Von D is a multi-faceted star. A model, recording artist, New York Times bestselling author, animal rights campaigner, and entrepreneur, she is famous for her gothic style. In 2016, she paid $6.5 million for the LA mansion which served as the set for 2003's family comedy Cheaper by the Dozen and completely remodeled it to suit her spooky aesthetic. In recent months, Kat has closed her LA studio, High Voltage Tattoo, and announced a move to Indiana to spend more time with her family. Her spectacular, distinctive home has now been listed for sale at $15 million.
The three-story Victorian mansion was originally built in the 1890s by Isaac Newton Van Nuys, who once owned the entire southern portion of the San Fernando Valley and for whom the city of Van Nuys is named. With striking red brick and turrets, the magical estate is completely gated and sits on over half an acre of manicured grounds with maze-like gardens and fountains. A blood-red swimming pool flanked by classical statues makes for an impressive statement piece, with plenty of patio space for entertaining.
The sprawling main residence offers 12,565 square feet, 11 bedrooms and eight-and-a-half baths. The grand salon connects seamlessly to the library, den, formal living and sitting rooms. The dining room is lined with linenfold paneling and stained-glass windows and connects to the fully renovated chef-quality kitchen. A hidden bar with hand-carved walls conceals a secret door that leads out to the pool and spa.
Every room in the house has been carefully styled, with intricate woodwork and ornate details. The home's systems are modern and updated, including the multi-zone HVAC system, painstakingly installed without disturbing the intricate original wood and plaster work. The estate also includes a two-bedroom, two-bath carriage house above the garage.
Located near Hancock Park, the home is close to the center of Los Angeles. At one time, Hancock Park was home to Golden Age Hollywood celebrities, including Howard Hughes, Mae West, Muhammad Ali, and Nat King Cole. Home to many historic houses, the neighborhood still attracts celebrities such as George Takei, Manny Pacquiao and Antonio Banderas.
The listing is held by Jamie Sher of The Sher Group.
Source: www.sherhomes.com
For details of these houses and other celebrity homes, please visit:
www.topTenRealEstateDeals.com
https://toptenrealestatedeals.com/weekly-ten-best-home-deals/home/new-bel-air-mansion-includes-nightclub-50000-crystal-chandelier
https://toptenrealestatedeals.com/weekly-ten-best-home-deals/home/kat-von-ds-cheaper-by-the-dozen-movie-mansion